Hawker Hunter - Survivors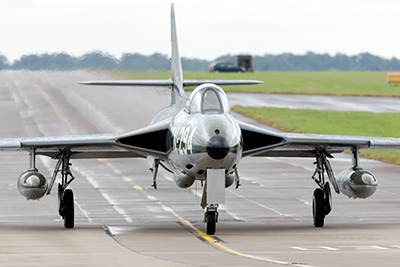 F.6 N-294 taxiing at Waddington Airshow; author
Hunters, being produced in huge numbers and being a basically simple aircraft, have survived in large numbers, with many airframes preserved throughout the UK (and plenty elsewhere). Many are in flying condition, and a number appear at airshows regularly.
The list here is compiled from a large number of sources, with particular credit to Bob Dunn and the Wolverhampton Aviation Group, Roy Blewett and the contents of Ken Ellis' Wrecks & Relics (16th edition) and Otger van der Kooij's European Wrecks & Relics (2nd edition). However due to the difficulty of finding out some of the information and the swiftness with which Hunters seem to change hands, I have no doubt there are errors and omissions in the listing. If you have any changes please add a comment to the appropriate entry or entries.
This list is somewhat out of date - I'm slowly working through it and updating it where I know things are wrong, and adding larger photos to many entries.
Complete aircraft
Serial
Mark
Owner & location
Updated
WT555
F.1
Vanguard Self Storage, Staples Corner, Brent Cross, London
02/06/2022
WT569
F.1
Morayvia, Kinloss, Scotland
20/08/2023
WT612
F.1
RAF Henlow (gate guard), Bedfordshire
02/12/2020
WT619
F.1
Montrose Air Station Heritage Centre, Montrose, Scotland
20/01/2021
WT651
F.1
Newark Air Museum, Winthorpe, Nottinghamshire
19/10/2021
WT660
F.1
West Raynham Control Tower, West Raynham, Norfolk
20/09/2021
WT680
F.1
Anglia Motel, Fleet Hargate, Lincolnshire
19/10/2022
WT694
F.1
Caernarfon Air World, Caernaerfon Aerodrome, Gwynedd, Wales
11/07/2022
Serial
Mark
Owner & location
Updated
WN904 ('WN921')
F.2
Sywell Aviation Museum, Sywell Aerodrome, Northamptonshire
24/01/2021
Serial
Mark
Owner & location
Updated
WB188
Mk.3
Tangmere Military Aviation Museum, Tangmere, West Sussex
26/01/2021
Serial
Mark
Owner & location
Updated
847 (ex XF968)
F.4
Preserved, Salah, Oman
ID-123
F.4
Koksijde AB (barracks gate guard), Belgium
ID-26
F.4
Beauvechain (stored), Belgium
27/06/2021
ID-44
F.4
Association des Amis du Musee du Chateau, Savigny les Beaune, France
06/06/2021
'IF-70' (really ID-46)
F.4
Musee Royale de l'Armee et d'Histoire Militaire, Brussels, Belgium
07/06/2021
IF-83
F.4
Beauvechain (stored), Belgium
N-112
F.4
Museum Pusat TNI AU Dirgantara Mandala, Yogyakarta, Indonesia
03/12/2020
N-129
F.4
Vijfeiken (stored, exercise use), Netherlands
N-138
F.4
Leeuwarden (displayed), Netherlands
N-144
F.4
Militaire Luchtvaart Museum, Soesterberg, Netherlands
10/06/2021
N-150
F.4
GIA Schaarsbergen (fire school), Netherlands
WT746
F.4
Dumfries and Galloway Aviation Museum, Dumfries, Dumfries and Galloway, Scotland
31/08/2021
WV276
F.4
Luftfahrt und Technik Museum, Werningerode, Germany
18/12/2021
XF311
F.4
Queensland Air Museum, Caloundra, Queensland, Australia
06/06/2021
XF319 (ex G-BTCY)
F.4
Privately owned, USA
XF946
F.4
Privately owned, Amman, Jordan
XF974 (ex G-BTCX)
F.4
Privately owned, USA
Serial
Mark
Owner & location
Updated
WP185
F.5
Paul & Andy Wood (stored), Great Dunmow, Essex
14/01/2022
WP190
F.5
Tangmere Military Aviation Museum, Tangmere, West Sussex
10/01/2021
Serial
Mark
Owner & location
Updated
IF-65
F.6
Chièvres (displayed), Belgium
25/10/2008
N-226
F.6
Bosbad Hoeven leisure centre (displayed), Hoeven, Netherlands
N-258
F.6
Location unknown (former Soesterberg gate guard), Netherlands
XE527
F.6
Privately owned, Ontario, Canada
XE656
F.6
Auto und Technik Museum, Speyer, Germany
06/06/2021
XF375 (ex G-BUEZ)
F.6
Boscombe Down Aviation Collection, Old Sarum Airfield, Wiltshire
30/03/2023
XF509
F.6
Hornby Hobbies, RAF Manston History Museum, Kent
07/09/2023
XF526
F.6
Graham Revill, Birlingham, Worcestershire
28/08/2023
XF527
F.6
RAF Halton (gate guard), Buckinghamshire
09/01/2022
XG164
F.6
Davidstow Airfield and Cornwall at War Museum, Davidstow, Cornwall
11/10/2022
XG210 (composite with XL572/XL623)
F.6
Privately Owned, Beck Row, Suffolk
18/06/2021
XG274
F.6
Suffolk Aviation Heritage Group, Foxhall, Suffolk
22/06/2022
XJ690 (composite with ET-273)
F.6
Bournemouth Aviation Museum, Bournemouth Airport, Hurn, Dorset
18/12/2021
Serial
Mark
Owner & location
Updated
'60-602' (really XJ634)
F.6A
Saqr al Jazira (RSAF) Museum, Riyadh, Saudi Arabia
23/10/2008
N350AX (ex 'N-294', G-KAXF, XF515)
F.6A
Lortie Aviation (flyer), Canada
15/02/2023
XE587 (N587XE)
F.6A
Privately owned (stored), Aeroport Jean-Lesage, Quebec, Canada
03/08/2014
'XE620' (really XE606)
F.6A
North East Land Sea & Air Museum, Sunderland Airport, Tyne & Wear
19/10/2022
XE627
F.6A
Imperial War Museum, Duxford, Cambridgeshire
03/08/2021
XF382
F.6A
Midland Air Museum, Coventry Airport, Warwickshire
16/05/2022
XF418
F.6A
Luftfahrtausstellung, Hermeskeil, Germany
14/06/2021
XG152
F.6A
Militärhistorische Museum der Bundeswehr, Flugplatz Gatow, Berlin, Germany
03/01/2016
XG158
F.6A
P&EE Pendine (target), Dyfed, Wales
XG160 (ex G-BWAF)
F.6A
Bournemouth Aviation Museum, Hurn, Dorset
16/06/2022
XG196 (8702M)
F.6A
Everett Aero (stored, for sale), Bentwaters Airfield, Suffolk
02/12/2020
XG225
F.6A
RAF Museum Midlands, (gate guardian), RAF Cosford, Shropshire
20/09/2023
XJ639 (composite with XF358)
F.6A
Blue Lagoon Diving & Leisure Centre (submerged), Womersley, Yorkshire
09/01/2022
XK149
F.6A
Privately Owned, Calhoun, Georgia, USA
09/01/2022
ZU-AUJ (ex G-BVWV, XE653)
F.6A
Cape Town International Airport, (stored), South Africa
24/11/2022
Serial
Mark
Owner & location
Updated
516
T.7
Jet Imports Ltd. (stored), New Zealand
800 (ex G-BOOM/ET-274)
T.7
Royal Jordanian Air Force Historic Flight, Marka, Jordan
14/01/2022
G-BNCX (XL621)
T.7
Privately owned, Dunsfold Aerodrome, Surrey
03/07/2021
G-HPUX (ex XL587)
T.7
Privately owned, Unknown location
13/08/2023
N-305
T.7
Military Aviation Museum, Soesterberg/Kamp Zeist, Netherlands
N-315 (ex XM121)
T.7
Alba Power (gate guard), Netherley, Aberdeen, Scotland
22/09/2021
N576NL (ex XL576)
T.7
Yanks Museum (wreckage, stored), Chino, California, USA
03/08/2014
N617NL (ex XL617)
T.7
International Test Pilots School, (flyer), London Metropolitan Airport, Ontario, Canada
01/07/2021
WV383
T.7
Farnborough Air Sciences Trust, Farnborough, Hampshire
16/10/2008
XL563
T.7
Farnborough Air Sciences Trust, Farnborough, Hampshire
24/06/2022
XL565 (composite with WT745)
T.7
David & Amanda Dacre, Bruntingthorpe Aerodrome, Leicestershire
09/01/2022
XL567
T.7
Privately owned, Bournemouth Airport, Hurn, Dorset
XL569
T.7
East Midlands Aeropark, Castle Donnington, Derbyshire
25/09/2023
'XL571' (really XL572, ex G-HNTR)
T.7
Yorkshire Air Museum, Elvington, North Yorkshire
25/09/2023
XL573 (G-BVGH)
T.7
South Wales Aviation Museum, St. Athan, Wales
24/02/2023
XL577 (ex G-XMHD, ex G-BXKF)
T.7
Privately owned (flyer), Jordan
15/01/2022
XL578
T.7
Privately owned, Kendal, Cumbria
19/01/2022
XL586 (composite with XL578)
T.7
Four Acre Farm, Ingrave, Essex
05/05/2023
XL591
T.7
Gatwick Aviation Museum, Charlwood, Surrey
07/08/2023
XL592
T.7
Privately owned, Maidenhead, Berkshire
26/10/2014
XL600 (ex G-RAXA, G-VETA)
T.7
Jet Aircraft Museum (restoration to fly), Ontario, Canada
11/04/2021
XL601 (ex G-BZSR)
T.7
Brussels Air Museum, (Stored), Landen, Belgium
16/01/2022
XL612
T.7
Privately Owned, La Croix Verte, Saix, France
15/01/2022
XL613 (ZU-LEE, ex G-BVMB)
T.7
Privately owned, Stellenbosch, South Africa
20/05/2023
XL618
T.7
Flugplatz Museum Gütersloh, Germany
15/01/2022
XL623
T.7
Hawker Association (under restoration), Dunsfold Aerodrome, Surrey
02/08/2021
XX467 (G-TVII, ex 836, 70-617, XL605)
T.7
Newark Air Museum, Winthorpe Show Ground, Nottinghamshire
25/10/2021
Serial
Mark
Owner & location
Updated
C-GHHR (ex G-FFOX, WV318)
T.7A
International Test Pilots School (flyer), London, Ontario, Canada
20/09/2023
XL568
T.7A
RAF Museum Midlands, RAF Cosford, Shropshire
24/04/2022
XL616 (ex SE-DXH)
T.7A
International Test Pilot School, London, Ontario, Canada
15/01/2022
Serial
Mark
Owner & location
Updated
XF995 (ex G-BZSF)
T.8B
Hawker Hunter Aviation Ltd. RAF Scampton Heritage Centre, RAF Scampton, Lincolnshire
15/01/2022
ZU-CTN (ex G-BZRI, XF967)
T.8B
Hangar 51 Aviation, (restoration to flight), Port Elizabeth International Airport, Gqeberha, South Africa
24/11/2022
Serial
Mark
Owner & location
Updated
'N-321' (ex 'XJ615'/G-BWGL, really XF357)
T.8C
Dutch Hawker Hunter Foundation, Leeuwarden, Netherlands
21/01/2021
WT722 (ex G-BWGN)
T.8C
Bournemouth Aviation Museum, Hurn, Dorset
07/09/2023
WT799
T.8C
Blue Lagoon Diving & Leisure Centre (on display), Womersley, Yorkshire
24/05/2016
WV322 (G-BZSE)
T.8C
Canfield Hunter Ltd. (restoration to fly), North Weald, Essex
23/10/2022
WV396
T.8C
Tacla Taid Transport Museum, Niwbwrch, Anglesey, Wales
02/06/2023
XE665 (ex G-BWGM)
T.8C
Cotswold Airport, (on display) Kemble, Gloucestershire
02/08/2021
XF310 (VH-HMS)
T.8C
Hank Ebes, Cheltenham, Melbourne, Australia
19/02/2022
XF994 (ex G-CGHU)
T.8C
Classic British Jets Collection, Bruntingthorpe, Leicestershire
12/08/2023
ZU-ATH (ex G-BVWG, XL598)
T.8C
Privately owned, Unknown location
24/11/2022
Serial
Mark
Owner & location
Updated
XL580
T.8M
Fleet Air Arm Museum, (Stored), RNAS Yeovilton, Somerset
15/01/2022
XL602 (G-BWFT)
T.8M
Privately Owned, Canada
15/01/2022
XL603 (ex N603XL)
T.8M
New Richmond Regional Airport, Texas, USA
15/01/2022
Serial
Mark
Owner & location
Updated
1088 (ex XG207)
FGA.9
Zimbabwe Air Force, Thornhill AB, Gweru, Zimbabwe
1098 (ex XF416)
FGA.9
Zimbabwe Air Force, Thornhill AB, Gweru, Zimbabwe
1180 (ex XG228)
FGA.9
Zimbabwe Air Force, Thornhill AB, Gweru, Zimbabwe
1258 (ex XF504)
FGA.9
Zimbabwe Air Force (flyer), Thornhill AB, Gweru, Zimbabwe
1284 (ex XJ716)
FGA.9
Zimbabwe Air Force (composite with 8116), Thornhill AB, Gweru, Zimbabwe
1801 (ex 804, ex XF972)
FGA.9
Zimbabwe Air Force, Thornhill AB, Gweru, Zimbabwe
1807 (ex XG155)
FGA.9
Zimbabwe Air Force, Thornhill AB, Gweru, Zimbabwe
1811 (ex XF431)
FGA.9
Zimbabwe Air Force (stored), Manyame AB, Zimbabwe
1813 (ex XF419)
FGA.9
Zimbabwe Air Force (stored), Manyame AB, Zimbabwe
1817 (ex XJ718)
FGA.9
Zimbabwe Air Force, Thornhill AB, Gweru, Zimbabwe
1827 (ex XF374)
FGA.9
Zimbabwe Air Force, Thornhill AB, Gweru, Zimbabwe
8106 (ex XF519)
FGA.9
Zimbabwe Air Force, Thornhill AB, Gweru, Zimbabwe
8112 (ex XJ683)
FGA.9
Zimbabwe Air Force, Thornhill AB, Gweru, Zimbabwe
8116 (ex XE559)
FGA.9
Zimbabwe Air Force (spares use), Thornhill AB, Gweru, Zimbabwe
XE601 (G-ETPS)
FGA.9
Apache Aviation (stored, spares use), Istres, France
03/08/2014
XE624
FGA.9
Privately owned (stored, dismantled), Wickenby Airfield, Lincolnshire
18/06/2021
XG154
FGA.9
RAF Museum London, Hendon, London
23/04/2023
XG194
FGA.9
Wattisham Airfield Museum, Wattisham, Sussex
18/06/2021
XG252
FGA.9
Privately Owned, (Stored), Adriers, France
15/01/2022
XG254
FGA.9
Norfolk & Suffolk Aviation Museum, Flixton, Suffolk
16/01/2021
Serial
Mark
Owner & location
Updated
853 (ex XF426)
FR.10
RAF Museum Midlands (stored), RAF Cosford, Shropshire
24/04/2022
'XG168' (really XG172, composite with WT799/ET-272)
FR.10
City of Norwich Aviation Museum, Horsham St. Faith, Norfolk
05/12/2022
XJ714 (really composite of WT684, XF383, XM126, XG226, PH-NLH & ET-272)
FR.10
East Midlands Aeropark, Castle Donnington, Derbyshire
25/09/2023
Serial
Mark
Owner & location
Updated
'WB188' (really XF300, G-BZPC)
GA.11
Privately owned, Kent area
24/06/2022
WT711
GA.11
Lakes Lightnings, Spark Bridge, Cumbria
06/02/2012
WT744
GA.11
Privately Owned, Braunton, Devon
15/01/2022
WT804
GA.11
Privately Owned, Todenham, Moreton-in-Marsh, Gloucestershire
02/08/2021
WT806
GA.11
Classic British Jets Collection/Dave Thomas (runner), Bruntingthorpe, Leicestershire
09/01/2022
WV256 (ex G-BZPB)
GA.11
Privately owned, Badwell Green, Suffolk
19/08/2023
WV267
GA.11
European Warbirds Organisation Inc. (restoration to fly), Chino, California, USA
WV382
GA.11
East Midlands Aeropark, Castle Donnington, Derbyshire
25/09/2023
WW654
GA.11
Privately owned (gate guard at former RNAS Ford), Ford, West Sussex
18/05/2021
XE668
GA.11
Hamburger Hill Paintball, Marksbury, Somerset
24/06/2022
XE685 (ex G-GAII)
GA.11
Wickenby Aerodrome, Langworth, Lincolnshire
09/08/2023
XE707 (ex N707XE)
GA.11
Bentwaters Cold War Museum, Bentwaters Airfield, Suffolk
05/06/2023
XF301 (ex N301XF)
GA.11
Garrett Moscos (stored, for sale), Chino, California, USA
19/03/2021
XF368 (ex G-BZRH)
GA.11
Cape Town International Airport, South Africa
2011
Serial
Mark
Owner & location
Updated
WT723 (ex G-PRII)
PR.11
SCC Technology Campus (displayed), Tyseley, Birmingham
15/05/2023
Serial
Mark
Owner & location
Updated
34016
F.50
Swedish Air Force Museum, Linkoping/Malmslatt, Sweden
34070
F.50
Svedinos Bil Och Flygmuseum, Ugglarp, Sweden
Serial
Mark
Owner & location
Updated
'349' (E-408)
F.51
Centerprise International (gate guard), Chineham, Hampshire
18/05/2021
E-401
F.51
Danmarks Flyvemuseum, Stauning Lufthavn, Denmark
03/08/2009
E-402
F.51
Privately owned, Pudden Hill, Co. Meath, Eire
17/01/2022
E-407
F.51
Eagles Air Museum, Bonanzaville USA, West Fargo, North Dakota, USA
E-412
F.51
Brooklands museum, Weybridge, Surrey
12/10/2008
E-419
F.51
North East Land Sea & Air Museum, Sunderland Airport, Tyne & Wear
27/06/2022
E-421
F.51
BAE Systems, Brooklands Museum, Weybridge, Surrey
02/08/2021
E-423
F.51
Privately owned, Abu Dhabi
24/06/2022
E-425
F.51
Solway Aviation Museum, Carlisle Airport, Cumbria
31/08/2021
E-430 (composite with XG226 and XF418)
F.51
Privately owned (dumped?), Gatwick Aviation Museum, Charlwood, Surrey
22/09/2023
WB188 (N611JR, really E-418, ex G-HUNT)
F.51
Classic Aircraft Aviation Museum, Portland Hillsboro Airport, Oregon, USA
15/01/2022
'WV314' (really E-424)
F.51
South Yorkshire Aircraft Museum, Aeroventure, Doncaster, South Yorkshire
30/10/2023
'WV395' (really E-410)
F.51
Aviodome, Lelystad, Netherlands
16/08/2006
'XE683' (ex 'XF383', really E-409)
F.51
City of Norwich Aviation Museum, Horsham St. Faith, Norfolk
05/12/2022
'XF324' (really E-427)
F.51
Privately owned, location unknown
24/06/2022
Serial
Mark
Owner & location
Updated
N10271 (ex ET-271, G-BNFT)
T.53
Stead Aviation Corporation (status uncertain), Bedford, NH, USA
Serial
Mark
Owner & location
Updated
A463
F.56
AFS Kalaikunda (stored, awaiting disposal), West Bengal, India
A469
F.56
AFS Tezpur (stored, airworthy), India
A473
F.56
AFS Kalaikunda (stored, awaiting disposal), West Bengal, India
A484
F.56
AFS Tezpur (stored, airworthy), India
A543
F.56
AFS Tezpur (stored, airworthy), India
A941
F.56
Indian Air Force Western Air Command HQ, Subroto Park, Delhi, India
01/01/2004
A968
F.56
AFS Kalaikunda (preserved with 18 Squadron), West Bengal, India
Unknown
F.56
AFS Kalaikunda (derelict, parade ground), West Bengal, India
Unknown
F.56
AFS Kalaikunda (gate guardian), West Bengal, India
Unknown
F.56
Chabua AFS (gate guard), Assam, India
2003
Unknown
F.56
Diamond Jubilee Museum, Kalaikunda, West Bengal, India
Unknown
F.56
Halwara AFS (displayed within war memorial), Ludhiana, India
2003
Unknown
F.56
Nehru Museum, IIT Kharagpur, West Bengal, India
Unknown
F.56
Town Park, Faridabad, Haryana, India
1997
Unknown
F.56
Uttarlai AFS (displayed in war memorial), Rajasthan, India
2003
Serial
Mark
Owner & location
Updated
A1012
F.56A
Vayu Bhavan, Delhi, India
A492
F.56A
South-Western Air Command HQ, Gandhinagar , Gujarat, India
A932
F.56A
Indian Air Force Museum, AFS Palam, New Delhi, India
BA237
F.56A
Jaisalmer AFS (displayed by memorial), Rajasthan, India
BA241
F.56A
Modern School (gate guard), Barakhamba Road, New Delhi, India
BA258
F.56A
AFS Tezpur (stored, airworthy), India
BA263
F.56A
Indian Air Force Museum, AFS Palam, Delhi, India
BA268
F.56A
AFS Kalaikunda (stored, awaiting disposal), West Bengal, India
BA312
F.56A
AFS Tezpur (stored, airworthy), India
BA313
F.56A
College of Air Warfare (on display by Officers Mess), Hyderabad, India
BA317
F.56A
AFS Leh (gate guard), Jammu and Kashmir, India
2003
BA357
F.56A
Rashtriya Indian Military College, Dehradun, Uttar Pradesh, India
BA360
F.56A
CAC HQ, Bamrauli, Allahabad, Uttar Pradesh, India
2003
Unknown
F.56A
AFS Gauhati (gate guardian), Assam, India
Serial
Mark
Owner & location
Updated
Unknown
F.57
KAF (dumped), Kuwait International Airport, Kuwait
Unknown
F.57
KAF (on display), Kuwait International Airport, Kuwait
Serial
Mark
Owner & location
Updated
712 (ex J-4025)
F.58
Royal Jordanian Air Force Historic Flight (stored), Jordan
29/09/2008
843 (ex G-BWKA, J-4075)
F.58
Royal Jordanian Air Force Historic Flight (stored), Jordan
05/2006
J-4003
F.58
Payerne, Switzerland
J-4006 (ex XE527)
F.58
Canadian Warplane Heritage Museum, Hamilton, Ontario, Canada
J-4007
F.58
Hunter Verein Interlaken, Interlaken, Switzerland
J-4013
F.58
Lagenthal, Switzerland
'J-4015' (HB-RVS, really ex J-4040)
F.58
Hunter Verein Obersimmental (flyer), St. Stephan, Switzerland
17/09/2008
J-4015
F.58
Hunter Verein Glarus, Mollis (preserved), Molllis, Switzerland
19/08/2006
J-4018
F.58
Interlaken (on display), Switzerland
J-4020
F.58
Dubendorf, Switzerland
J-4021 (G-BWIU)
F.58
Hawker Hunter Aviation Ltd. (flyer), RAF Scampton, Lincolnshire
17/09/2008
J-4022
F.58
Hungarian Air Force Museum (stored), Szolnok, Hungary
J-4026
F.58
Werner Von Arx, EuroAirport Basel-Freiburg-Mulhouse, Switzerland
03/08/2009
J-4027
F.58
Royal Norwegian Aviation Museum (stored), Bodo, Norway
J-4029
F.58
RCAF Memorial Museum, Trenton, Ontario, Canada
J-4030 (SE-DXD)
F.58
Scandiavian Historic Flight (flyer), Eskilstuna Flygstation, Sweden
J-4032
F.58
Raron (stored in mountain hangars), Switzerland
J-4035
F.58
Planes of Fame Museum, Grand Canyon Airport, Arizona, USA
25/09/2004
J-4037
F.58
Payerne (stored), Switzerland
J-4041
F.58
Nidau, Switzerland
J-4045
F.58
Payerne barracks (gate guard), Switzerland
J-4050
F.58
Interlaken (stored), Switzerland
J-4057
F.58
Privately owned, Italy
J-4060 (NX58WJ)
F.58
Bill Russell/Kay Eckardt (flyer), Mojave, Nevada, USA
J-4062
F.58
Fliegermuseum Altenrhein (stored, dismantled), Altenrhein, Switzerland
20/08/2006
J-4063
F.58
Musee Aeronautique d'Orange, Orange, France
17/07/2021
J-4064 (HB-RVQ)
F.58
Fliegermuseum Altenrhein (flyer), Altenrhein, Switzerland
20/08/2006
J-4065
F.58
Ailes Anciennes, Toulouse/Blagnac, France
04/08/2021
J-4067
F.58
Musee Europeen de l'Aviation de Chasse, Montelimar, France
J-4068
F.58
Giovanni Follador, Aviano (stored, due to go to Pordenone), Italy
08/1999
J-4070
F.58
Emmen (stored, under restoration), Switzerland
03/08/2009
J-4072
F.58
Hawker Hunter Aviation Ltd. (restoration to fly), RAF Scampton, Lincolnshire
J-4073
F.58
Luftfarhtmuseum, Soesterberg, Holland
J-4077
F.58
1 Wing Historical Centre, Beauvechain, Belgium
16/01/2022
J-4078
F.58
Militaire Luchtvaart Museum, Kamp van Zeist, Holland
J-4080 (HB-RVT)
F.58
Amici dell'Hunter (flyer), Ambri, Ticino, Switzerland
J-4081 (G-BWKB)
F.58
Hawker Hunter Aviation Ltd. (flyer), RAF Scampton, Lincolnshire
J-4083 (ex G-EGHH)
F.58
Jonathon Whaley (stored, spares use), RAF St. Athan, Barry, Vale of Glamorgan
18/08/2014
J-4085
F.58
Geneva, Switzerland
J-4086 (HB-RVU)
F.58
Crossair Hunter Club (flyer), Basel, Switzerland
17/09/2008
J-4090 (G-SIAL)
F.58
Hunter Flying Ltd., Exeter Airport, Devon
24/07/2006
J-4091
F.58
Hunter Aviation International Inc, Newark, Delaware, USA
25/10/2021
J-4094
F.58
Osterreichisches Luftfahrtmuseum (stored), Graz/Thalerhof, Austria
J-4096
F.58
Association Varoise, Nantes, France
J-4097 (N58HH)
F.58
Johnny Baines (flyer), Fort Worth, Texas, USA
J-4098
F.58
Luftfahrtausstellung, Hermeskeil, Germany
02/08/2021
J-4099
F.58
Musee de l'Air, Paris/Le Bourget, France
LN-NHT (ex SE-DXA, J-4089)
F.58
Scandinavian Historic Flight (flyer), Halmstadt, Sweden
29/09/2008
N322AX (ex J-4087, G-HTWO, SE-DXF, C-GIVX)
F.58
ATAC (flyer), NAF Atsugi, Japan
25/01/2012
N328AX (ex G-BWFR, J-4031)
F.58
Hunter Aviation International (flyer), Newark, Delaware, USA
28/09/2023
N345AX (ex G-PSST, J-4104)
F.58
Lortie Aviation (flyer), Quebec, Canada
10/01/2021
SE-DXM (ex J-4082)
F.58
Swedish Air Force Historic Flight (flyer), Satenas, Sweden
25/01/2012
ZU-AVC (ex 3D-HUN, J-4059)
F.58
Ron Wheeldon (runner), Wonderboom National Airport, Pretoria, South Africa
24/11/2022
ZZ190 (ex G-HHAE, G-BXNZ, J-4066)
F.58
Hawker Hunter Aviation Ltd. (flyer), RAF Leeming, North Yorkshire
24/11/2022
ZZ191 (ex G-HHAD, G-BWFS, J-4058)
F.58
Hawker Hunter Aviation Ltd. (flyer), RAF Scampton, Lincolnshire
03/12/2020
Serial
Mark
Owner & location
Updated
J-4035 (N159AM)
F.58A
Pima Air & Space Museum, Tucson, Arizona, USA
06/09/2012
J-4100
F.58A
Eskistuna Fkyglkubb, Ekeby, Sweden
07/06/2021
J-4103 (N4103Y, ex XE611)
F.58A
Privately owned (flyer, for sale), Van Nuys, California, USA
J-4107 (ex XF462)
F.58A
Musee de L'aeronautique, Nancy/Essey, France
J-4110 (ex XF318)
F.58A
Flyhistorik Museum, Sola, Norway
J-4152 (ex WT716)
F.58A
Swiss Air Force Museum (stored), Dubendorf, Switzerland
N392AX (ex-G-BWOU, J-4105, XF303)
F.58A
Destroyed
20/08/2023
N58WJ (ex J-4100)
F.58A
Russair Inc., Paso Robles, California, USA
SE-DXC (ex J-4101 & XG127)
F.58A
Privately owned (flyer), Eskilstuna Flygstation, Sweden
Serial
Mark
Owner & location
Updated
60-604
WTF.60
Saqr al Jazira (RSAF) Museum, Riyadh, Saudi Arabia
23/10/2008
Serial
Mark
Owner & location
Updated
N5196Z (ex 681, ex WT706)
T.62
Hermes Technic International Inc., Miami, Florida, USA
Serial
Mark
Owner & location
Updated
BS488
T.66
AFS Tezpur (stored, airworthy), India
L286
T.66
Lebanese Air Force (flyer), Lebanon
01/12/2008
S1389
T.66
AFS Kalaikunda (stored, awaiting disposal), West Bengal, India
S574
T.66
DGNCC Office, Delhi, India
S576
T.66
Nagpur, Maharashtra, India
12/2001
S580
T.66
St Joseph Academy, Dehradun, Uttar Pradesh, India
Unknown
T.66
Circuit House, Jorhat, Assam, India
2003
Serial
Mark
Owner & location
Updated
G-HVIP (ex J-4208, Fv34080)
T.68
Apache Aviation (flyer), Istres, France
19/01/2012
J-4201 (HB-RVR, ex WV332)
T.68
Amici dell'Hunter (flyer), Sion, Valais, Switzerland
17/09/2008
J-4203 (HB-RVW)
T.68
Association Clin d'Ailes (flyer), Payerne, Switzerland
17/09/2008
J-4204 (ex XE702)
T.68
Swiss Air Force Museum (stored), Dubendorf, Switzerland
J-4206 (HB-RVV)
T.68
Fliegermuseum Altenrhein (stored, dismantled), Altenrhein, Switzerland
20/08/2006
'N-322' (J-4205, HB-RVP)
T.68
Dutch Hawker Hunter Foundation (flyer), Altenrhein, Switzerland
18/01/2021
ZU-HUN (ex, J-4202, XF951)
T.68
Ron Wheeldon (flyer), Lanseria International Airport, Randburg, South Africa
24/11/2022
Serial
Mark
Owner & location
Updated
N325AX (ex 'J-2001', 'J-2000', F-AZHS, J-4095)
T.68C
Lortie Aviation (flyer), Quebec, Canada
10/01/2021
Serial
Mark
Owner & location
Updated
L280 (ex IF-60?)
FGA.70A
Lebanese Air Force (flyer), Lebanon
01/12/2008
L284 (ex XJ644)
FGA.70A
Lebanese Air Force (flyer), Lebanon
01/12/2008
Serial
Mark
Owner & location
Updated
J-702 (ex IF-108)
FGA.71
Museo Nacional Aeronautico y del Espacio, Los Cerrillos AB, Santiago, Chile
J-722 (ex XJ713)
FGA.71
Museo Nacional Aeronautico y del Espacio, Santiago, Chile
J-724 (ex XG199)
FGA.71
Museo Nacional Aeronautico y del Espacio, Santiago, Chile
J-729 (ex XF625)
FGA.71
Cerro Moreno AFB (Grupo No.8 gate guard), Antofagasta, Chile
J-744 (ex XE546 or was it XJ688?)
FGA.71
Museo Nacional Aeronautico y del Espacio, Santiago, Chile
J-747 (ex XF446)
FGA.71
Israeli Air Force Museum, Hazerim AFB, Beersheva, Israel
05/10/2008
J-750 (ex XK138)
FGA.71
Museo Nacional Aeronautico y del Espacio, Santiago, Chile
J-7?? (not known)
FGA.71
FACH Air War Academy (gate guard), Santiago, Chile
Serial
Mark
Owner & location
Updated
J-734 (ex XF317)
FR.71A
Museo Nacional Aeronautico y del Espacio, Santiago, Chile
J-735 (ex WV326)
FR.71A
Museo Nacional Aeronautico y del Espacio, Santiago, Chile
Serial
Mark
Owner & location
Updated
J-718 (ex IF-19, G-APUX)
T.72
Embraer (flyer), Giavao de Peixoto, Sau Paulo, Brazil
23/10/2009
XE688 (ex PP-XHH, XE704, J-736)
T.72
Hawker Hunter Aviation Ltd. (flyer), RAF Leeming, North Yorkshire
24/11/2022
Serial
Mark
Owner & location
Updated
?
F.73
Royal Jordanian Air Force Historic Flight (flyer), Marka, Jordan
Serial
Mark
Owner & location
Updated
831 (ex XJ645)
FGA.73A
Seeb Airport (gate guard), Muscat, Oman
18/12/2002
844 (ex XF396)
FGA.73A
RAFO Gallah (displayed on parade ground), Oman
Serial
Mark
Owner & location
Updated
501 (ex XG260)
F.74
Air Force Museum (gate guard), Paya Lebar, Singapore
13/01/2012
510
F.74
Paya Lebar AFB (gate guard), Singapore
515
F.74
NTUC Pasir Ris Holiday Resort, Singapore
520 (ex XG153)
F.74
Privately owned, Brisbane, Australia
521 (ex XG266)
F.74
Pacific Hunter Aviation (for sale), Tocumwal Airfield, New South Wales, Australia
527
F.74
Air Force Museum, Paya Lebar, Singapore
13/01/2012
529
F.74
Pacific Hunter Aviation (for sale), Tocumwal Airfield, New South Wales, Australia
531 (ex XJ714)
F.74
Pacific Hunter Aviation (for sale), Tocumwal Airfield, New South Wales, Australia
533 (ex XE614)
F.74
Pacific Hunter Aviation (for sale), Tocumwal Airfield, New South Wales, Australia
535 (ex XE599)
F.74
Pacific Hunter Aviation (for sale), Tocumwal Airfield, New South Wales, Australia
538 (ex XF369)
F.74
Pacific Hunter Aviation (for sale), Tocumwal Airfield, New South Wales, Australia
XF460 (ex 546)
F.74
Hunter Warbirds, Scone, Australia
24/11/2022
Serial
Mark
Owner & location
Updated
543 (VH-JGP, ex WV331)
F.74A
Steve Murray, Aviation Heritage Museum, Bull Creek, Western Australia
10/01/2021
Serial
Mark
Owner & location
Updated
502 (ex XJ685)
FR.74
Pacific Hunter Aviation (for sale), Tocumwal Airfield, New South Wales, Australia
Serial
Mark
Owner & location
Updated
503 (VH-FRH, exVH-FGA, ex XF437)
FR.74A
Gregory Owen Ackman (airworthy), Camden, New South Wales, Australia
10/01/2021
506 (ex XG205)
FR.74A
Pacific Hunter Aviation (for sale), Tocumwal Airfield, New South Wales, Australia
512 (ex XG292)
FR.74A
Privately owned, USA
517 (ZK-JIL, ex XJ689)
FR.74A
Jet Imports Ltd. (flyer), New Zealand
Serial
Mark
Owner & location
Updated
526 (ex XF432)
FR.74B
Pacific Hunter Aviation (for sale), Tocumwal Airfield, New South Wales, Australia
545 (ex XF441)
FR.74B
Pacific Hunter Aviation (for sale), Tocumwal Airfield, New South Wales, Australia
Serial
Mark
Owner & location
Updated
500
T.75
Olympic Flight Museum, Olympia, Washington, USA
13/02/2003
N91167
T.75
Privately owned, USA
Serial
Mark
Owner & location
Updated
514 (ex XE664)
T.75A
Jet Imports Ltd. (stored), New Zealand
528 (VH-RHO, ex XF969)
T.75A
Hunterflight Pty., Archerfield Airport, Brisbane, Queensland, Australia
532 (ex WV386)
T.75A
Privately owned, USA
536 (ex XF950)
T.75A
Pacific Hunter Aviation (for sale), Archerfield Airport, Brisbane, Queensland, Australia
540 (ex WV272)
T.75A
Pacific Hunter Aviation (for sale), Tocumwal Airfield, New South Wales, Australia
Serial
Mark
Owner & location
Updated
QA-10 (ex N-268)
FGA.78
Yorkshire Air Museum, Elvington, North Yorkshire
25/09/2023
Serial
Mark
Owner & location
Updated
1084 (ex 802, ex XL604)
T.81
Zimbabwe Air Force (flyer), Thornhill AB, Gweru, Zimbabwe
Nose/cockpit/other sections
Serial
Mark
Owner & location
Updated
WT648
F.1
Boscombe Down Aviation Collection, Old Sarum Airfield, Wiltshire
14/06/2020
WT684
F.1
Tony Collins, Lavendon, Buckinghamshire
16/01/2022
Serial
Mark
Owner & location
Updated
WN890
F.2
Boscombe Down Aviation Collection, Old Sarum Airfield, Wiltshire
30/03/2023
WN907
F.2
Robertsbridge Aviation Museum, Robertsbridge, East Sussex
02/08/2021
Serial
Mark
Owner & location
Updated
N72602 (ex E-403)
F.4
Privately Owned, Fox Field, Lancaster, California, USA
16/01/2022
'WB188' (really XF940)
F.4
Privately Owned, Bournemouth area, Dorest.
16/01/2022
WV332
F.4
Tangmere Military Aviation Museum, Tangmere, West Sussex
17/06/2021
WW664
F.4
Privately Owned, Thetford area, Norfolk
17/06/2021
XE664
F.4
Jet Age Museum, Meteor Business Park, Gloucester, Gloucestershire
15/08/2021
XE670
F.4
RAF Museum Midlands, RAF Cosford, Shropshire
24/04/2022
Serial
Mark
Owner & location
Updated
WN957
F.5
Bob Pountney & Chris Herbert, Moryavia, Kinloss, Scotland
19/07/2021
Serial
Mark
Owner & location
Updated
IF-68
F.6
Norfolk & Suffolk Aviation Museum, Flixton, Suffolk
25/10/2008
N-202
F.6
South West Aviation Heritage, Eaglescott Aerodrome, Devon
N-250
F.6
IWM Duxford, Cambridgeshire
02/12/2020
N/A (procedures trainer)
F.6
327 Squadron ATC, Kilmarnock, Strathclyde, Scotland
XE584
F.6
Mike Davey and Graham Sparkes, Hooton Park Airfield, Ellesmere Port, Cheshire
08/11/2010
XF383
F.6
Julian Mitchell, Oxford, Oxfordshire
XF522
F.6
Trenchard Museum, RAF Halton, Aylesbury
10/07/2021
XG209
F.6
Privately Owned, Kingston-upon-Thames, Greater London
16/01/2022
XG290
F.6
Boscombe Down Aviation Collection, Old Sarum Airfield, Wiltshire
30/03/2023
Serial
Mark
Owner & location
Updated
XG226
F.6A
RAF Manston History Museum, Manston Airport, Kent
18/06/2021
Serial
Mark
Owner & location
Updated
N-302 (ex ET-273)
T.7
South Yorkshire Aircraft Museum, Aeroventure, Doncaster, South Yorkshire
30/10/2023
PH-NLH (ex N-320 & XM126)
T.7
Classic Fighters, Weelde AFB, Belgium
16/01/2022
XL564
T.7
Privately Owned, South Molton, Devon
18/06/2021
XL609
T.7
Lakes Lightnings, Spark Bridge, Cumbria
16/01/2022
Serial
Mark
Owner & location
Updated
XF321
T.7A
RAF Laarbruch Museum, Laarbruch-Weeze, Germany
24/06/2022
Serial
Mark
Owner & location
Updated
XF289 (ex N289XF)
T.8C
Lortie Aviation Inc. (Stored), Quebec, Canada
15/01/2022
XF358
T.8C
Northern Lights Combat Air Support (nose), Quebec, Canada
13/10/2008
Serial
Mark
Owner & location
Updated
XE597
FGA.9
Wolverhampton Aviation Society, Bromsgrove, Worcestershire
17/06/2021
XE643
FGA.9
Ulster Aviation Society, Long Kesh, County Antrim
06/03/2022
XG195
FGA.9
Aeroventure, Lakeside and Leisure Complex, Doncaster, South Yorkshire
25/11/2005
XG195
FGA.9
Roger Marley, Market Drayton, Shropshire
XG297
FGA.9
Bill Fern, South Yorkshire Aircraft Museum, Aeroventure, Doncaster, South Yorkshire
30/10/2023
Serial
Mark
Owner & location
Updated
WT741
GA.11
South Yorkshire Aircraft Museum, AeroVenture, Doncaster, South Yorkshire
30/10/2023
WV381
GA.11
Hovercraft Museum, Lee-on-the-Solent, Hampshire
16/11/2020
XE689 (ex G-BWGK)
GA.11
Privately owned, location unknown
27/01/2021
Serial
Mark
Owner & location
Updated
E-420
F.51
Adrian Windsor, Walton on Thames
E-426
F.51
Egeskov Veteranmuseum, Egeskov Castle, Denmark
Serial
Mark
Owner & location
Updated
ET-272
T.53
Norfolk and Suffolk Aviation Museum, Suffolk
03/08/2021
Serial
Mark
Owner & location
Updated
J-4010
F.58
Wangen an der Aare (fuselage), Switzerland
J-4093
F.58
Hunter Verein Interlaken (nose), Interlaken, Switzerland
19/08/2006
Serial
Mark
Owner & location
Updated
J-4118
F.58A
Swiss Transport Museum, Luzern, Switzerland
Serial
Mark
Owner & location
Updated
QA12
FGA.78
Mark Gauntlett (under restoration, ex N-222)
24/08/2002