F.6A XE620 - RAF Waddington (8 Sqn gate guard), Lincolnshire
Hunter F.6A XE620 at RAF Barkston Heath, late April 2012; Gary Watson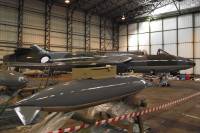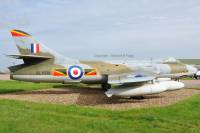 XE606 served with the AFDS, 92 Squadron, 229 OCU, the TWU and was finally issued to RAF Laarbruch as a BDRT airframe. However 20 Squadron at Laarbruch (then a Tornado unit that had previously flown Hunters) sought permission to save the aircraft for display and so in 1984 XE606 was given a facelift, becoming XJ673 (the CO of 20 Squadron's personal aircraft in the 1960s) in the process. The real XJ673 had been lost in an accident while flying from Hong Kong to Tengah. With 20's disbandment and reforming as a Harrier unit at Cottesmore, she was moved to Cottesmore and was looked after by 4 Squadron, back in the correct markings as XE606. She was displayed outside one of the hangars, and was kept in generally good condition. With the shocking and early end to Harrier operations, Cottesmore closed as a flying station and will soon be disbanded entirely. This left XE606 looking for another home - and she has found one, with 8 Squadron at Waddington. She has initially moved to Barkston Heath for a repaint (as you can see) and once that was done moved onwards to Waddington for a formal unveiling on 2nd June 2013 (replacing the Phantom that used to be on display).
Check out Gary's XE606 blog here
. XE606 is now marked up as XE620, the aircraft Sqn Ldr Tam Syme had as OC 8 Sqn from 1963 to 1965. The Squadron are selling some limited edition prints -
See here
. All proceeds will be used to complete a Squadron memorial by the Hunter and fund the upcoming Squadron centenary.
| | |
| --- | --- |
| | Information on this page current as of 17/06/2021, last updated by Jake |
Find other photos of XE620 on the following sites:

Air-Britain - Airliners.net - Airplane-Pictures.net - flickr.com - WorldAirPics.com - JetPhotos.net - PlanePictures.net