T.8C N-321 - Dutch Hawker Hunter Foundation, Leeuwarden, Netherlands
Hunter T.8C N-321 at Kemble, 19th June 2011; Damien Burke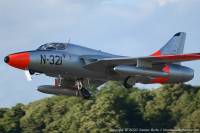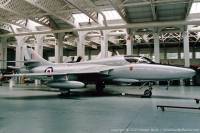 XF357 was built as an F.4 in 1956 and served with 130 Squadron at RAF until 1959 when she was bought back by Hawkers and converted to a two seat T.8 trainer version and delivered to the Royal Navy at Lossiemouth. She remained in service with the Royal Navy in various roles and assignments, ending her days with FRADU and was retired in 1994.
Sold off to a private owner, she was being restored to airworthiness by Jet Heritage, but with the end of JH, she was sold to a new owner and came under the care of the Old Flying Machine Company. The Classic Jet Aircraft Company completed the restoration on the OFMC's behalf and then OFMC then had her repainted her as XJ615, the T.7 prototype. XF357 has had her nose-mounted Harley light removed but retains her arrestor hook for safety reasons.
She moved on to a new owner - Elvington Events - for some time but in early 2007 was acquired by the Dutch Hawker Hunter Foundation, based in Holland, and gained full Dutch markings. She left for Leeuwarden - her new home - in mid-May 2007, and sadly rarely visited the UK from then. Dutch two-seaters wore the serials N-301 to N-320. DHHF decided to apply the next serial in line - N-321 - for which permission was granted by the KLU (Dutch Air Force).
Sadly in 2020 she ran into some maintenance difficulties and the DHHF decided that it would be easier to buy another Hunter than return N-321 to the air, so she is likely to remain grounded permanently.
| | |
| --- | --- |
| | Information on this page current as of 21/01/2021 |
Find other photos of N-321 on the following sites:

Air-Britain - Airliners.net - Airplane-Pictures.net - flickr.com - WorldAirPics.com - JetPhotos.net - PlanePictures.net