Hawker Hunter - Survivor WT680
F.1 WT680 - Anglia Motel, Fleet Hargate, Lincolnshire
Hunter F.1 WT680 at Fleet Hargate, 5th May 2016; Richard E Flagg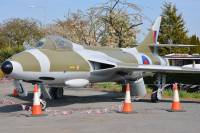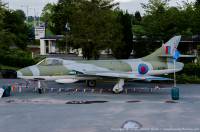 First flown on 6th October 1954, like many F.1s WT680 didn't have a long career and was retired to ground instructional duties by November 1957.
She ended up at Aberporth and was looked after by 1429 Squadron ATC at the Defence Test & Evaluation Organisation's facility there. In 2005 she moved, and was refurbished and put on display in the car park of the Anglia Motel by the side of the A17 road. Unfortunately her repaint was carried out by simply re-doing the previous inaccurate paint scheme - as a Mk.1 she never wore these colours in service. If you do go along to take your own pictures, there's a bucket next to it for donations - which usually go to charities (the BBMF on my last visit). While she spent a little time resting on her bottom with nosewheel in the air, she's now returned to a normal stance. Unusually for preserved Hunter she is complete with engine and her cockpit is also remarkably complete.
In 2015/2016, it was given a repaint, still in the incorrect colours..
Hopefully the corrison on the undercarriage was treated at the same time, the windows and canopy was starting to turn cloudy due to being in direct sunlight for several years.
In 2020, another repaint was started, the grey colour is a far better match than the previous repaints, however, the green is far from a good match with it look more of an emerald green.
Putting aside the paint colours, it's great to see the airframe is still getting some attention today.
| | |
| --- | --- |
| | Information on this page current as of 03/08/2021, last updated by Jake |
Find other photos of WT680 on the following sites:

Air-Britain - Airliners.net - Airplane-Pictures.net - flickr.com - WorldAirPics.com - JetPhotos.net - PlanePictures.net