Hawker Hunter - Survivor 'WB188' (really XF300, G-BZPC)
GA.11 WB188 - Riverside MOT Centre, Melksham, Wiltshire
Hunter GA.11 WB188 at Melksham, 27th January 2012; Paul Ridgwell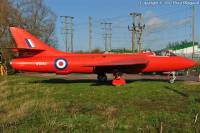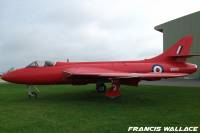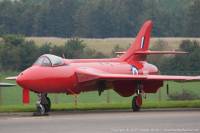 XF300 was built as an F.4 for the RAF and was delivered to 5MU on 9th January 1956. She served with 234 and 130 Squadrons before returning to Hawkers and being converted to a GA.11 for the RN, being delivered to 738 NAS at RNAS Lossiemouth on 12th February 1963, later moving to RNAS Brawdy and then back to Lossiemouth but with 746 NAS.
Placed into storage during the late 1970s, she was returned to service on 6th March 1980 with FRADU and served with them until May 1995, when she was flown into storage at RAF Shawbury. Sold to Barry Pearson at auction in November 2000, XF300 left Shawbury on 14th February 2001 and was placed on the civilian register as G-BZPC.
The aircraft was painted - as so many Hunters have been! - to represent the prototype in her Mk.3 guise with the intention of re-enacting the WB188 airspeed record flight on the 50th anniversary in September 2003, but sadly the aircraft was never made airworthy in time and a T.8 stood in for her on the day. Since then she has remained ground-bound and suffered a period of external storage at Exeter which did her no good at all.
Moved to Delta Jets at Kemble in 2006, she was assessed for a restoration to flight but I understand the amount of corrosion and water damage in the cockpit was such that this would be a very expensive proposition. She was then stored/on display as part of the 'spare' Hunter line-up at Kemble for some time, and with Delta's collapse she left Kemble in late 2011.
She's now on display at the Riverside MOT Centre in Melksham. As the nearby RAF Melksham had the real WB188 on display as a gate guardian from 1961 to 1964, she's an appropriate local attraction but her flying days are clearly now well and truly over.
| | |
| --- | --- |
| | Information on this page current as of 27/01/2021, last updated by Jake |
Find other photos of WB188 on the following sites:

Air-Britain - Airliners.net - Airplane-Pictures.net - flickr.com - WorldAirPics.com - JetPhotos.net - PlanePictures.net