English Electric Canberra - Survivors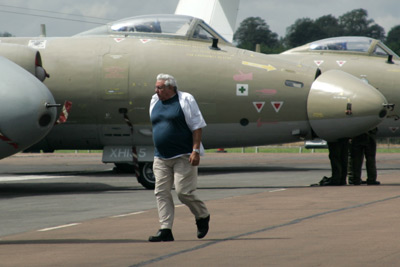 In memory of Les Bywaters, Canberra rigger and all round good bloke
With an enormous production run, it is no surprise that there are a lot of Canberras still hanging on to life out there - though sadly only one flying at the time of writing. Because of the sheer number, we've taken the decision to (at least initially) limit this list to Canberras of any mark located within Europe, and any outside of Europe that have some RAF or RN history (even if it's only having been allocated a UK serial number before sale to a foreign customer). US-produced B-57 airframes are therefore not included, nor are most UK-produced airframes built purely for export, or those licence built overseas (some have snuck through!). This does mean that most of the surviving examples in India and Australia have not been covered. We would welcome, however, individual contributions of photos and histories for any airframe we have skipped.
This list is, as ever, a work in progress and updates to existing entries are welcome via the comments form on each entry.
Finally, on a personal note from the site owner, adding the Canberra to Thunder & Lightning was something I had always intended to do, but there was always a great excuse not to bother - the Canberra Tribute site put together with much love and time by good friend Les Bywaters. Les passed away in 2009, and I hope this section of T&L does justice to his beloved Canberra. Les was a rigger on Canberras through the most dangerous parts of the Cold War, and had many tales of his time on B(I).8s in Germany. I'm glad he never had to put his family on the escape coach to the UK before seeing off his kite to rain nuclear fire upon invading Soviet troops. I'm glad he lived to see the cold war end; to see the Canberra reach the end of its long and varied RAF career, and to see them fly in private hands. Thank you mate, and rest in peace.
Complete aircraft
Serial
Mark
Owner & location
Updated
Unknown
Unknown
Base Aerea Libertador (stored), Maracay, Venezuela
01/03/2021
Unknown
Unknown
Base Aerea Libertador (stored), Maracay, Venezuela
01/03/2021
Unknown
Unknown
Base Aerea Libertador (stored), Maracay, Venezuela
01/03/2021
Serial
Mark
Owner & location
Updated
233 (ex WJ974)
B.2
Peru
234 (ex WJ976)
B.2
Peru
99+34 (ex WK137)
B.2
Internationales Luftfahrt-Museum, Schwenningen, Germany
29/12/2021
99+35 (ex WK138)
B.2
Militarhistorische Museum der Bundeswehr, Flugplatz Gatow, Berlin, Germany
29/12/2021
99+36 (ex WK130)
B.2
Auto und Technik Museum, Sinsheim, Germany
29/12/2021
A84-307 (ex WD939)
B.2
National Vietnam Veterans Museum, Philip Island, Victoria, Australia
29/12/2021
R2250 (ex WH666)
B.2
China Aviation Museum, Xiaotanzhanzen, China
01/06/2018
R2504 (ex WH707)
B.2
Zimbabwe Military Museum, Gweru, Zimbabwe
01/11/2016
WH700
B.2
Lincoln Nitshke Military and Historical Aircraft Collection, Greenock, South Australia
01/02/2019
WH725
B.2
Imperial War Museum, Duxford, Cambridgeshire
12/08/2021
WK163 (ex G-BVWC)
B.2
Vulcan to the Sky Trust (stored, dismantled), Doncaster Sheffield Airport, Yorkshire
24/09/2023
WK165
B.2
South Australian Aviation Museum, Port Adelaide, South Australia
28/11/2021
Serial
Mark
Owner & location
Updated
WV787
B.2(mod)
Newark Air Museum, Newark, Nottinghamshire
12/08/2021
Serial
Mark
Owner & location
Updated
WE139
PR.3
RAF Museum London, Hendon, London
23/04/2023
WF922
PR.3
Midland Air Museum, Baginton, Warwickshire
16/05/2022
Serial
Mark
Owner & location
Updated
2215 (ex WJ869)
T.4
Manyame Air Force base (displayed), Harare, Zimbabwe
01/03/2019
457 (ex WJ991)
T.4
South African Air Force Museum, Swartkop Airfield, Pertoria, South Africa
01/09/2014
459 (ex WJ617)
T.4
AAF Waterkloof (gate guard), Pretoria, South Africa, South Africa
01/09/2018
A84-502 (ex WT492)
T.4
Historical Aircraft Restoration Society Museum, Shellharbour Airport, Albion Rail, New South Wales, Australia
01/03/2019
Q495 (ex WH847)
T.4
India
'VN799' (really WJ874, ex G-CDSX)
T.4
Cornwall Aviation Heritage Centre, RAF St. Mawgan, Newquay, Cornwall
11/10/2022
WE188
T.4
Solway Aviation Museum, Carlisle Airport, Cumbria
20/08/2023
WH840
T.4
Norfolk & Suffolk Aviation Museum, Flixton, Norfolk
15/11/2021
WH846
T.4
Yorkshire Air Museum, Elvington, Yorkshire
25/09/2023
WT483
T.4
Luqa International Airport (for sale), Malta
28/12/2021
Serial
Mark
Owner & location
Updated
N40UP (ex XH567)
B.6
John Fischer, Canberra USA (Restoration to fly), Lakeport, California, USA
15/08/2021
WJ763
B.6
National Air and Space Museum of France, Le Bourget, Paris, France
01/07/2020
Serial
Mark
Owner & location
Updated
WT333 (ex G-BVXC)
B.6(mod)
Canberra WT333 Group (runner), Bruntingthorpe, Leicestershire
09/01/2022
Serial
Mark
Owner & location
Updated
WT308
B(I).6
Predannack Airfield (dumped), Cornwall
01/06/2021
Serial
Mark
Owner & location
Updated
WH773
PR.7
RAF Museum Laarbruch-Weeze, Weeze, North Rhine-Westphalia, Germany
13/11/2021
WH791
PR.7
Newark Air Museum, Newark, Nottinghamshire
14/11/2021
WT537
PR.7
Koropi Kalivia (Stored), Greece
01/09/2019
Serial
Mark
Owner & location
Updated
256 (ex XM726)
B(I).8
Pisco, Peru
10/09/2023
N30UP (ex WT327)
B(I).8
Vulcan to the Sky Trust, Lakeport (Stored), California, USA
01/01/2022
WT346
B(I).8
Canberra Support Group (CSG), Ardmore Airport, New Zealand
01/07/2021
XM264
B(I).8
Luftwaffenmuseum, Hermeskeil, Germany
01/09/2020
Serial
Mark
Owner & location
Updated
341 (ex XH166)
PR.9
National Aeronautical and Space Museum, Los Cerrillos, Chile
01/05/2018
343 (ex XH173)
PR.9
National Aeronautical and Space Museum, Los Cerrillos, Chile
01/05/2018
XH131
PR.9
Ulster Aviation Society, Long Kesh, Lisburn, Northern Ireland
06/03/2022
XH134 (ex G-OMHD)
PR.9
Cotswold Airport, Kemble, Gloucestershire
09/06/2023
XH169
PR.9
RAF Marham (gate guard), Norfolk
07/09/2021
XH170
PR.9
RAF Wyton (gate guard), Huntingdon, Cambridgeshire
05/12/2022
XH171
PR.9
RAF Museum Midlands, RAF Cosford, Shropshire
24/04/2022
Serial
Mark
Owner & location
Updated
202 (ex 454)
B(I).12
Pisco, Peru
10/09/2023
203 (ex 455)
B(I).12
Museo Aeronautico del Perú, Lima, Peru
10/09/2023
Serial
Mark
Owner & location
Updated
WD955
T.17
Norwegian Air Museum, Bodø, Norway
01/06/2008
WH740
T.17
East Midlands Aeropark, Castle Donnington, Derbyshire
25/02/2022
Serial
Mark
Owner & location
Updated
'A84-234', (VH-ZSQ, ex G-BURM, WJ680)
TT.18
RAAF 100 Squadron (flyer), Temora, New South Wales, Australia
12/08/2021
N76764 (ex WK142)
TT.18
Pima Air & Space Museum (stored), Tucson, Arizona, USA
04/01/2022
N76765 (ex WJ614)
TT.18
Pima Air & Space Museum (stored), Tucson, Arizona, USA
01/03/2019
WJ574 (N77844)
TT.18
Valiant Air Command, Inc. Space Coast Regional Airport, Titusville, Florida
13/11/2021
WJ639
TT.18
North East Land Sea & Air Museum, Sunderland, Durham & Cleveland
14/11/2021
WK126 (ex N2138J)
TT.18
South Wales Aviation Museum, (stored), St. Athan, Wales
24/02/2023
Serial
Mark
Owner & location
Updated
WH904
T.19
Newark Air Museum, Newark, Nottinghamshire
17/08/2021
Serial
Mark
Owner & location
Updated
A84-207
Mk.20
National Transport & Toy Museum (gate guard), Wanaka, New Zealand
28/11/2021
A84-208
Mk.20
Ron Schenider (stored), Rupanyup, Victoria, Australia
Serial
Mark
Owner & location
Updated
A84-125 (ex WD983)
Mk.21
RAAF Museum (taxiable), Amberley, Queensland, Australia
01/03/2019
A84-201
Mk.21
RAAF Amberley (displayed, memorial garden), New South Wales, Australia
25/08/2021
A84-203
Mk.21
Evans Head Memorial Aerodrome Heritage Museum, New South Wales, Australia
1/12/2021
A84-204
Mk.21
Meandarra ANZAC Memorial Museum, Queensland, Australia
Serial
Mark
Owner & location
Updated
52001 (ex WH711)
Tp.52
Svedinos Bil Och Flygmuseum, Ugglarp, Sweden
01/08/2016
52002 (ex WH905)
Tp.52
Flygvapenmuseum, Malmen, Linkoping, Sweden
10/09/2023
Serial
Mark
Owner & location
Updated
'921' (actually 240, ex WJ757)
B.56
Capitan FAP Renan Elias Olivera Airport (gate guard), Pisco, Peru
10/09/2023
Serial
Mark
Owner & location
Updated
IF901 (ex XH230)
B(I).58
India
01/05/2007
IF907 (ex XH237)
B(I).58
Indian Air Force Museum, AFS Palam, New Delhi, India
13/11/2021
Serial
Mark
Owner & location
Updated
B-101 (ex WJ616)
B.62
ESFA, Cordoba, Argentina
B-102 (ex WJ713)
B.62
Oliva, Cordoba, Argentina
02/10/2021
B-105 (ex WH702)
B.62
Mar del Plata Airport (gate guard), Buenos Aires, Argentina
B-109 (ex WH875)
B.62
National Aeronautical Museum, Moron, Argentina
01/11/2019
Serial
Mark
Owner & location
Updated
B-111 (ex WT476)
T.64
General Justo Jose de Urquiza Airport, Parana, Argentina
01/08/2017
B-112 (ex WJ875)
T.64
Parque Urquiza, Parana, Argentina
01/09/2019
Serial
Mark
Owner & location
Updated
251 (ex WT340)
B(I).68
Capitan FAP Renan Elias Olivera Airport (dumped), Pisco, Peru
10/09/2023
253 (ex XM273)
B(I).68
Capitan FAP Renan Elias Olivera Airport (stored), Pisco, Peru
18/02/2022
255 (ex XM263)
B(I).68
Capitan FAP Renan Elias Olivera Airport (stored), Pisco, Peru
01/10/2019
Serial
Mark
Owner & location
Updated
246 (ex WH846)
T.74
Pisco, Peru
10/09/2023
Serial
Mark
Owner & location
Updated
0129 (ex WH877) (or is this 0426?)
B.82
Base Aerea teniente Luis del Valle Garcia (dumped), Barcelona, Anzoategui, Venezuela
01/03/2021
1364 (ex WD993)
B.82
Base Aerea teniente Luis del Valle Garcia (dumped), Barcelona, Anzoategui, Venezuela
01/03/2021
'2A-39' (really 1511, ex WH862)
B.82
Museo Aeronautico de Maracay, Maracay, Venezuela
01/10/2014
3246 (ex 2B-39, WH736)
B.82
Juan Vicente Gomez International Airport (gate guard, derelict), San Antonio Del Tachira, Venezuela
01/01/2021
6409 (ex 3A-39, WH721)
B.82
Generralisimo Franciso de Miranda AB, La Carlota, Caracas, Venezuela
01/12/1990
Serial
Mark
Owner & location
Updated
1131 (ex WH647)
B(I).82
Base Aerea teniente Luis del Valle Garcia (dumped), Barcelona, Anzoategui, Venezuela
01/03/2021
1280 (ex WH881)
B(I).82
Base Aerea teniente Luis del Valle Garcia (dumped), Barcelona, Anzoategui, Venezuela
01/03/2021
1529 (ex WH732)
B(I).82
Base Aerea teniente Luis del Valle Garcia (dumped), Barcelona, Anzoategui, Venezuela
01/03/2021
2001 (ex WJ980)
B(I).82
Base Aerea teniente Luis del Valle Garcia (dumped), Barcelona, Anzoategui, Venezuela
01/03/2021
Serial
Mark
Owner & location
Updated
0453 (ex 4C-39)
B(I).88
Museo Aeronautico de Maracay, Maracay, Venezuela
01/10/2014
0923 (ex 4B-39)
B(I).88
Base Aerea teniente Luis del Valle Garcia (gate guard), Barcelona, Anzoategui, Venezuela
01/03/2021
Unknown
B(I).88
Base Aerea Libertador (stored), Maracay, Venezuela
01/03/2021
Nose/cockpit/other sections
Serial
Mark
Owner & location
Updated
WD935
B.2
South Yorkshire Aircraft Museum, AeroVenture, Doncaster, Yorkshire
30/10/2023
WD954
B.2
Privately owned, Spitfire Corner, near Newquay Airport, Cornwall
01/12/2020
WD956
B.2
RAF Defford Museum, Croome Park, Worcestershire
01/01/2020
WE113
B.2
Joe & Pam Marsden, Tangmere Military Aviation Museum, Tangmere, West Sussex
04/10/2021
WF911
B.2
Ulster Aviation Society, Long Kesh, County Antrim
06/03/2022
WG789
B.2
Steve Pickup, Norfolk & Suffolk Aviation Museum, Flixton, Norfolk
15/11/2021
WH657
B.2
Booker Air, Brenzett Aeronautical Museum, Brenzett, Kent
11/09/2022
WH739
B.2
2475 ATC Squadron, Ammanford, Carmarthenshire
01/06/2021
WH903
B.2
Yorkshire Air Museum, Elvington, York
01/06/2021
WJ567
B.2
Privately Owned, Houghton, Huntingdon, Cambridgeshire
01/07/2019
WJ676
B.2
Evans Head Heritage Aviation Museum, New South Wales, Australia
01/03/2019
WJ677
B.2
Privately Owned, Redruth, Cornwall
14/11/2021
WJ678
B.2
Evans Head Heritage Aviation Museum, New South Wales, Australia
12/08/2021
WJ731
B.2
Privately Owned (For Sale), Golders Green area
01/02/2021
WK128
B.2
South Wales Aviation Museum, St. Athan, Wales
24/02/2023
WK146
B.2
Gatwick Aviation Museum, Charlwood
13/11/2021
WP515
B.2
Militarhistorische Museum der Bundeswehr (Stored), Flugplatz Gatow, Berlin, Germany
01/09/2010
Serial
Mark
Owner & location
Updated
WH876
B.2(mod)
Boscombe Down Aviation Collection, Old Sarum airfield, Wiltshire
14/11/2021
Serial
Mark
Owner & location
Updated
WH734
B(TT).2
Ashburton Aviation Museum, Ashburton Aerodrome, New Zealand
01/03/2016
Serial
Mark
Owner & location
Updated
WE173
PR.3
Robertsbridge Aviation Society, Robertsbridge, East Sussex
14/11/2021
Serial
Mark
Owner & location
Updated
?
T.4
RAF Scampton Heritage Centre, RAF Scampton, Lincolnshire
22/12/2022
WD954
T.4
South Australian Aviation Museum, Port Adelaide, South Australia
01/03/2021
WE191 (ex Q497)
T.4
Stoneykirk Aviation Museum, Stoneykirk, Stranraer
24/06/2022
WE192
T.4
Blyth Valley Aviation Collection, Walpole, Suffolk
14/11/2021
WH849
T.4
RAF Laarbruch Museum, Laarbruch-Weeze, Germany
01/07/2018
WH850
T.4
Marham Aviation Heritage Centre, RAF Marham, Norfolk
01/11/2020
WJ865
T.4
Boscombe Down Aviation Collection, Old Sarum airfield, Wiltshire
30/03/2023
WJ880
T.4
Dumfries and Galloway Aviation Museum, Dumfires, Dumfries and Galloway, Scotland
04/10/2021
WJ992
T.4
GJD Services, (stored), St. Athan, Wales
24/02/2023
WT480
T.4
Flugplatz Museum Gütersloh, Germany
24/12/2021
WT486
T.4
Nigel Coward, (for sale) Westbury, Wiltshire
17/11/2021
XH584
T.4
Bill Fern, South Yorkshire Aircraft Museum, AeroVenture, Doncaster, Yorkshire
30/10/2023
Serial
Mark
Owner & location
Updated
VX185
B.5
National Museum of Flight, East Fortune, East Lothian
28/06/2022
Serial
Mark
Owner & location
Updated
WH953
B.6
Privately Owned, Walpole, Suffolk
01/08/2020
Serial
Mark
Owner & location
Updated
WJ775
B.6(mod)
Chris Barker, Farnborough area
01/03/2018
XH568
B.6(mod)
Privately owned, Lakeport, California, USA
12/08/2021
Serial
Mark
Owner & location
Updated
WT309
B(I).6
Air Sciences Trust Museum, Farnborough
01/10/2020
WT319
B(I).6
Andy Carnill & Sam Scrimshaw, South Yorkshire Aircraft Museum, AeroVenture, Doncaster, Yorkshire
30/10/2023
Serial
Mark
Owner & location
Updated
WH775
PR.7
Sue & Roy Jerman, Welshpool, Powys, Wales
30/11/2021
WH779
PR.7
South Yorkshire Aircraft Museum, AeroVenture, Doncaster, Yorkshire
30/10/2023
WH798
PR.7
Suffolk Aviation Heritage Group, Kesgrave, Suffolk
01/10/2018
WT507 (8548M)
PR.7
Mansfield ATC, Nottinghamshire
01/09/2015
WT520
PR.7
Hooton Park Trust, Wirral Peninsula, Cheshire
01/07/2019
WT532
PR.7
Bournemouth Aviation Museum, Hurn, Dorset
16/06/2022
WT534
PR.7
Privately Owned, Wisbech area, Cambridgeshire
01/12/2020
WT536
PR.7
South Yorkshire Aircraft Museum, AeroVenture, Doncaster, Yorkshire
30/10/2023
Serial
Mark
Owner & location
Updated
WT339
B(I).8
RAF Barkston Heath (fire training, wreck), Lincolnshire
13/11/2021
XM279
B(I).8
Norfolk & Suffolk Aviation Museum, Flixton, Norfolk
01/07/2021
Serial
Mark
Owner & location
Updated
XH135
PR.9
Ken Delve, West Raynham Business Park, Norfolk
13/08/2023
XH136
PR.9
Brenzett Aeronautical Museum, Brenzett, Kent
11/09/2022
XH165
PR.9
Blyth Valley Aviation Collection, Walpole, Suffolk
20/10/2021
XH174
PR.9
Privately Owned, Cannock, Staffordshire
01/02/2012
XH175
PR.9
Privately Owned, Bewdley, Worcestershire
01/06/2010
XH177
PR.9
Privately owned, Newark Air Museum, Newark, Nottinghamshire
03/07/2022
Serial
Mark
Owner & location
Updated
XH132
SC.9
Albino Panigarri, Vigolzone, Italy
01/04/2016
Serial
Mark
Owner & location
Updated
204 (ex 456)
B(I).12
Museo Aeronautico del Perú, Lima, Peru
01/08/2016
Serial
Mark
Owner & location
Updated
WH960
B.15
Rolls Royce Heritage Trust Derby, Derbyshire
01/03/2020
WH984
B.15
John Sheldrake, City of Norwich Aviation Museum, Horsham St. Faith, Norwich
06/12/2022
WT205
B.15
RAF Manston History Museum, Kent
01/05/2019
Serial
Mark
Owner & location
Updated
WH957
E.15
Lincolnshire Aviation Heritage Centre, East Kirkby, Lincolnshire
15/11/2021
WH964
E.15
Privately Owned, Chailey, East Sussex
15/11/2021
Serial
Mark
Owner & location
Updated
WH863
T.17
Newark Air Museum, Newark, Nottinghamshire
29/08/2021
WJ565
T.17
South Yorkshire Aircraft Museum, AeroVenture, Doncaster, Yorkshire
30/10/2023
WJ576
T.17
Tettenhall Transport Heritage Centre, Wolverhampton
07/11/2022
WJ633
T.17
City of Norwich Aviation Museum, Horsham St. Faith, Norwich
05/12/2022
WK102
T.17
Sue & Roy Jerman, Welshpool, Powys, Wales
30/11/2021
Serial
Mark
Owner & location
Updated
WH646
T.17A
Midland Air Museum, Baginton, Warwickshire
16/05/2022
Serial
Mark
Owner & location
Updated
WE122
TT.18
Blyth Valley Aviation Collection, Walpole, Suffolk
14/11/2021
WH887
TT.18
Andrew Shemans, Bruntingthorpe, Leicestershire
31/12/2021
WJ717 (9052M)
TT.18
Privately Owned, Crew area, Cheshire
01/10/2006
WJ721
TT.18
Morayvia, Moray, Kinloss, Scotland
01/07/2021
WK118
TT.18
Avro Heritage Museum, Woodford
26/01/2022
WK122
TT.18
Lakes Lightnings, Spark Bridge, Cumbria
12/08/2021
WK124 (fuselage)
TT.18
Cornwall Aviation Heritage Centre, RAF St. Mawgan, Newquay, Cornwall
11/10/2022
WK124 (nose)
TT.18
Lyndon and Joe Blackburne, Gilberdyke, East Yorkshire
01/11/2020
WK127
TT.18
Wings Aviation Museum, Balcombe, Sussex
01/06/2021
Serial
Mark
Owner & location
Updated
WJ975
T.19
Julian Warren, South Yorkshire Aircraft Museum, AeroVenture, Doncaster, Yorkshire
30/10/2023
Serial
Mark
Owner & location
Updated
A84-209
Mk.20
Camden Museum of Aviation, Australia
30/11/2021
Serial
Mark
Owner & location
Updated
WT525
T.22
Jon Goodwin, South Yorkshire Aircraft Museum, AeroVenture, Doncaster, South Yorkshire
30/10/2023