English Electric Canberra - Survivor VX185
B.5 VX185 - National Museum of Flight, East Fortune, East Lothian
Canberra B.5 VX185 at National Museum of Flight, 24th June 2022; Adam Poultney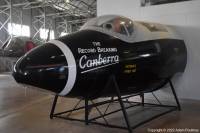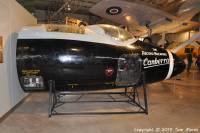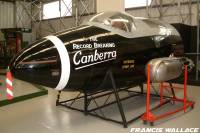 This record-breaking Canberra began life as a PR.3 but was completed as the B.5 prototype in 1951. Shefirst flew in August of that year and was transferred to the English Electric Co in the September. She stayed with EE Co for just over a year. During this year, VX185 made a record breaking flight by double crossing the Atlantic on the 26th August 1952. She was flown from Aldergrove to Gander and then back by Wing Commander RP Beamont and crewed by Peter Hillwood and Dennis Watson. The flight took 10 hours 3 minutes and 29.38 seconds, averaging a speed of 411.99 mph.
In 1954, VX185 was sent to BAC Warton for conversion to B(I).8 configuration. In 1955 she was transferred to A&AEE for a while before going to Ferranti as a "target" for their flight trials with AI Radar. 1958 saw VX185 transferred yet again, this time to Short Bros in Belfast (at RAF Aldergrove) for development work on the PR.9 program. This was short-lived though as in 1959 VX185 was transferred to RAF St Athan as a Ground Instructional airframe. Eventually VX185 went to BAC Filton in 1961 and was broken up there in 1964.
When she was converted to a B(I).8 in 1954, the nose of this record-breaking Canberra, in Bomber Command's black/grey colours, was acquired by the Science Museum in London. It has since been moved to Scotland's Museum of Flight in East Fortune.
| | |
| --- | --- |
| | Information on this page current as of 28/06/2022, last updated by Jake |
Find other photos of VX185 on the following sites:

Air-Britain - Airliners.net - Airplane-Pictures.net - flickr.com - WorldAirPics.com - JetPhotos.net - PlanePictures.net