English Electric Canberra - Survivor WT486
T.4 WT486 - Nigel Coward, (for sale) Westbury, Wiltshire
Canberra T.4 WT486 at Westbury, 4th September 2021; Nigel Coward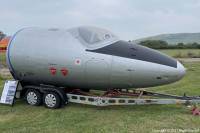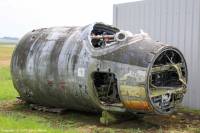 Awaiting collection on June 30th 1955, WT486 was initially issued to the Station Flight at RAFG Wildenrath. When 88 Sqn formed there with their Canberra B(I).8s in January 1956, WT486 was transferred to their charge as a conversion and continuation trainer. She stayed with 88 Sqn until some time in 1957 when she was again transferred, this time to the charge of 17 Sqn who had moved to RAFG Wildenrath from RAFG Wahn in the March of that year with their Canberra PR.7s.
In December 1962 88 Sqn was re-numbered to 14 Sqn while retaining their B(I).8s and remaining at RAFG Wildenrath. WT486 was again on the move, being transferred back to the charge of the B(I).8 squadron. For the next few years, WT486 flew with 14 Sqn providing conversion and continuation training for the B(I).8 pilots. With the disbandment of 14 Sqn in June 1970, WT486 was transferred back to the charge of Widenrath's Station Flight - returning to her starting place.
1970 was the end of Canberras at RAFG Wildenrath - 17 Sqn's PR.7s had disbanded in the December of 1969. It was also the beginning of the end of the RAF's Canberras in Germany, with final withdrawal in 1972. Accordingly, WT486 became surplus to the flying trainer inventory at RAFG Wildenrath and was flown to No.2 School of Technical Training (SoTT) at RAF Cosford where she was allocated as Ground Instructional Airframe 8102M on August 21st, 1970.
WT486 stayed at RAF Cosford as an instructional airframe for the next five years. RAF Cosford must have looked after this T.4, though, because in 1975 WT486 was transferred to the Apprentice Training School at the RAF's No 23 Maintenance Unit, Aldergrove, Ireland. There, it also lasted five years with the apprentices but was sadly derelict by 1980 and moved onto the fire dump at Belfast Airport, Aldergrove where it received a huge amount of damage.
Eventually, the Flight Experience Workshop recovered the cockpit section from the fire dump at Aldergrove intending to put it in a Museum which they were planning with the Castlereagh Council - unfortunately, the plan failed. She lay for several years at Gilnahirk Golf Course, Belfast until she was rediscovered by Tony Osborne, AWO with 2241 ATC Sqn based at Regent House School Newtownards, who acquired her for the Sqn.
She was subsequently donated by Flight Experience Workshop to the ATC squadron and was moved to 664VGS at Newtownards airfield during September 2005. Tony got the cockpit as he wanted it to be a long-term restoration project for the cadets and eventually display it as an exhibit. This restoration never happened and sadly she looked in a very poor state as the photo shows.
In March 2019, the cockpit was brought by private collector Nigel Coward who moved it to Westbury in Wiltshire along with a few other cockpit sections. After two or so years of huge efforts restoring the nose section, it's now hard to believe that WT486 ever got into the state it once was. WT486 now has been fitted with a replacement nose, canopy, any missing panels, and has been repainted.
Due to a lack of canopy for so many years, there are still several areas in the cockpit that are very corroded, however, Nigel has done a great job at filling in all the empty holes with the correct instruments. On October 1st 2021, Nigel announced that the cockpit is up for sale, if you are interested in purchasing WT486, please visit the
Canberra T4 WT486 Facebook Page
and private message him expressing your interest.
| | |
| --- | --- |
| | Information on this page current as of 17/11/2021, last updated by Jake |
Find other photos of WT486 on the following sites:

Air-Britain - Airliners.net - Airplane-Pictures.net - flickr.com - WorldAirPics.com - JetPhotos.net - PlanePictures.net