English Electric Canberra - Survivor WT333 (ex G-BVXC)
B.6(mod) WT333 - Canberra WT333 Group (runner), Bruntingthorpe, Leicestershire
Canberra B.6(mod) WT333 at Bruntingthorpe, 9th January 2022; Damien Burke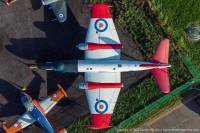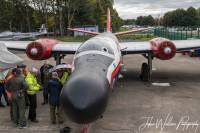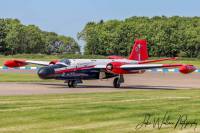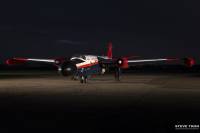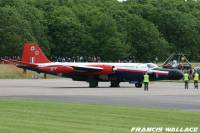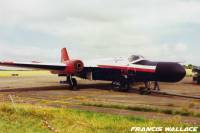 In 1956, WT333 was built as a B(I)8 and was delivered to Marshalls of Cambridge for trials of the Smiths MK19 autopilot and power rudder stabilizer trials. A few months later, the airframe was transferred to the Royal Aircraft Establishment's Armament department for flight trials testing the Low Altitude Bombing System (LABS). In 1958, WT333 took part in rocket firing trials with the Microcell unguided missile system at A&AEE. The airframe returned to Marshalls in the mid-1960s and had a major overhaul, once completed WT333 was transferred to BAC Warton to take part in drop tanks trials. Later the same year WT333 took part in several weapons trials in Australia before returning to the Radar Research Establishment in 1969 where she tested missile homing head development.
In 1970, WT333 was placed into storage at RAF Shawbury before re-emerging in 1976 and modified to a B.6 with a distinctively long nose, the nose extension originally coming from Canberra WK135.
WT333 retired to Bruntingthorpe on the 9th January 1995, joining her sister XH568 which was already preserved on site, with WK163 joining them later that day. The airframe had several parts removed including the two engines to help keep others in the air.
XH568 was sadly scrapped in 2006 with the cockpit being sent to the USA, however, her engines and other parts needed went to WT333 and her restoration to taxiable condition began. By 2008, she had performed her first public fast taxi at Bruntingthorpe and the airframe continued to perform aborted take-offs to the crowd on the open days for several years, until 2019.
Sadly, in 2020, the days of Bruntingthorpe being a centre of live aviation came to an end with the site being leased to Cox Automotive who wanted all aircraft to be removed from the site by the end of the year. In late 2020, a new museum area was created by the Lightning QRA shed and many of the remaining airframes were repositioned to the new site.
After nearly two years of not much action due to the pandemic, the WT333 group carried out three successful dry starts on her in July 2021, and on the 23rd October 2021, WT333 had her first run in over 2 years! The run was very successful and was a huge achievement for the group.
The new museum site is not yet open to the public as groundworks have come to a halt for the winter. The volunteers are hoping to be open in Spring 2022 and will hold the occasional anti-det event.
| | |
| --- | --- |
| | Information on this page current as of 09/01/2022, last updated by Damien |
Find other photos of WT333 on the following sites:

Air-Britain - Airliners.net - Airplane-Pictures.net - flickr.com - WorldAirPics.com - JetPhotos.net - PlanePictures.net