English Electric Canberra - Survivor WH791
PR.7 WH791 - Newark Air Museum, Newark, Nottinghamshire
Canberra PR.7 WH791 at Newark Air Museum, 31st March 2021; Damien Burke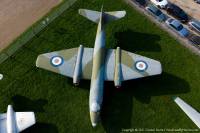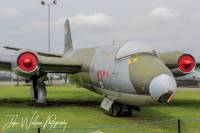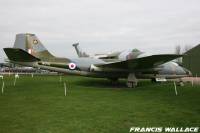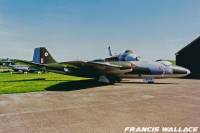 Entering RAF service in 1954 with 542 Sqd at RAF Wyton, this PR.7 spent the early part of her service life at that station. She was transferred to 82 Sqd, also at RAF Wyton (probably when 542 converted to the Canberra B.2) and moved to RAF Weston Zoyland in December 1955. WH791 was on the move again when 82 Sqd shut-down in September 1956, this time to 58 Sqd - also based at RAF Wyton at that time, not a long distance to move. In the early 60s (1960/61), when 58 Sqd converted to the PR.9, WH791 was transferred to 81 Sqn - at RAF Tengah in Singapore, her longest move yet!
While with 81 Sqn, WH791 would have been involved in the "troubles" in Borneo in 1962, flying low-level PR missions over the jungle and coastline, probably out of Labuan, and often at night, for which a flares/photo flash crate would have been fitted. All good things come to an end however and, eventually, WH791 was returned to the UK. She was stored at RAF St Athan, alloted the instructional number of 8115M, and then 8176M and was stuck off charge as scrap in February 1972.
Luckily, the scrapping was cancelled and WH791 was moved to RAF Cottesmore as the new gate guard in October 1972. Initially, it was marked as WH717, but this was corrected in 1974. She then gained the fin emblem of 231 OCU for some reason. With the exit of the Tri-National Tornado Training Establishment from Cottesmore and its new life as a Harrier station, WH791 was once again deemed surplus to requirements.
WH791 was then acquired by the Newark Air Museum and moved by road over the weekend of 28/29 November 1998 and reassembled. After her arrival, she was treated to a repaint and was marked as WH792, but this was then corrected again during her second repaint around 2016. However, this is starting to look very faded again as the photo above shows.
| | |
| --- | --- |
| | Information on this page current as of 14/11/2021, last updated by Jake |
Find other photos of WH791 on the following sites:

Air-Britain - Airliners.net - Airplane-Pictures.net - flickr.com - WorldAirPics.com - JetPhotos.net - PlanePictures.net