English Electric Canberra - Survivor WK163 (ex G-BVWC)
B.2 WK163 - Vulcan to the Sky Trust (stored, dismantled), Doncaster Sheffield Airport, Yorkshire
Canberra B.2 WK163 at Doncaster, 2nd October 2017; Richard E Flagg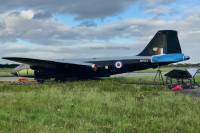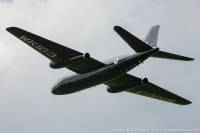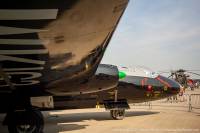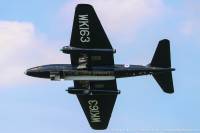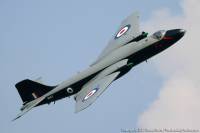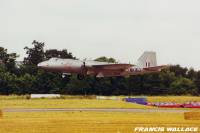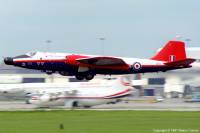 Delivered to the RAF in 1955, this B.2 went almost immediately to Armstrong Siddley at Bitteswell for installation of Sapphire Sa 7s and then on to Napier's works at Luton Airport. At Napiers, the Double Scorpion rocket motor was fitted into the rear of the bomb-bay. This rocket motor was being developed as a power-booster for the English Electric Co's P.1 (the prototype Lightning).
In August 1957, with the aid of this rocket, WK163 captured the world altitude record achieving a height of 70,310 feet! After this event, the airframe has a red scorpion painted on the nose with details of the altitude record.
A fairly varied career followed in research flying with its transfer to Bristol Siddeley at Filton where it was used for testing the short and long life Viper. In 1959 WK163 was again transferred, this time to the Radar Research Establishment for infra-red linescan development as part of the TSR2 programme.
Then WK163 really "came apart". At Pershore in 1968, B.6 wings and engines were fitted. In 1969, the original nose was fitted to WT327 and WK163 received the nose from B.6 XH568. WK163 was the first Radar Research Flying Unit Canberra to be handed over to the Royal Aircraft Establishment Bedford in 1976.
After retirement in the 1990s, WK163 was acquired by Classic Aircraft Projects who restored her to her Scorpion markings and successfully operated her on the airshow circuit, based in very austere conditions at Bruntingthorpe. They later moved her to Coventry Airport to lodge with Air Atlantique's Classic Flight.
CAP carried out a major refurbishment program during 2002, returning to the air in May 2003. Gone was the "Scorpion" identity as WK163 took to the air in the classic grey/black "Bomber Command 1" colours as used for Canberras on their entry into RAF service in 1951. The red lightning flash on the nose is representative of 617 Sqd whose device this was in those days. WK163 was a highly popular airshow performer and was usually flown by David Piper.
Sadly, WK163 suffered an engine failure whilst taxiing out to take off in 2007, which has grounded her ever since. Volunteers undertook a huge worldwide search to try and find another engine with the correct paperwork to allow the airframe to take the skies once again. In the mean time, the aircraft was initially stored but then an in-depth restoration was begun with the airframe being comprehensively stripped out. Sadly this came to a halt and with Classic Flight first departing Coventry and then being wound up, the now abandoned airframe came up for disposal, with many of the removed parts having vanished.
In 2016, WK163 was - to much surprise - sold to the Vulcan to the Sky Trust (VTTS) and moved to Robin Hood airport in Doncaster, joining Vulcan XH558. The Trust was enthusiastic about returning the airframe to the skies once again, but more than 5 years later there has been no progress. She has basically sat, still dismantled, in open storage. In November 2020 VTTS acquired WT327 - which of course still had WK163's original nose section, with the aim of reuniting the nose with the airframe and thus shortcutting a huge amount of restoration work that would be needed with WK163's existing stripped-out nose.
VTTS continues to fundraise to try and build a new hangar at Doncaster, and put both XH558 and WK163 under cover - but there has to be some doubt as to whether WK163 will ever be returned to the air given the lack of any work at all on the airframe in her 5 years of outside storage.
| | |
| --- | --- |
| | Information on this page current as of 31/12/2021, last updated by Jake |
Find other photos of WK163 on the following sites:

Air-Britain - Airliners.net - Airplane-Pictures.net - flickr.com - WorldAirPics.com - JetPhotos.net - PlanePictures.net