English Electric Canberra - Survivor XH131
PR.9 XH131 - Ulster Aviation Society, Long Kesh, Lisburn, Northern Ireland
Canberra PR.9 XH131 at Ulster Aviation Society, 5th March 2022; Jake Wallace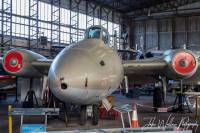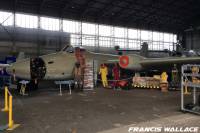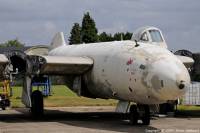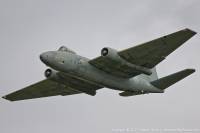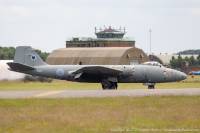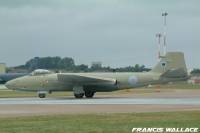 Awaiting collection in March 1959, the first five years for this PR.9 were spent shuttling back and forth between English Electric at Warton and Shorts Brothers in Belfast on various flight checking duties and engineering trials. Tropical trials were carried out in December/January 1959 in Bahrain. Delivered for acceptance checks to 15 MU in February 1964, XH131 went onto Ministry of Aircraft charge with Air Headquarters, Malta in June of that year. After a brief loan to Air Headquarters, Akrotiri (Cyprus) in November of 1964, XH131 returned to AHQ Malta where it remained until transferring to 13 Sqn's charge (probably when 13 Sqn moved from Akrotiri to Malta in September 1965). Transferring again to 39 Sqn, XH131 ended up at RAF Wyton before moving to RAF Marham.
XH131 was purchased by Midair, and she retired to Kemble in 2006 for preservation alongside XH134 and XH135. XH131 was the last of the three to touch down, making her the last Canberra to fly with the RAF. Spending many years in the hands of Delta Jets and Midair, XH131 was often seen seen at different places around the airfield, normally out of public reach. As was always the plan with one of the three airframes, XH131 was put up for sale by Midair, and was purchased by the Ulster Aviation Society (UAS) in 2010. A small number of the UAS volunteers dismantled the aircraft and moved it to Northern Ireland in December where it was reassembled and restored at their facility. It took much effort removing all the grey temporary paint finish which at the time was no longer grey, however, this temporary paint really helped to preserve the hemp colours while she was kept outside.
Today, XH131 can be seen undercover on display at UAS (although a little crammed in) and is in excellent condition. The volunteers often open up the navigator's station too.
| | |
| --- | --- |
| | Information on this page current as of 06/03/2022, last updated by Jake |
Find other photos of XH131 on the following sites:

Air-Britain - Airliners.net - Airplane-Pictures.net - flickr.com - WorldAirPics.com - JetPhotos.net - PlanePictures.net