English Electric Lightning - Survivors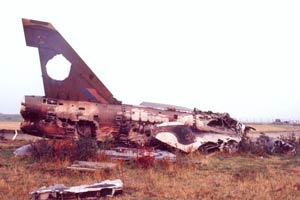 Sadly not all can be saved - XN774 was used for fire crew training duties, ending up as a prop in a crash training scenario at RAF Coningsby before finally being buried under a pile of gravel; Nick Challoner
Lightnings have thankfully survived retirement very well, with many airframes preserved throughout the UK (and a few elsewhere). Some are even flying, though not in the UK. The sheer popularity of the Lightning is evident in the number that have ended up in museums - and not only just parked on the nearest bit of grass, but often pampered with nice air-conditioned hangars! Given the importance of the Lightning in beginning Britain's defence exports to the Middle East and its advanced design for its time, it is only fitting that you don't have to travel far to find at least one of these wonderful pieces of aviation history.
The list here is compiled from a number of sources, with particular credit to Wrecks & Relics, Military Aircraft Markings, Lightnings Live On, Demobbed and of course many visitor contributions.
Click on the serial of a survivor entry for further information. Please comment on any individual survivor entry you feel requires an update!
Complete aircraft
Serial
Mark
Owner & location
Updated
WG768
SB.5
RAF Museum Cosford, (stored), Shropshire
12/06/2023
Serial
Mark
Owner & location
Updated
WG760
P.1A
RAF Museum Cosford, (stored), Shropshire
12/06/2023
WG763
P.1A
Boscombe Down Aviation Collection, Old Sarum Airfield, Wiltshire
18/03/2023
Serial
Mark
Owner & location
Updated
XA847
P.1B
Giles Howell (stored), Kettleburgh, Suffolk
20/06/2021
Serial
Mark
Owner & location
Updated
XG313
F.1
RSAF, Dhahran, Saudi Arabia
XG329
F.1
Ian Hancock, Norfolk & Suffolk Aviation Museum, Flixton, Norfolk
08/06/2023
XG337
F.1
RAF Museum Midlands, RAF Cosford, Shropshire
24/04/2022
XM135
F.1
Imperial War Museum, Duxford Airfield, Cambridgeshire
28/05/2023
Serial
Mark
Owner & location
Updated
XM172
F.1A
Lakes Lightnings, Spark Bridge, Cumbria
08/06/2023
XM173
F.1A
Dyson Ltd. (on display in staff canteen), Malmesbury, Wiltshire
18/06/2021
XM178
F.1A
Association des Amis du Musee du Chateau, Savigny-Les-Beaune, France
08/06/2026
XM192
F.1A
Charles Ross, Thorpe Camp Visitor Centre, Woodhall Spa, Lincolnshire
08/06/2023
Serial
Mark
Owner & location
Updated
XN730
F.2A
Militärhistorische Museum der Bundeswehr, Flugplatz Gatow, Berlin, Germany
08/06/2023
XN776
F.2A
National Museum of Flight, East Fortune Airfield, Lothian, Scotland
27/06/2022
XN782
F.2A
Luftfahrtausstellung Museum, Hermeskeil, Germany
08/06/2023
XN784
F.2A
Zruc Air Park, Pilsen, Czech Republic
16/06/2022
Serial
Mark
Owner & location
Updated
XP706
F.3
South Yorkshire Aircraft Museum, Doncaster, South Yorkshire
22/06/2022
XP745
F.3
Vanguard Haulage, Greenford, Greater London
08/06/2023
XR713 ('XR718')
F.3
Lightning Preservation Group, Bruntingthorpe Aerodrome, Leicestershire
02/06/2022
XR718
F.3
Anthony Harker, Over Dinsdale, Darlington, Durham
24/10/2021
XR749
F.3
Score Group PLC (gate guard), Glenugie Engineering Works, Peterhead, Aberdeenshire
29/04/2012
Serial
Mark
Owner & location
Updated
XL629
T.4
MoD Boscombe Down (displayed near gate), Wiltshire
08/05/2023
Serial
Mark
Owner & location
Updated
XS416
T.5
Dave and Lesley Blissett, Binbrook, Lincolnshire
31/08/2021
XS417
T.5
Newark Air Museum, Winthorpe, Nottinghamshire
13/04/2021
XS420
T.5
Richard Hall, Farnborough Air Sciences Trust Museum (gate guard), Farnborough, Hampshire
22/12/2022
XS422
T.5
Anglo-American Lightning Organisation (restoration to fly), Stennis International Airport, Hancock County, Mississippi, USA
17/10/2008
XS456
T.5
Skegness Airfield, Ingoldmells, Lincolnshire
29/12/2020
XS458
T.5
Russell Carpenter, Cranfield, Bedfordshire
05/07/2021
XS459
T.5
Ian Black, Binbrook, Lincolnshire
03/05/2021
ZU-BBD (ex XS452)
T.5
Privately owned, (for sale, stored), Cape Town International Airport, South Africa
25/11/2022
Serial
Mark
Owner & location
Updated
XP693 (ex ZU-BEY, ex G-FSIX)
F.6
Ian Black, Binbrook. Lincolnshire
12/07/2023
'XP765' (really XS897)
F.6
Lakes Lightnings, RAF Coningsby (29 Sqn, displayed), Lincolnshire
22/06/2022
XR724
F.6
Lightning Association, Binbrook airfield, Lincolnshire
07/04/2023
XR725
F.6
Charles Ross, Chestnut Farm, Binbrook village, Lincolnshire
07/04/2023
XR728
F.6
Lightning Preservation Group (runner), Bruntingthorpe, Leicestershire
02/06/2022
XR753
F.6
RAF Coningsby (11 Sqn mascot, displayed), Lincolnshire
17/12/2021
XR755
F.6
Ernie Marshall, near Callington, Cornwall
11/10/2022
XR770
F.6
RAF Manston History Museum, Manston, Kent
30/12/2015
XR771
F.6
Midland Air Museum, Coventry Airport, Warwickshire
16/05/2022
XR773 (ZU-BEW, ex G-OPIB)
F.6
Privately owned, (stored), Cape Town International Airport, South Africa
25/11/2022
XS903
F.6
Yorkshire Air Museum, Elvington, North Yorkshire
25/09/2023
XS904
F.6
Lightning Preservation Group (runner), Bruntingthorpe, Leicestershire
14/11/2022
XS919
F.6
Henstridge Airfield (stored), Somerset
01/07/2014
XS925
F.6
RAF Museum London, Hendon, London
23/04/2023
XS928
F.6
BAE Systems, Warton (displayed within the site), Lancashire
17/10/2008
XS929
F.6
RAF Akrotiri (gate guardian), Cyprus
05/08/2021
XS936
F.6
Roy Flood, Castle Air/Castle Motors, on A38 near Liskeard, Cornwall
11/10/2022
Serial
Mark
Owner & location
Updated
52-609 (ex 52-655, XN767)
F.52
Technical Services Institute, Dhahran, Saudi Arabia
52-610 (ex 52-656, XN770)
F.52
Saqr al Jazira (RSAF) Museum, Riyadh, Saudi Arabia
23/10/2008
Serial
Mark
Owner & location
Updated
53-412
F.53
Kuwait International Airport, Kuwait
28/11/2021
53-415
F.53
RKAFB Al Jaber (gate guardian), Kuwait
53-416
F.53
RKAFB Al Jaber (gate guardian), Kuwait
53-417
F.53
RKAFB Al Jaber (gate guardian), Kuwait
53-418
F.53
Educational Science Museum, Kuwait City, Kuwait
28/11/2021
53-420
F.53
Kuwait Technology Institute, Kuwait
28/11/2021
53-421
F.53
MOD Mubarak Camp Headquarters, Kuwait-City. Kuwait
24/12/2021
53-422
F.53
RKAFB Ali Al Salem (gate guardian), Kuwait
28/11/2021
53-423
F.53
RKAFB Ali Al Salem (gate guardian), Kuwait
28/11/2021
53-671
F.53
Gatwick Aviation Museum (runner), Charlwood, Surrey
07/08/2023
53-684? ('1303')
F.53
Displayed, Taif, Saudi Arabia
07/02/2009
53-687
F.53
RSAF, Khamis Mushayt, Saudi Arabia
53-698
F.53
RSAF Tabuk (gate guardian?), Saudi Arabia
23/10/2008
53-699
F.53
RSAF Tabuk, Saudi Arabia
23/10/2008
'XP748' (really ZF583, ex 53-681)
F.53
Solway Aviation Museum, Carlisle Airport, Cumbria
20/08/2023
'XR753' (really ZF578, ex 53-670)
F.53
Tangmere Military Aviation Museum, Tangmere, West Sussex
19/10/2008
'XS933' (really ZF594, ex 53-696)
F.53
North East Land Sea & Air Museum, Sunderland Airport, Tyne & Wear
27/06/2022
'XS935' (really ZF580, ex 53-672)
F.53
Cornwall Aviation Heritage Centre, RAF St. Mawgan, Cornwall
11/10/2022
ZF581 (ex 53-675)
F.53
Bentwaters Cold War Museum, Bentwaters airfield, Suffolk
09/12/2020
ZF584 (ex 53-682)
F.53
Dumfries & Galloway Aviation Museum, Dumfries, Dumfries & Galloway, Scotland
31/08/2021
ZF588 (ex 53-693)
F.53
East Midlands Aeropark, Castle Donnington, Derbyshire
25/02/2022
ZF591 (ex 53-685)
F.53
Location unknown
ZF592 (ex 53-686)
F.53
City of Norwich Aviation Museum, Horsham St. Faith, Norfolk
05/12/2022
ZF593 (ex 53-692)
F.53
Pima Air & Space Museum, Tucson, Arizona, USA
15/06/2021
Serial
Mark
Owner & location
Updated
54-607 (ex 54-650, XM989)
T.54
RSAF (displayed), Dhahran Airport, Saudi Arabia
54-608 (ex 54-651, XM992)
T.54
Prince Sultan Air Base (gate guard), Al Kharj, Saudi Arabia
01/11/2008
Serial
Mark
Owner & location
Updated
55-410
T.55
RKAFB Ali Al Salem (wreckage, derelict), Kuwait
28/11/2021
55-411
T.55
Air Museum, Kuwait International Airport, Kuwait
55-713 (ZF598)
T.55
Midland Air Museum, Coventry Airport, Warwickshire
16/05/2022
55-716
T.55
Saqr al Jazira (RSAF) Museum, Riyadh, Saudi Arabia
23/10/2008
Nose/cockpit/other sections
Serial
Mark
Owner & location
Updated
N/A
Simulator
Tangmere Military Aviation Museum, Tangmere, West Sussex
22/01/2012
'XM171'
Simulator
Farnborough Air Sciences Trust (cockpit), Farnborough, Hampshire
20/10/2008
Serial
Mark
Owner & location
Updated
XG325
F.1
Privately owned, Thetford, Norfolk
22/08/2012
XG331
F.1
Jet Age Museum (cockpit only, stored), Gloucestershire
19/10/2008
Serial
Mark
Owner & location
Updated
XM144
F.1A
Atlantic Air Adventures, Shannon, Clare, Eire
19/08/2022
XM169
F.1A
Ken Ward, Morayvia, Kinloss, Scotland
19/07/2021
XM191
F.1A
Privately owned, North Scarle, Lincolnshire
19/10/2008
Serial
Mark
Owner & location
Updated
XN769
F.2
Malta Aviation Museum, Ta' Qali, Malta
24/06/2021
Serial
Mark
Owner & location
Updated
XN726
F.2A
Boscombe Down Aviation Collection, Old Sarum Airfield, Wiltshire
30/03/2023
XN728 (8546M)
F.2A
Darren Swinn, Lincolnshire
01/09/2021
XN795
F.2A
Carl Lamb, Neatishead, Norfolk
22/07/2022
Serial
Mark
Owner & location
Updated
XP701
F.3
Robertsbridge Aviation Society, Mayfield, East Sussex
13/10/2013
XP703
F.3
Lightning Preservation Group, Bruntingthorpe Aerodrome, Leicestershire
24/10/2021
XP743
F.3
Ken Hayward, Norfolk & Suffolk Aviation Museum, Flixton, Norfolk
28/06/2022
XP757
F.3
Martyn Steele (cockpit only), Stamford, Lincolnshire
25/10/2008
XR751
F.3
Jet Art Aviation, Selby, North Yorkshire
01/07/2011
Serial
Mark
Owner & location
Updated
XS421
T.5
Carl Lamb, Neatishead, Norfolk
22/07/2022
XS457
T.5
Lincair, Binbrook, Lincolnshire
02/08/2021
XV328
T.5
Lightning Preservation Group, Bruntingthorpe, Leicestershire
24/10/2021
Serial
Mark
Owner & location
Updated
XR726
F.6
Privately owned, (Internal fittings only), Binbrook, Lincolnshire
08/08/2022
XR747
F.6
Privately Owned, Bideford, Devon
02/08/2021
XR754
F.6
Matt Buddle, Upwood, Cambridgeshire
24/06/2021
XR757
F.6
Privately owned, Newark Air Museum, Winthorpe Show Ground, Nottinghamshire
10/07/2022
XR759
F.6
Glenn Edwards, North Weald, Essex
17/07/2021
XS898
F.6
Tony Collins, Lavendon, Buckinghamshire
02/09/2022
XS899
F.6
Charles Ross, Binbrook, Lincolnshire
07/04/2023
XS922
F.6
Lakes Lightnings (cockpit), Spark Bridge, Cumbria
10/07/2022
XS923
F.6
Sue & Roy Jerman, Welshpool, Powys, Wales
02/09/2022
XS932
F.6
Richard Scarborough, Walcott, Lincolnshire
03/12/2020
XS933
F.6
Privately owned, Farnham area, Surrey
2002
Serial
Mark
Owner & location
Updated
53-700
F.53
Gatwick Aviation Museum, Charlwood, Surrey
29/06/2021
ZF577 (ex 53-668)
F.53
Pinewood Film Studios (nose only?), Buckinghamshire
19/10/2008
ZF582 (ex 53-676)
F.53
Bournemouth Aviation Museum, Hurn, Dorset
16/06/2022
ZF586 (ex 53-688)
F.53
Pinewood Film Studios (nose only?), Buckinghamshire
19/10/2008
ZF587 (53-691)
F.53
Mike Coleman, Lashenden Air Warfare Museum, Headcorn, Kent
30/06/2021
ZF587 (ex 53-691)
F.53
Giles Howell (stored - fuselage, wings, tail), Kettleburgh, Suffolk
ZF590 (ex 53-679)
F.53
Lincair (fuselage), Binbrook, Lincolnshire
19/10/2008
ZF590 (ex 53-679)
F.53
Matt Buddle (cockpit), Upwood, Cambridgeshire
22/01/2012
Serial
Mark
Owner & location
Updated
ZF595 (ex 55-714)
T.55
North Weald, Essex
03/12/2020
ZF595 (ex 55-714)
T.55
Lincair (fuselage, stored), Binbrook, Lincolnshire
02/08/2021
ZF596 (ex 55-715)
T.55
North Weald, Essex
17/07/2021
ZF596 (ex 55-715)
T.55
Lakes Lightnings (nose), Spark Bridge, Cumbria
06/02/2012
ZF597 (ex 55-711)
T.55
Privately owned, Unknown location
08/05/2019