F.6 XP693 - Thunder City Aircraft Company (for sale), Cape Town, South Africa
Lightning F.6 XP693 at Thunder City, 1st November 2012; Francis Wallace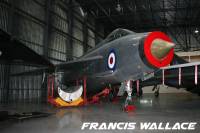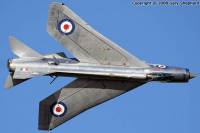 XP693 first flew on 16th June 1962 as an F.3 but and was retained by BAC for development work, being converted to F.3A (interim F.6) standard and later to a full F.6. She spent most of her life as a trials aircraft, at Boscombe and Warton, with such varied tasks as avionics work for the MRCA (Tornado) programme, cannon firing trials, use as a high speed radar target, etc. XP693 is a Lightning many afficionados of the type know well, because of her years on the testing scene and her flying career extending until the end of 1992. Keeping her highly polished natural metal finish for that whole time, she was a distinctive part of BAe's test fleet and on retirement was sold to the Classic Jet Aircraft Company and flown to Exeter as G-FSIX.
Stripped down and practically rebuilt by Barry Pover's team, she was possibly the most perfect Lightning in existence and as such was one of several to be transported to South Africa to join Mike Beachyhead's collection of aircraft, where she was returned to the air and became a regular airshow performer - as you can see from Gary's stunning photo.
Sadly in November 2009 a fatal accident claimed the life of pilot Dave Stock whilst flying one of Thunder City's other Lightnings, XS451. The SA CAA's initial investigation found that the ejector seat and canopy seperation mechanisms had both failed, and Thunder City had not serviced the seat when it was due in September 2009, instead extending the service interval by 30 days and then another 45. This began a sequence of events whereby the SA CAA looked harder at the question of operation ex-military types on the civilian register and reportedly revoked TC's Air Operating Certificate. Worryingly it is reported that they continued flying regardless - e.g.
see here
.
In September 2010, Thunder City put out a press release saying that they were shutting down operations, blaming the financial climate and inconsistencies in how the SA CAA applied their regulations. This was the end of the Lightning in civilian ownership in South Africa and all of the TC airframes were
put up for sale
. More than 10 years on, none of them have been sold, and the Lightnings have not flown since at least 2012. The size of the effort to put any of these airframes back in the air with a known history of poor maintenance standards and a decade of disuse means it is surely unlikely any of them will fly again.
| | |
| --- | --- |
| | Information on this page current as of 19/03/2021 |
Find other photos of XP693 on the following sites:

Air-Britain - Airliners.net - Airplane-Pictures.net - flickr.com - WorldAirPics.com - JetPhotos.net - PlanePictures.net