English Electric Lightning - Survivor XN728 (8546M)
F.2A XN728 - Darren Swinn, Lincolnshire
Lightning F.2A XN728 at Newark Air Museum - Cockpit-fest , 28th August 2021; Jake Wallace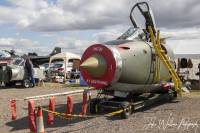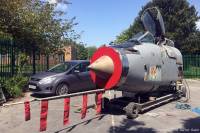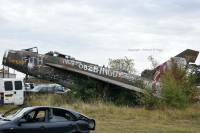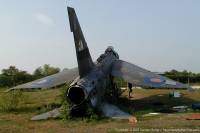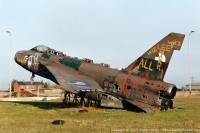 XN728 first flew on 26 October 1961 and entered service 92 Squadron (coded B) at RAF Leconfield in late 1962. She took part in a 6-ship display at the 1964 Farnborough SBAC display, in her shining silver and blue colours. By December 1965 the squadron had moved to RAFG Geilenkirchen, and she flew with them until January 1968 after a take-off accident caused damage to her underside. She was dismantled and flown to Warton inside a Belfast for repairs and conversion to F.2A standard.
With her conversion and repairs complete in June 1969, she was put on loan to the A&AEE for IFF/SSR equipment trials before returning to frontline service with 92 Squadron in July 1969. By this time they were based at RAFG Gutersloh, and she was coded F (later V), in a dark green tactical scheme somewhat less flamboyant than her original natural metal finish.
On 1st April 1977, she was retired, carrying out one final flight to RAF Coningsby to be used as an airfield decoy. She was also used for battle damage repair training for a while and carried a few patches to prove it. Disposed of in October 1983, she was acquired by A1 Commercial Sales and placed in their yard near Balderton, by the side of the A1, to attract customers. For transport to the yard, the wings and tail were simply cut off - and cut in the wrong places. Reassembly was carried out using large sheets of metal to hold everything together once more, and they rusted badly and warped under the stress. The landing gear was considered too weak to support the airframe (which was complete with engines) and accordingly the belly was supported with a framework of girders.
Since the yard's collapse in the early 1990s, XN728 was left to rot. Presumably, the receiver thought it was an asset which is why it wasn't simply bulldozed away. Unfortunately at some point someone nicked the radome, and the change in the centre of gravity tipped XN728 on her tail; the belly tank wasn't up to this and the girders cut right through and became firmly embedded in the belly. The cockpit was gutted, the canopy was stolen, the glass in the windscreen smashed out of existence, the spine nearly non-existent and the fuselage was badly holed in many places with just about anything nickable long since gone.
To finish her off, the entire aircraft was liberally spattered with graffiti (mostly applied during the late 1990s and early 2000s when the yard was basically an empty plot of land with just the Lightning sat in the middle, and no security or even fencing at all). After years of dereliction, the yard was purchased by a new owner in 2005 who - laughably - claimed to be thinking of restoring her. Predictably, on 9th September 2011, the owner had the aircraft torn apart and disposed of, unfortunately, this is where most of the damage to the airframe was done.
What was a surprise was the news that Mark Rumble has taken on the cockpit section and was hoping to restore it - a massive task! In 2014 he sold her on to Darren Swinn, who had her moved to Binbrook and began an in-depth restoration. One of the firsts tasks was clearing out the cockpit, during this process Darren found a fair few items such as cigarettes and even worse which had to be disposed of. Many of the outer panels are burnt out inside due to people throwing lit cigarettes in them when abandoned on the A1.
After lots of ongoing restoration work and effort from Darren and a number of other people, XN728 was finally revealed to the public along with a new lick of paint at cockpit-fest 2021! Sadly some areas such as the intake and areas on the skin are still badly damaged as seen in the photo above, however, Darren is unsure whether he wants to repair these damages or leave them as a reminder of its history when being it was once derelict. The cockpit interior is coming along very nicely with just a handful of holes left to fill with instruments. - You'd never know that this cockpit section was the same Lightning once abandoned in a storage yard next to the A1 at Balderton.
To keep up to date with this extraordinary restoration project you can follow the
XN728 Restoration Facebook Group
.
| | |
| --- | --- |
| | Information on this page current as of 01/09/2021, last updated by Damien |
Find other photos of XN728 on the following sites:

Air-Britain - Airliners.net - Airplane-Pictures.net - flickr.com - WorldAirPics.com - JetPhotos.net - PlanePictures.net