English Electric Lightning - Survivor 'XS935' (ex ZF580, 53-672)
F.53 XS935 - Cornwall Aviation Heritage Centre, RAF St. Mawgan, Cornwall
Lightning F.53 XS935 at Cornwall Aviation Heritage Centre, 30th March 2022; Mike Overs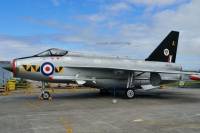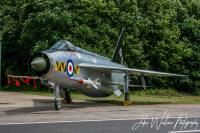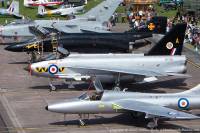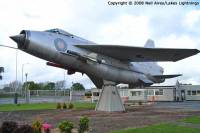 Built for the Royal Saudi Air Force, 53-672 first flew on 28th November 1967 from Samlesbury. Her 7th flight was a demonstration to some Kuwaiti guests and helped seal the deal of the Kuwaiti Lightning purchase. Delivered to Jeddah in Saudi Arabia in November 1968, she served with the Lightning Conversion Unit at Dhahran, then 2 Squadron until retirement in the 1980s.
In January 1986 she was bought back by BAE as part of the Tornado F.3 purchase deal, and flown back to Warton as ZF580. Stored for some time at Warton, she was eventually earmarked for display duties at her birthplace, Salmesbury. Initially displayed on her wheels, she was soon mounted on a plinth and given a pair of missiles too. With her condition deteriorating, BAE elected to have her replaced by a fiberglass mockup and she was used to create the mold for that by Gate Guardians at Newquay.
After that work was complete, Classic Air Force kept her - she went into storage for a while until 2017/18 when she was put back together and repainted by GJD into 74 Squadron markings, representing Lightning XR768 'A'. As ZF580 is an F.53, she never wore these colours at any point in her life until now. In the summer of 2018, GJD then moved her by road to RAF Cosford to be on static display at the airshow celebrating 100 years of the Royal Air Force.
Before ZF580 made her road move back to Newquay, she stopped off at Bruntingthorpe for a week or so to join the three other Lightnings already based on-site owned by the Lightning Preservation Group (LPG) for a photoshoot event. This two-day event was most likely the last time four complete Lightnings would be seen lined up together!
After this event, ZF580 was moved back down to Newquay where she can be seen today on display at Cornwall Aviation Heritage Centre. Her silver paintwork was starting to flake thanks to the British weather and the photos above show that her pitot tube has been removed (possibly to prevent people from walking into it?). During the winter of 2021/22, ZF580 was given a repaint into new colours, representing RAF airframe XS935 painted in 5 Sqn with the tail code 'AK'.
| | |
| --- | --- |
| | Information on this page current as of 22/02/2022, last updated by Jake |
Find other photos of XS935 on the following sites:

Air-Britain - Airliners.net - Airplane-Pictures.net - flickr.com - WorldAirPics.com - JetPhotos.net - PlanePictures.net