English Electric Lightning - Survivor 'XP765' (really XS897)
F.6 XP765 - Lakes Lightnings, RAF Coningsby (29 Sqn, displayed), Lincolnshire
Lightning F.6 XP765 at Coningsby, 8th August 2014; Damien Burke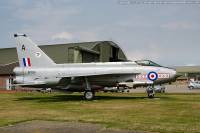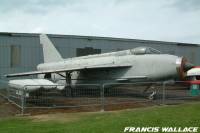 XS897 first went to 74 Squadron at RAF Tengah in Singapore and then to 56 Squadron at RAF Akrotiri in Cyprus. It then spent the rest of its service life at RAF Binbrook in use with 5 and 11 Squadrons.
When its service life was over, she was disposed of to a scrap dealer at Rossington near Doncaster. He had high hopes of selling her along with several other Lightnings for oodles of cash, but had no takers (unsurprisingly given the prices he wanted), and began to scrap the lot. XS897 was rescued by an AeroVenture museum member at the eleventh hour as her wings were being smashed off.
Once she had moved to AeroVenture in Doncaster, restoration began, including repairs to the damaged fuselage caused during the scrapping attempt and the fitting of a new set of wings. During 2006 she was put up for sale on eBay and Neil Airey of Lakes Lightnings bought her. He initially left her on loan to AeroVenture, but in 2009 she moved to RAF Coningsby to take up display duties by the 29 Squadron facilities; Neil put her on a 12 year loan agreement to the Squadron, which runs out in July 2022. As 29 did not fly the F.6, she was repainted in silver 29 Squadron markings and fitted with a small belly tank to make her look a little more like an F.3! In January 2012 the work was completed and was placed on display. The plan was for the airframe to stay with the Squadron for 12 years and then to loan her to a museum, where she'll be given back her F.6 belly tank - and overwing tanks.
Once the end of the loan agreement was in sight, Neil decided to put XS897 up for sale in December 2021. The bidding window closed at the end of March and is still unknown as to whether it sold, and if so where she'll be off to next. At the time of writing, she is still on guard duties at RAF Conigsby.
| | |
| --- | --- |
| | Information on this page current as of 22/06/2022, last updated by Jake |
Find other photos of XP765 on the following sites:

Air-Britain - Airliners.net - Airplane-Pictures.net - flickr.com - WorldAirPics.com - JetPhotos.net - PlanePictures.net