English Electric Lightning - Survivor WG760
P.1A WG760 - RAF Museum Cosford, (stored), Shropshire
P.1A WG760 at RAF Midlands Museum, 10th June 2018; Damien Burke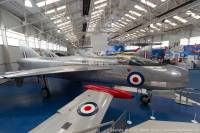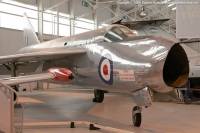 Now onto the real thing - starting with the P.1A (where else?), this is WG760 on display at the RAF Museum at Cosford. She's in excellent condition and next to the Shorts SB.5 and its extra tail section, illustrating the development of the type nicely.
First flown by Roland Beamont on 4th August 1954 at Boscombe Down, WG760 led an extremely varied life of trials, beginning with handling and performance. Later fitted with reheat, the cambered wing leading edges became standard on later marks of Lightning, and finished up carrying out Firestreak missile trials at Boscombe. Her last flight was on 18th February 1961 and she was retired to ground instructional use as 7755M in mid 1962 and moved from Warton to RAF Weeton, then onward to St. Athan in late 1965. In 1966 she was moved to Bicester, repainted to represent a P.1B of the AFDS and then transported to RAF Henlow to be put on display on the parade ground, alongside WG763.
Having become a little tired looking to say the least, the ASF team at RAF Binbrook stepped in during early 1982 and took her on. Carefully dismantled and transported to Binbrook in July, where she became the centre of a whirlwind of activity and was rolled out fully restored in her original 1954 colours at the station's open day in August. She stayed at Binbrook until January 1986 when she was once more dismantled - again carefully! - and transported to Cosford, where she has been on display for several decades.
Recently the museum has, disappointingly, replaced the vast majority of its unique collection Research and Development collection with WW1 exhibits. This resulted in WG760 moving into storage where she can no longer be enjoyed by the public.
| | |
| --- | --- |
| | Information on this page current as of 12/06/2023, last updated by Jake |
Find other photos of WG760 on the following sites:

Air-Britain - Airliners.net - Airplane-Pictures.net - flickr.com - WorldAirPics.com - JetPhotos.net - PlanePictures.net