P.1B XA847 - Giles Howell (stored), Kettleburgh, Suffolk
P.1B XA847 at Kettleburgh, 27th October 2018; Richard E Flagg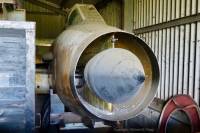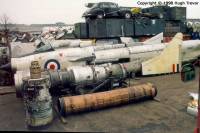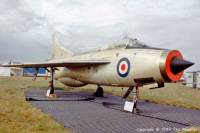 XA847 is a particularly important airframe, being the first P.1B. First flown on 4th April 1957, XA847 was much closer to the final Lightning shape than the earlier P.1As, with a circular nose intake, radar bullet within the intake, missile pylons and Avon engines. The fuselage shape was changed to cope with the larger engines and the cockpit moved upwards slightly too, with a spine fairing now extending back to the tail. XA847 was a significantly better performer than the two P.1As and on 25th November 1958 first attained a speed of Mach 2. She had a long and varied testing career, trialling various upgrades to the production Lightnings along the way, and was finally retired in 1972 to display at the RAF Museum at Hendon.
Unfortunately when the RAF Museum gained a more representative Lightning F.6, XA847 went up for tender. This was a rather disgraceful affair in that the scrap men had just as much chance of buying this historic aircraft and turning it into saucepans - thankfully, Wensley Haydon-Baillie bought her instead and stored her dismantled in the Southampton area for some years.
The 1994 Farnborough SBAC show saw her re-assembled and on display in the static, but then she disappeared into storage once more until Wensley's bankruptcy when she was acquired by Marine Salvage near Portsmouth. They happily knew her historic value and didn't reduce her to scrap, hoping a museum would take her off their hands. This, incredibly, did not happen - but a private collector, Giles Howell, bought her and intended to fully restore the aircraft and place her in a dedicated building to keep her in good nick. Unfortunately, this is still yet to happen if its going to happen and is still sat (thankfully undercover!) in pieces waiting to be restored to its former glory that is deserves!
| | |
| --- | --- |
| | Information on this page current as of 20/06/2021, last updated by Jake |
Find other photos of XA847 on the following sites:

Air-Britain - Airliners.net - Airplane-Pictures.net - flickr.com - WorldAirPics.com - JetPhotos.net - PlanePictures.net