English Electric Lightning - Survivor XM172
F.1A XM172 - Lakes Lightnings, Spark Bridge, Cumbria
Lightning F.1A XM172 at Spark Bridge, 22nd May 2021; Simon Bullimore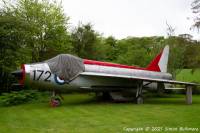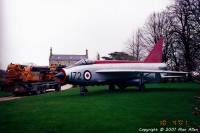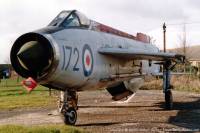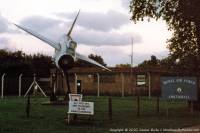 XM172 first flew on 10th October 1960 and was delivered to 56 Squadron at RAF Wattisham in December. When 56 formed a Lightning display team named 'The Firebirds', XM172 was one of the team aircraft. In February 1965 the aircraft left Wattisham for RAF Coltishall and joined 226 OCU (65/145 Squadrons) until October 1973 when she was delivered to RAF Leconfield for disposal.
Her last flight was in June 1974, to Coltishall in preparation for static display on the gate, wearing 145 Squadron marks initially but later changed to 226 OCU's own markings. In 1989 she was put up for disposal as the dreaded 'one gate guard' policy was put into force. Thankfully Wensley Haydon Baillie bought her, and asked that she remain on the gate at Coltishall. When he became bankrupt in 1998, XM172 was once again put up for disposal and in 1999 Barry Parkhouse bought her and had her removed from the gate and transported to his facility at Booker.
On removal from Coltishall she was damaged in several places, faded, and had the tail and outer wings cut off. XM172 spent a brief period in Jeremy Clarkson's garden for his TV show 'Speed', but didn't stay there no matter what you might have been led to believe! She also showed up in the static park at the 2000 SBAC display at Farnborough, but soon returned to Booker. A plan to display her on a roundabout in Farnborough came to nothing, and she was placed in imminent danger of being scrapped because British Airways (owners of Booker) wanted the aircraft removed from the site.
Thankfully, Neil Airey stepped in and bought her, moving her to a new home at Spark Bridge in Cumbria. This was made a needlessly urgent and hurried task by the airfield owners wanting her off-site by the end of April 2006 or she would be scrapped! Thankfully the task was completed in time and she now sits resplendent in Neil's back garden and is only viewable by appointment. The airframe is now in very good hands and is well looked after to this day, although the port side does seem to be slowly sinking into the ground.
| | |
| --- | --- |
| | Information on this page current as of 08/06/2023, last updated by Jake |
Find other photos of XM172 on the following sites:

Air-Britain - Airliners.net - Airplane-Pictures.net - flickr.com - WorldAirPics.com - JetPhotos.net - PlanePictures.net