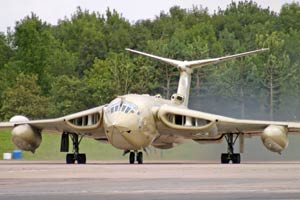 XM715 powering up for a fast taxi run at Bruntingthorpe; author
Unfortunately the Victor, despite staying in service longer, hasn't survived retirement as well as the Vulcan, though it has at least done better than the Valiant! Unlike the Vulcan, the Victor never really captured the public's hearts, due in part to its tanker role in later years rendering it a much less exciting aircraft to many. Victor displays were few and far between and they certainly didn't throw it around the sky like they did with the Vulcan. Today only two Victors remain in running condition, XM715 at Bruntingthorpe and XL231 at Elvington. There are no efforts to get any Victor to fly again.
Click on the serial of a survivor entry for further information. Please comment on any individual survivor entry you feel requires an update!
Complete aircraft
Serial
Mark
Owner & location
Updated
XH648
B.1A(K2P)
Imperial War Museum, Duxford Airfield, Cambridgeshire
06/12/2020
Serial
Mark
Owner & location
Updated
XH672
K.2
RAF Museum Cosford, Shropshire
04/06/2021
XL231
K.2
Andre Tempest (runner), Yorkshire Air Museum, Elvington, North Yorkshire
02/08/2021
XM715
K.2
British Aviation Heritage, Bruntingthorpe Aerodrome, Leicestershire
16/09/2021
Nose/cockpit/other sections
Serial
Mark
Owner & location
Updated
XA917
B.1
Privately owned, Kemback, Fife
12/03/2021
Serial
Mark
Owner & location
Updated
XH592
B.1A
Midland Air Museum, Coventry Airport, Warwickshire
06/12/2020
Serial
Mark
Owner & location
Updated
XH670
B.2
Nigel Towler, Cockpit Collection (for sale), Rayleigh area, Essex
10/07/2021
Serial
Mark
Owner & location
Updated
Simulator
K.2
Newark Air Museum, Winthorpe, Nottinghamshire
21/01/2021
XH669
K.2
Nigel Towler, Cockpit Collection (for sale), Rayleigh area, Essex
27/01/2021
XH673
K.2
RAF Marham (scrapped), Norfolk
02/12/2020
XL160
K.2
Norfolk & Suffolk Aviation Museum, Flixton, Suffolk
24/05/2013
XL164
K.2
Bournemouth Aviation Museum, Bournemouth Airport, Hurn, Dorset
02/08/2021
XL190
K.2
RAF Manston History Museum, London Manston Airport, Kent
07/08/2021
XL191
K.2
Walter Soplata, Newbury, Ohio, USA
07/08/2021
XM717
K.2
RAF Museum, Hendon, Greater London
07/08/2021