Handley Page Victor - Survivor XH672
K.2 XH672 - RAF Museum Midlands, RAF Cosford, Shropshire
Victor K.2 XH672 at RAF Cosford Museum, 21st April 2022; Jake Wallace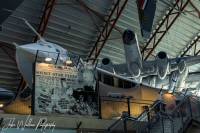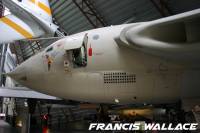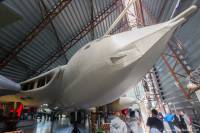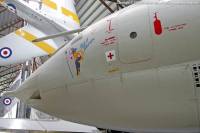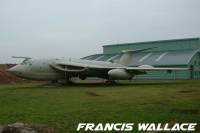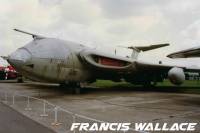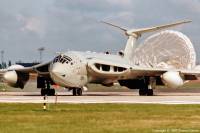 Victor XH672 made its first flight on 6th April 1960 which lasted 55 minutes.
The airframe was put on loan to makers for autoland, autopilot development and engine surge trials.
Although not much information, XH672 was involved in a near miss with a Hawker Hunter aircraft while in flight.
This airframe was the very last Victor to be converted to a K2 at Aerospace Woodford and made a test flight after the conversion on 14th April 1978 before being delivered to RAF Marham on 23rd May 1978. Here the aircraft was put on to 57 Sqn wearing standard green and grey camouflage with white undersides.
At the time of Operation Corporate - Falklands Conflict, the Victor was the RAF's only strategic tanker aircraft. XH672 was the lead aircraft of 13 Victors involved in this Operation known as 'Black Buck 1' which was a bombing raid on Port Stanley Airfield on 30th April 1982. The airframe landed at several airbases throughout the operation but just under 16 hrs, XH672 had been airborne for 13 hrs and 48 minutes. The aircraft was flown as a tanker on Black Buck 2 3-4 May 1982.
On 29th February 1988, XH672 had a landing accident at USAF Offutt with the cause being a hydraulic failure resulting in the aircraft running off the runway and ploughing into the grass for some distance. After this event, the artwork 'I Ran Offut' was applied to the left side of the crew door which can still be seen today! As many of the ground crew were Irish-American, the phrase 'I Ran Offut' sound like 'I ran off it' in their accent.
In January 1991, with the Gulf War underway XH672 was repainted into standard hemp colours with a light grey underside, the aircraft was named 'Maid Marian' with nose art of a brunette in black and yellow attire holding a blue spear (seen with many nose arts) as this was the emblem of 55 Sqn. Ground crew Cpl. Andy Price named six aircraft after Crew Chief's wives/girlfriends with this aircraft being named after his own wife.
Seen on the port side of Victors were several black pump symbols, these essentially acted as mission tallies but for the amount of times one refuelled another aircraft in flight. XH672 was the highest scoring refueler with 52 black petrol pumps marked on its port side.
On 30th November 1993, XH672 made the very last official Victor flight, taking off from RAF Marham and landing at RAF Shawbury as RAF Cosford's runway was too short for a Victor landing. (Although technically this was not the last flight of the Victor as
XM715
persevered at Bruntingthorpe made an accidental take off at an Open Day event in 2006.)
By February 1994, XH672 was dismantled and road moved to RAF Cosford Museum for display to replace the very last complete Victor B.1
XH592
(Although
XH648
at Duxford is still a B.1, it was converted to a tanker in service making XH592 the last complete bomber)
Today, XH672 can be seen inside RAF Cosford's Cold War Hangar beside Vulcan
XM598
and the very last complete Valiant
XD818
making RAF Cosford both the only place to see a complete Valiant and all 3 complete V-bombers together side be side.
Unfortunately, XH672 is the worst airframe to try and photograph in the entire museum, crammed in by aircraft on three sides, and on the only side she doesn't have an aircraft blocking the view, the museum has placed a large signboard, making a good photo of the Victor just impossible.
| | |
| --- | --- |
| | Information on this page current as of 24/04/2022, last updated by Jake |
Find other photos of XH672 on the following sites:

Air-Britain - Airliners.net - Airplane-Pictures.net - flickr.com - WorldAirPics.com - JetPhotos.net - PlanePictures.net