Handley Page Victor - Survivor XH648
B.1A(K2P) XH648 - Imperial War Museum, Duxford Airfield, Cambridgeshire
Victor B.1A(K2P) XH648 at Duxford, 20th April 2022; Adam Poultney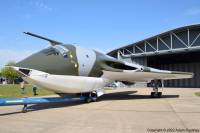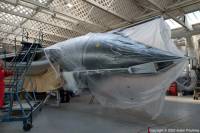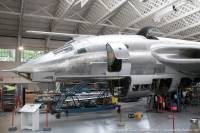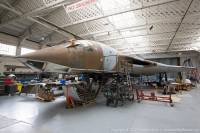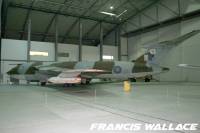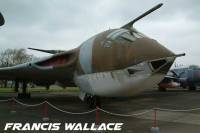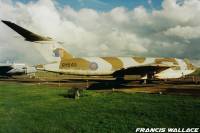 XH648 first flew on 27th November 1959 and was delivered to 57 Squadron at RAF Honington in December 1959. In October 1960 she was returned to HP at Radlett and converted to a B.1A (lots of new ECM equipment, uprated engines, improved radar and radio etc.) and return to the RAF in May 1961 - 15 Squadron at RAF Cottesmore. During 1962/63 she was part of Exercise Profiteer during the Indonesian Confrontation. In April 1964 she was assigned to 55 Squadron, and began low-level sorties, losing her white paintwork and gaining green/grey camouflage instead.
With the grounding of the Valiant fleet due to spar fatigue issues, an urgent need for replacement tankers was identified and XH648 was selected to be one of six B.1s converted to two-point tanker status. This meant she retained the ability to go and bomb something if need be, and resulted in a change of designation from K.1A to B.1A(K2P). Returned to 55 Squadron at RAF Honington in April 1965, they soon moved to RAF Marham, and when they began converting to Victor K.2s in June 1975, XH648 moved to 57 Squadron for a final year of service before being retired to Duxford on 2nd June 1976.
While at Duxford, the members of the Duxford Aviation Society kept the airframe 'live' and regularly exercised many of her systems including flying control demonstrations, bomb bay openings, refuelling hose extensions, and so on. XH648 had a lot of work done on her between the years of 1986 and 1989, culminating in a repaint that left her in superb condition! However, the IWM management decided her gloss finish was not accurate (despite being far more practical) and ordered a matt varnish to be applied. A chemical reaction between the paint and the varnish left her looking absolutely awful within a matter of months, and the management also forbid any further demonstrations of her systems due to the dreaded 'Health & Safety'. The result was a forlorn and sad-looking aircraft.
It was announced that an in-depth restoration would soon begin in 2016. With XH648 being the last complete B.1A Victor around, this was great news to hear! The project began with moving the aircraft undercover where it was dissembled, before being stripped of paint back to bare metal. The aircraft was heavily checked over for any corrosion and weak areas, any parts that were showing signs of corrosion or weakness were repaired with even some being remade from scratch. This took a long time, and the COVID-19 pandemic during 2020 certainly didn't help. In late 2021, the underside was sprayed white, with the camouflage following throughout early 2022.
The repaint was completed in April 2022, with XH648 being towed to the Conservation Hall on the 20th of April, which, as you can imagine, bring in a lot of visitors to see the new paintwork shine in the sunlight. The airframe will remain in the Conservation Hall for reassembly and will stay on display there until the Airspace hangar is rearranged in the future, so she can be moved into the Airspace hangar for permanent display.
| | |
| --- | --- |
| | Information on this page current as of 23/04/2022, last updated by Jake |
Find other photos of XH648 on the following sites:

Air-Britain - Airliners.net - Airplane-Pictures.net - flickr.com - WorldAirPics.com - JetPhotos.net - PlanePictures.net