Handley Page Victor - Scale Models

A brief rundown of some of the model kits available of the Victor with thanks to Adam Poultney for his contributions here.
1/144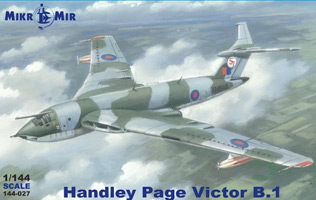 Mikromir Victor B.1 144-027
1/144
Injection moulded
Price ~£38
Released 2016
A fairly typical Mikromir kit, which is to say it's got crap box art but nicely done plastic with restrained recessed detailing, requires a little cleaning up of flash, and has pretty naff decals. A small fret of photo etched brass parts cater for things like the airbrake fins (which are the wrong shape so you may as well make them from plasticard) and a set of masks are provided to make painting the canopy easier. You can build a B.1, B.1A, K.1 or K.1A from the box, though no decals for a B.1 are actually provided (excepting for XA940, which was rather a 'one-off'). It is not a 'fall together' style of kit but requires careful dry fitting and adjustment of parts to get things to fit - you know - 'modelling'! This reaches its peak with the jet pipes, which are far too large to actually fit inside the wing and are best left off. Also rather expensive for what you get, which costs it a star!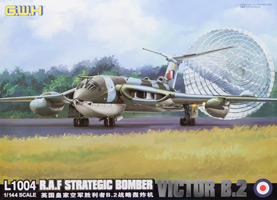 Great Wall Hobby L1004 Victor B.2
1/144
Injection moulded
Price ~£34
Released 2014
Now this is a little more like it - a much easier build than the Mikromir kit, with similar levels of detail. Open airbrake option (shown as opening from the wrong end on the decal artwork!), no fiddly photo etch. Good quality decals. Unfortunately they've modelled the B.2(R) - retrofit - spec, and this limits the number of airframes you can accurately depict without further work on the various small differences - as ever, check your references carefully! Sadly no Blue Steel missile is supplied, nor a suitably configured bomb bay fairing for one, which further limits your options.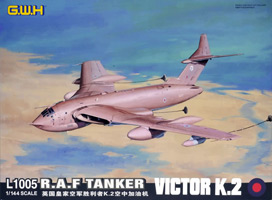 Great Wall Hobby L1005 Victor K.2
1/144
Injection moulded
Price ~£36
Released 2016
Same comments as for the B.2, but this box is purely for the K.2 version. Sadly, while a new sprue covers the bomb bay with HDU and podded HDUs under the wings, they have ignored the shorter wingspan of the K.2 and re-used the wing parts (and all others) from the B.2 kit. That makes each wing about 7mm too long in span. A fairly easy cut and shut job to fix, but it really shouldn't have been necessary. Comes with decals for 1 green/grey 57 Squadron airframe from Op Corporate and 3 hemp ones from Op Granby.
1/72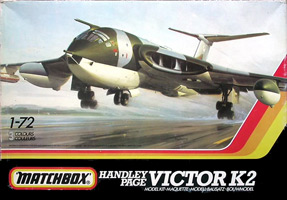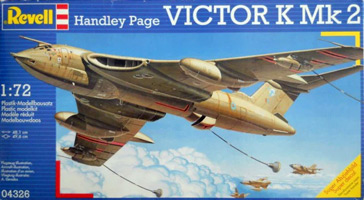 Matchbox PK-551 Victor K2
1/72
Injection moulded
Price ~£20 (second hand)
Released 1983
For a long time the only game in town, this kit has been well and truly superseded by Airfix's excellent K.2 kit. However, for its time this was a decent effort, given Matchbox's somewhat variable quality output. Detail is a mix - heavy recessed lines for some panels and control surfaces but fine raised lines for most panels. The intakes are a nightmare, lots of hard work to fill the seam lines and get everything looking acceptable there. Scratch building some FOD blanks is highly advisable; resin replacement intakes were once available too. The wings are not quite right in that their trailing edges aren't quite at the right angle; it's a relatively easy fix to align them with the fuselage datum. Flaps are moulded to be glued closed but can be posed open too; however when open they are inaccurate in depth and need some correction. Overall, this kit is fine if you want to put a lot of work in on scratch building and correcting things, and is broadly the right shape, but really it's time has past. Revell have reissued the kit, with better quality decals, but otherwise unchanged (in fact the plastic exhibits more shrink marks etc. than the original Matchbox issue).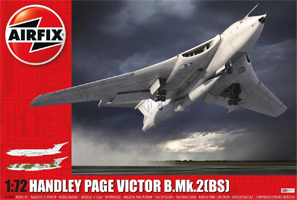 Airfix A12008 Victor B.Mk.2(BS)
1/72
Injection moulded
Price ~£60
Released 2016
This is the definitive Mk.2 Victor model kit. It's nicely detailed, extremely accurate in shape and covers the Blue Steel equipped bomber in this first issue. The only major error in the kit is in the instructions for raised flaps, they say to cut a fairing part off the kit - don't do this - just sand it down a bit; however there's fairing moulded into the lower part of the wing that does need removing, so go carefully! Incredibly extensive decals are provided to build one of two Blue Steel armed Victor B2Rs in either the camouflage or anti-flash white colours. Cockpit detail is way better than necessary given the limited view through the canopy; the gear bays and airbrakes are similarly well done. As with most modern Airfix kits, careful dry fitting before committing to glue is necessary and some parts need a little filler or adjustment - that modelling skills thing again. Conversion parts are available from Air-Graphic to build an early B.Mk.2.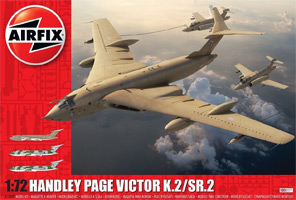 Airfix A12009 Victor K.2/SR.2
1/72
Injection moulded
Price ~£60
Released 2018
Same remarks as above in general; this second issue contains parts to build either an SR.2 or K.2 (complete with correct shorter wingtips, HDUs and bomb bay fittings for the latter and recce pack for the bomb bay for the former). Decals are provided for a camouflaged SR.2 and K.2, and Gulf War era K.2s painted in the hemp colours. An excellent kit that repays careful assembly.