Vickers Valiant - Survivor XD818
BK.1 XD818 - RAF Museum Midlands, RAF Cosford, Shropshire
Valiant BK.1 XD818 at RAF Cosford Museum, 21st April 2022; Jake Wallace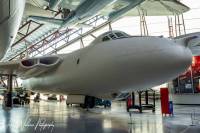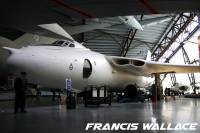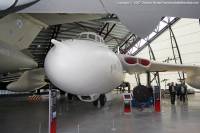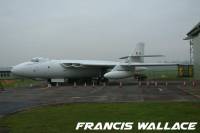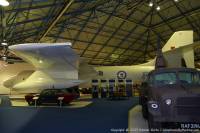 The only remaining full example of a Valiant anywhere on the planet, XD818 was the actual aircraft that dropped Britain's first hydrogen bomb. First flown on 4th September 1956, she was delivered to 49 Squadron at RAF Wittering on 14th November 1956. XD818 was one of eight Valiants modified by Vickers for Operation Grapple - the testing of Britain's first hydrogen bomb. These mods included anti-flash curtains in the cockpit and bomb-bay-mounted cameras to record the drop. In March 1957, XD818 was flown to Christmas Island and on 15th May 1957 dropped the first British h-bomb - this drop was codenamed 'Short Granite'. She returned to Christmas Island on several other occasions for further bomb drop tests and with their cessation in December 1958 returned to normal duties, with her Grapple mods being removed in November 1959.
In July 1961 she was converted to a BK.1 tanker. She was repainted into low level green/grey camouflage in September 1964 but in December was grounded along with every other Valiant due to the spar fatigue problems that had been discovered.
Repairs to the Valiant force were considered uneconomical and so by January 1965 XD818 was withdrawn from use and in February the order came down to scrap the fleet. XD818 thankfully escaped scrapping as somebody with an eye for history earmarked her for 'exhibition' at RAF Marham, where she was put on display on 25th May 1965. In late 1973 her Avon engines were removed to be refurbished and sold to Switzerland (for use in Hunters!).
When the Bomber Command Museum (now the On Target hall of the RAF Museum) opened in 1982, XD818 was transported to Hendon and soon after was repainted in her original anti-flash white finish. Unfortunately, she was hemmed in on all sides by other aircraft, vehicles and display boards so getting a good clear picture was impossible. In late 2005 she was dismantled and moved to Cosford, where she was stored in pieces for several weeks... outside with no protection from the elements!
Thankfully in January 2006 re-assembly began and later that year she moved indoors into the Cold War Exhibition. During this time, her appearance was touched up, quickly masking up any markings she wore and spraying her, leaving edges around all her markings. She is once again hemmed in on all sides, but at least she is now easier to photograph than when she was at Hendon, and most importantly, she is out of the elements for the future!
| | |
| --- | --- |
| | Information on this page current as of 24/04/2022, last updated by Jake |
Find other photos of XD818 on the following sites:

Air-Britain - Airliners.net - Airplane-Pictures.net - flickr.com - WorldAirPics.com - JetPhotos.net - PlanePictures.net