English Electric Canberra - Survivor XH135
PR.9 XH135 - Ken Delve, West Raynham Business Park, Norfolk
Canberra PR.9 XH135 at West Raynham Control Tower, 22nd July 2023; Richard E Flagg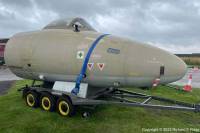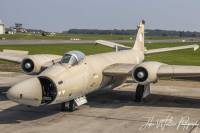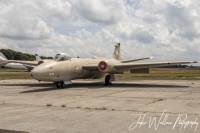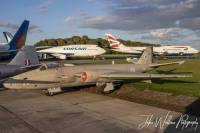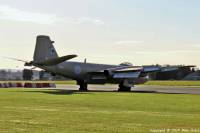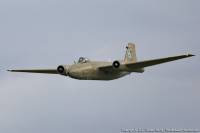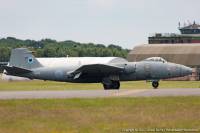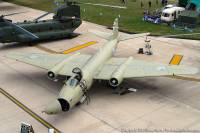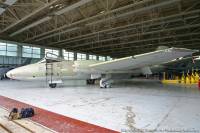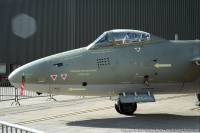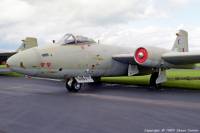 XH135 was built in 1959, and was delivered to RAF charge with the Handling Squadron at RAF Manby, being transferred a year later to Shorts of Belfast (March 1960). A further year on, XH135 was delivered to 15 MU (for an overhaul?) before joining squadron service with 58 Sqn at RAF Wyton. Transferring briefly to 13 Sqn in Malta, she ended up on 39 Sqn, again at RAF Wyton, and remained with them until February 1982 when she was put in store at RAF St Athan. She was re-activated to join 1 PRU when that was formed out of the half-strength 39 Sqn at RAF Marham.
The airframe retired into Kemble airfield (now Cotswold Airport) alongside XH131 and XH134 on the 31st July 2006. XH135 was kept in taxiable condition for several years and could often be seen performing fast taxi runs on the airshow days. Both XH135 and XH134 were brought by Midair around 2010, with the vision to make one of the airframes airworthy again, With XH134 soon being the chosen one for returning to the skies, XH135 was used for testing the modification of electric start, and sadly made her last ever engine runs in 2012 before being stripped of parts to help her sister live on. Once stripped, XH135 was pushed aside and could occasionally be seen on static display with Buccaneer
XX889
by the ASI hangars before being stored airside. In 2017, Midair, unfortunately, went bust and their Canberras ended up with the receivers.
Both Canberras were stored at various areas on-site throughout the years while waiting for a new owner with deep pockets to make an offer, but that never happened and they ended up in the ownership of the airport in lieu of unpaid parking fees.
In 2020,
The Buccaneer Aviation Group's
moved their Buccaneer airframes from Bruntingthorpe to Cotswold Airport and agreed to cosmetically look after both Canberras. XH135 was thoroughly washed by a small number of TBAG volunteers over several weekends in early 2021, making her look much more presentable for visitors, and even the navigator's cockpit was opened at their event days.
In early 2022, Cotswold Airport announced that they were disposing of XH135. Former Canberra PR.9 Navigator Ken Delve, began looking into different ways of saving the airframe from the scrapman. As Ken was keen to save the airframe, he set up a crowdfunder project for 30 days to raise money to help transport it to West Raynham. Sadly, the crowdfunder didn't raise nearly enough to move the airframe complete, however, Ken had managed to at least purchase the airframe.
Due to not being able to move XH135 as a whole airframe by the end of June, the hard decision was made to scrap the aircraft, and salvage as much as possible. By early August 2022, XH135 had been reduced to a cockpit section and made its way to her new home at West Raynham Business Park, once part of the former RAF West Raynham, where she is now undercover and is being restored. Many other parts of the airframe were saved, such as engines, rudder, engine panels, serial numbers, etc, which are being sold to help fund the restoration project. The cockpit has already attended several events during late 2022, and Ken and his team are keen to continue to both attend and hold events throughout 2023 and beyond.
To follow the restoration project of XH135, check out the
Canberra XH135 Group
on Facebook.
| | |
| --- | --- |
| | Information on this page current as of 13/08/2023, last updated by Jake |
Find other photos of XH135 on the following sites:

Air-Britain - Airliners.net - Airplane-Pictures.net - flickr.com - WorldAirPics.com - JetPhotos.net - PlanePictures.net