Blackburn Buccaneer - Survivor XX889
S.2B XX889 - Gary Spoors and David Price, RAF Cosford, Shropshire
Buccaneer S.2B XX889 at Cosford, 21st April 2022; Jake Wallace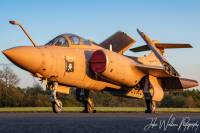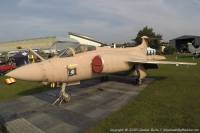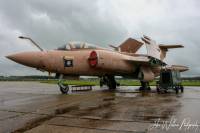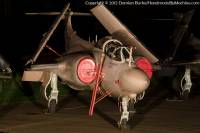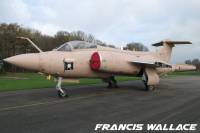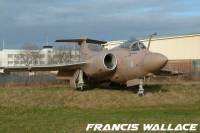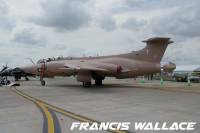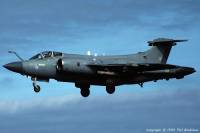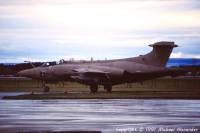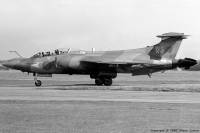 XX889 was delivered to the MoD (Procurement Executive) on the last day of 1974 and began her RAF career with 16 Squadron at RAF Laarbruch, later she went on to serve with 15, 12, and 208 Squadrons. By 1986 she had been upgraded to carry Sea Eagle missiles and was transferred to 237 OCU in December of that year, returning to 12 Squadron in May 1987.
In 1991, XX889 was painted in ARTF (Alkali Removable Temporary Finish), commonly referred to as desert pink was a part of the first load of Buccaneer aircraft sent out to the Gulf War. XX889 was named 'Longmorn' with no nose art, and throughout the war, the airframe had gotten 14 mission markings which was the most received by a Buccaneer in the Gulf War.
The aircraft lost the desert pink scheme by October 1991 and in August 1992 gained new overall grey colours. XX889 ended its career with 208 Squadron, and made its last flight on 7th April 1994 to 19 MU at RAF St Athan for storage prior to disposal.
Originally, the aircraft was planned to be a stuck on a poll as some sort of gate guardian, as this didn't happen, Gary Spoors and David Price briefly moved XX889 to Enstone, from there it was put on loan to the Jet Age Museum at Gloucestershire (Staverton) Airport.
Work there concentrated on the cockpits, which the front cockpit was fairly complete, but the rear cockpit had over 90% of the instrumentation missing. Work by Buccaneer Engineering began in April 2003 and quite a lot of instrumentation was re-installed and the aircraft was repainted back into a desert pink colour to represent the ARFT colours worn in the Gulf War. In 2003, XX889 was moved by road to RAF Fairford for the Royal International Air Tattoo (RIAT) for static display to celebrate '100 years of flight' exhibition.
The airframe returned to Staverton where she was stored while the Jet Age Museum looked for another home. It wasn't long before XX889 was back on the road once again, this time to, Kemble Airfield (now Cotswold Airport) in April 2007 where it went under the care of the Buccaneer Society. Work on its restoration continued plus a touch-up on its paint scheme by 2008. Sadly her welcome at Kemble was outstayed and in May 2011 was moved to Bruntingthorpe where XX889 became the fourth Buccaneer on-site at the time joining XX894, XW544 and XX900.
The Buccaneer Aviation Group
took care of XX889, and restored both the front and back cockpits while she was at Bruntingthorpe. The Buccaneer was always seen on display at the Cold War Jets open day and was regularly used for cockpit tours, the perks of it being a static airframe with nothing connected gave the public the great opportunity of being able to press buttons, move the throttles back and forth, etc.
In June 2018, XX889 saw the roads once again with a move to RAF Cosford to be placed on static display for the annual airshow celebrating 100 years of the Royal Air Force. This was only meant to be a short stay, but XX889 still remains at Cosford to this day. There are is no rush but there are plans for the airframe to move in the near future to a permanent home at the South Wales Aviation Museum (SWAM) located in St Athan, Wales.
XX889 is seen above during the Golden Hour, at a photoshoot. The airframe is not on public display and is only publicly visible when she is either a part of a photoshoot or when she's on static display at the Cosford Airshow.
| | |
| --- | --- |
| | Information on this page current as of 24/04/2022, last updated by Jake |
Find other photos of XX889 on the following sites:

Air-Britain - Airliners.net - Airplane-Pictures.net - flickr.com - WorldAirPics.com - JetPhotos.net - PlanePictures.net