Blackburn Buccaneer - Survivor XX889
S.2B XX889 - South Wales Aviation Museum, St. Athan, Wales
Buccaneer S.2B XX889 at RAF Cosford, 21st April 2022; Jake Wallace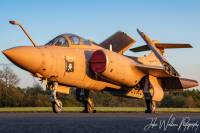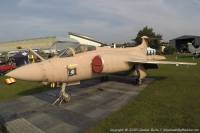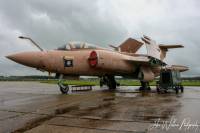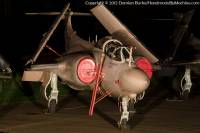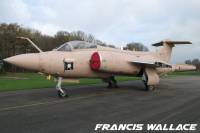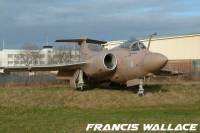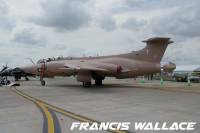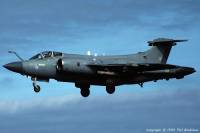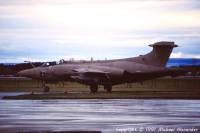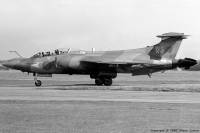 XX889 was delivered to the MoD (Procurement Executive) on the last day of 1974 and began her RAF career with 16 Squadron at RAF Laarbruch, later she went on to serve with 15, 12, and 208 Squadrons. By 1986 she had been upgraded to carry Sea Eagle missiles and was transferred to 237 OCU in December of that year, returning to 12 Squadron in May 1987.
In 1991, XX889 was repainted in ARTF (Alkali Removable Temporary Finish), commonly referred to as desert pink, and was a part of the first fleet of the type sent out to the Gulf War. The airframe was named 'Longmorn' and given the tail code 'T', with no nose art under the cockpit. Throughout the war, the XX889 had earned 14 mission markings which were the most mission markings a Buccaneer earned during the Gulf.
She lost the desert pink scheme by October 1991 and in August 1992 gained new overall grey colours with 208 Sqn. XX889 ended her flying career on the 7th of April 1994, touching down at RAF St Athan where it was placed into storage prior to disposal.
When being disposed of, XX889 was planned to be on external display somewhere in the UK, but this never came to anything, and so after remaining at St Athan, Gary Spoors and Dave Price took her on. As many know, XX889 is well used to the view from the back of a low-loader, having moved to several places throughout the years, starting with a move to Enstone Airfield, Oxfordshire in 1995. This was a fairly brief visit, with her being relocated and put on loan to the Jet Age Museum at (Staverton) Gloucestershire Airport on the 6th of February 1997. A group known as Buccaneer Engineering took on a preservation and restoration project at Staverton a few years later.
In 2003, it was announced that the International Air Tattoo (now RIAT) was going to be celebrating '100 Years of Flight'. When it was announced, Gary and Dave agreed it would be great for XX889 to enter the airshow as part of the static lineup. In preparation for the airshow, she desperately needed a repaint, and what would be better than a Buccaneer in gulf war colours, and that's exactly what happened next. In 2003, XX889 was temporarily relocated to RAF Fairford for the airshow, showing off her smart new paint scheme. After the week of the airshow, she was moved back to the Jet Age Museum, where over the coming years, several volunteers continued getting involved in preserving and restoring her. Sadly, most of her time at Staverton was spent sinking into the Earth due to a lack of hardstanding to put her on.
In 2007, XX889 was already making her 5th road move, this time to Cotswold Airport, Kemble, where a preservation and restoration project was still very much active. This project slowed down as the years passed by and sadly ended up dying. Due to the lack of work being carried out on her, she was towed over to an area near the control tower, allowing visitors much easier access to view the Buccaneer.
It wasn't long before XX889 made yet another road move, this one being to Bruntingthorpe in May 2011, being placed on loan to The Buccaneer Aviation Group. This gave Bruntingthorpe a line-up of four complete Buccaneer airframes (
XX894
,
XW544<,
XX900
, and new arrival XX889), certainly something you couldn't see anywhere else. Restoration on XX889 soon took off, with her front cockpit being dismantled, cleaned, rewired, and reassembled, in the hope to make XX889 fully electrically and hydraulicly 'live' in the future. More information on XX889 at Bruntingthorpe can be found on
The Buccaneer Aviation Group's website
. Sadly, the hope to make XX889 hydraulicly functional never happened due to the amount of work needed to do so, while the group still had two fully operational Buccaneers to maintain at the same time.
After being under the care of TBAG for several years at Bruntingthorpe, they split ways in June 2018 as XX889 headed for RAF Cosford to be a part of the airshow static line-up, celebrating 100 Years of the RAF. She could be seen at the airshows with a desert pink Jaguar and Tornado, making a 1991 Gulf War display. After the airshow, XX889 would make her way to the then-new South Wales Aviation Museum (SWAM), set up by Gary Spoors and John Sparks. However, she stayed at RAF Cosford longer than expected, spending most of the time hidden away in one of the hangars on the airfield, only emerging for the airshows and certain photography events.
In February 2023, XX889 made her 8th and now hopefully, her final road move, returning to her place of retirement, St Athan. Leaving RAF Cosford on the 21st and arriving at SWAM on the 23rd where she will go on display, hopefully undercover, and be well looked after by the museum's dedicated team of volunteers.
XX889 is seen in the above photo during the golden hour at RAF Cosford as part of a photoshoot event.
| | |
| --- | --- |
| | Information on this page current as of 03/03/2023, last updated by Jake |
Find other photos of XX889 on the following sites:

Air-Britain - Airliners.net - Airplane-Pictures.net - flickr.com - WorldAirPics.com - JetPhotos.net - PlanePictures.net