Avro Vulcan - Survivors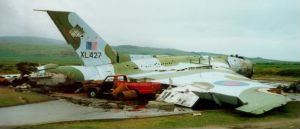 XL427 when used for fire crew training and nearing the end of her days; Colin Mears
The bad old days of entire production runs of aircraft being scrapped are thankfully well behind us, and there are a good number of preserved Vulcans out there, with two in running condition and one airworthy (XH558). The Vulcan's part in the NATO nuclear deterrent force meant that not only have Vulcans been preserved in the UK, four are also preserved on the North American continent; three in the U.S. and one in Canada. Of course, even more were scrapped or burned, and even some of those that were thought safe have since fallen to the scrapman's JCBs and cutting torches - for instance the B.1 at Cosford (XA900), and the B.2s at Cardiff (XM569) and Blackpool (XL391). If you have pictures of Vulcans you'd like to share with the world, please, let me know! I'd especially welcome pictures of the aircraft that aren't linked to in the list below.
Complete aircraft
Serial
Mark
Owner & location
Updated
XH558 (G-VLCN)
B.2
Vulcan to the Sky Trust (runner), Robin Hood Airport, Doncaster, Yorkshire
12/02/2022
XL318
B.2
Royal Air Force Museum, Hendon, North London
14/02/2022
XL319
B.2
North East Aircraft Museum, Sunderland Airport, Tyne & Wear
09/03/2021
XL361
B.2
Happy Valley - Goose Bay, Canada
06/06/2021
XL426
B.2
Vulcan Restoration Trust (taxiable), Southend Airport, Essex
16/09/2021
XM573
B.2
Strategic Air Command & Aerospace Museum, Ashland, Nebraska, USA
21/01/2021
XM594
B.2
Newark Air Museum, Newark, Nottinghamshire
06/03/2021
XM597
B.2
National Museum of Flight, East Fortune Airfield, Lothian, Scotland
03/03/2021
XM598
B.2
RAF Museum Midlands, RAF Cosford, Shropshire
24/04/2022
XM603
B.2
Harrow Estates / Avro Heritage Museum, Woodford airfield, Cheshire
03/05/2022
XM605
B.2
Castle Air Museum, Castle AFB, Atwater, California, USA
21/01/2021
XM606
B.2
Eighth Air Force Museum, Barksdale AFB, Bossier City, Louisiana, USA
13/03/2021
XM607
B.2
RAF Waddington (under restoration), Lincolnshire
17/08/2021
XM612
B.2
City of Norwich Aviation Museum, Horsham St. Faith, Norfolk
09/02/2022
XM655
B.2
John Littler/655 MaPS (taxiable), Wellesbourne Mountford Aerodrome, Warwickshire
14/09/2021
Serial
Mark
Owner & location
Updated
XJ824
B.2A
Imperial War Museum, Duxford Airfield, Cambridgeshire
25/03/2022
XL360
B.2A
Midland Air Museum, Coventry Airport, Warwickshire
16/05/2022
XM575
B.2A
East Midlands Aeropark, Castle Donnington, Derbyshire
25/02/2022
Serial
Mark
Owner & location
Updated
XJ823
B.2A(MRR)
Tom Stoddart, Solway Aviation Museum, Carlisle Airport, Cumbria
31/08/2021
Nose/cockpit/other sections
Serial
Mark
Owner & location
Updated
?
B.1
Privately owned, Reigate, Surrey
XA893
B.1
RAF Museum Cosford (Stored), Shropshire
01/09/2021
XA903
B.1
Stoneykirk Aviation Museum, Stoneykirk, Stranraer
09/05/2022
Serial
Mark
Owner & location
Updated
XL388
B.2
South Yorkshire Aircraft Museum, Doncaster, South Yorkshire
02/08/2021
XM569
B.2
Gary Spoors & Dave Price, Jet Age Museum, Meteor Business Park, Gloucester, Gloucestershire
09/05/2022
XM602
B.2
Avro Heritage Society (stored), Swinton, Greater Manchester
02/08/2021
XM652
B.2
Sue & Roy Jerman, Welshpool, Powys, Wales
24/06/2021
Serial
Mark
Owner & location
Updated
XH537
B.2MRR
Bournemouth Aviation Museum, Bournemouth Airport, Hurn, Dorset
10/07/2021
XH563
B.2MRR
Ken Ward, Morayvia, Kinloss, Scotland
24/10/2021
Serial
Mark
Owner & location
Updated
XH560
K.2
Nigel Towler, Cockpit Collection (for sale), Rayleigh area, Essex
27/01/2021
XL445
K.2
RAF Scampton Heritage Centre, RAF Scampton, Lincolnshire
02/08/2021
The Reigate Vulcan nose was from the B.1 and was known as XA909; however it is now thought to be either XA889, XA890 or, more likely, a nose section that never flew and never had an RAF serial.