B.2 XM655 - John Littler/655 MaPS (taxiable), Wellesbourne Mountford aerodrome, Warwickshire
Vulcan B.2 XM655 at Wellesbourne Mountford, 21st June 2015; Damien Burke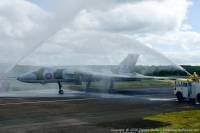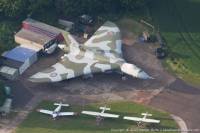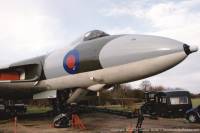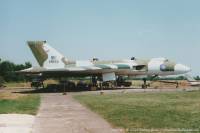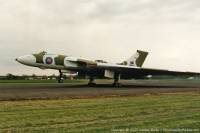 XM655 was the third to last produced, and delivered to 9 Squadron at RAF Cottesmore in November 1964. She was transferred to the Waddington Wing in January 1968 and served with 101, 44 and finally 50 Squadron.
She was retired in 1983 and bought by Roy Jacobsen, who had her flown into Wellesbourne Mountford airfield on 11th February 1984, with the intention of flying her on the airshow circuit. Registered as G-VULC, the magnitude of the task of getting her flying under civilian rules was hugely underestimated, and thoughts turned to taking her to America - so she was re-registered as N655AV. Those plans also came to nought and Roy basically abandoned the aircraft, buying XL426 instead.
Left to rot at Wellesbourne for many years, eventually she was transferred to the ownership of the airfield to pay for the accumulated parking fees, and was brought back into running condition with help from Delta Engineering (former for this task - the forerunners of Delta Jets). By the end of 1996 she moved under her own power for the first time since 1984. She has come along very well since then, is substantially complete (she even has a bomb bay full of fibreglass bombs) and is now regularly fast-taxied.
The aircraft will never fly again, but the XM655 Maintenance and Preservation Society intend to keep her in ground running condition and continue with the taxi runs for as long as possible. Several anti-deterioration engine runs are carried out each year, with fast taxi runs at open days when possible. See the
655 Maintenance and Preservation Society
website for more details.
Sadly in 2015 the airfield owners (who also own XM655) saw pound signs at the prospect of flogging off the land for homes and despite permission to build houses being refused, they've pushed hard to destroy the airfield and its resident businesses.
Dramatic action
by the local council appears to have stopped them from demolishing the aerodrome buildings and forced an agreement to continue aviation at the site in the face of a threat of a compulsory purchase order, but in early 2020 the largest flying school on site was forced to move elsewhere after the landlords refused to renew their tenancy in apparent bout of spite. All other tenants were renewed - but can be kicked out at just 28 days notice.
XM655's future as a taxiable - or indeed complete - example therefore remains in some doubt.
| | |
| --- | --- |
| | Information on this page current as of 19/01/2021 |
Find other photos of XM655 on the following sites:

Air-Britain - Airliners.net - Airplane-Pictures.net - flickr.com - WorldAirPics.com - JetPhotos.net - PlanePictures.net