Handley Page Victor - Survivor XL231
K.2 XL231 - Andre Tempest (runner), Yorkshire Air Museum, Elvington, North Yorkshire
Victor K.2 XL231 at Yorkshire Air Museum, 23rd September 2023; Jake Wallace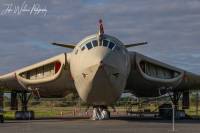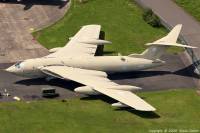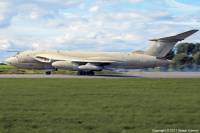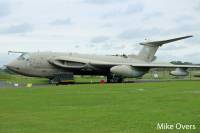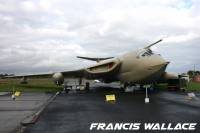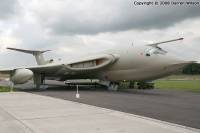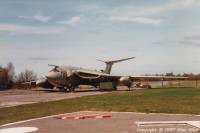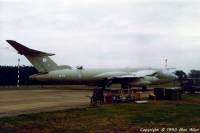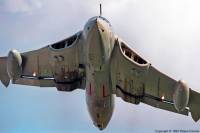 XL231, above, is owned by businessman Andre Tempest and is pampered by Andre and his crew at Elvington. First flown on 28th December 1961, she was picked up by a crew from RAF Wittering and flown into service with 139 Squadron on 31st January 1962. She served with 139 in the conventional bomber role until November 1963 when she was returned to HP for an upgrade to Blue Steel carrying capability (B.2R as termed by HP, though not the RAF). She was returned to Wittering on 17th July 1964 and served on until 139 Squadron was disbanded in late 1968.
Returned to HP once more in early 1969, she was stored awaiting a decision on being converted to a K.2 tanker. HP was driven to collapse and so in late April 1970 XL231 was ferried to Woodford and became the K.2 development aircraft, undergoing many modifications and not flying again until 1st March 1972. Over the next two years she carried out development and trials work for the K.2 programme and service clearance flights with the A&AEE at Boscombe, returning to Woodford in January 1974 for work to complete her to the final K.2 standard. She was finally delivered back to the RAF - 57 Squadron at RAF Marham - on 8th July 1977 and quickly appeared as part of the static display at the Queens Silver Jubilee Review of the RAF at RAF Finningley later that month.
In 1982, XL231 was heavily involved in the build-up to the Falklands War, helping train many RAF crews of types such as Nimrods, Vulcans, and Hercules in the somewhat neglected skills of air to air refuelling, and helping several Harriers on their way to Ascenscion Island.
She then went on to become part of the regular Airbridge flights to the island in support of the Task Force and later British forces on the Falklands, only finishing these duties in July 1985 when she moved to 55 Squadron. She was back with 57 the next month, but they were disbanded in June 1986 as Falklands Airbridge ops had so reduced the fatigue life of many Victors that several had to be taken out of service. Back with 55 Squadron, XL231's next period of excitement was in 1990/1991, supporting operations during the first Gulf War - Operation Granby. Flown with 100% serviceability on all tasked operations, the Victor force spent the last years of their lives supporting RAF and Allied operations in the Gulf area and XL231 was finally retired on 15th October 1993.
Her last flight was on 25th November 1993 - her delivery flight to Elvington. She wears her Granby nose art with pride and carries the name of 'Lusty Lindy'. More recently the name 'Spirit of Godfrey Lee' was applied as a tribute to the late HP designer often regarded as 'Mr. Victor'. XL231 has carried out regular taxi and static engine runs at special events.
Due to the museum and runway having different owners it's not always been possible to perform taxi runs. Sadly XL231 hasn't performed a fast taxi run in several years as a result of this situation, but Andre and his team continue to carry out regular anti-deterioration runs, preserving the airframe in full operational condition. However, with the recent activities at Bruntingthorpe, resulting in their Victor airframe,
XM715
, no longer being able to carry out taxi or engine runs, XL231 now remains the world's only fully operational Handley-Page Victor.
| | |
| --- | --- |
| | Information on this page current as of 25/09/2023, last updated by Jake |
Find other photos of XL231 on the following sites:

Air-Britain - Airliners.net - Airplane-Pictures.net - flickr.com - WorldAirPics.com - JetPhotos.net - PlanePictures.net