British Aircraft Corporation TSR2 - Survivors
Two complete airframes, XR220 and XR222, survived and have both been restored to good static condition. All the other TSR2 airframes along with the only TSR2 to fly were eventually scrapped as mentioned in the history section.
Complete aircraft
| | | | |
| --- | --- | --- | --- |
| Serial | Mark | Owner & location | Updated |
| XR220 | Type 571 | RAF Museum Midlands, RAF Cosford, Shropshire | 24/04/2022 |
| XR222 | Type 571 | Imperial War Museum, Duxford Airfield, Cambridgeshire | 02/03/2021 |
Nose/cockpit/other sections
| | | | |
| --- | --- | --- | --- |
| Serial | Mark | Owner & location | Updated |
| T5 | Type 571 | Brooklands Museum, Weybridge, Surrey | 08/01/2022 |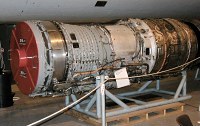 Bristol-Siddeley Olympus engine, Wroughton, 2005; Martin Gatter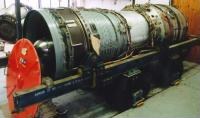 Bristol-Siddeley Olympus engine, Vallances, 17th July 1997; Dick Clements
Various parts of TSR2 are scattered around the country - both the Gatwick Aviation Museum and the Science Museum at Wroughton have zero-time Bristol-Siddeley Olympus engines that were destined for TSR2s (both pictured here). Several wing sections were to be found at Foulness for some years but were sold and scrapped in 1995. A main wing apex section can be found at the Newark Air Museum; an engine access door is also there, in the engine display hall (this is from XR222 - XR222 has a replacement!). Various other small items survive, e.g. a partial pressure helmet is in store with the RAF Museum, and Cosford also have a TSR2 ejector seat, sectioned engine and a publicity model. Canopies can be found at the Midland Air Museum (who also have an ejector seat) and also reportedly still in use as a training aid at RAF Halton.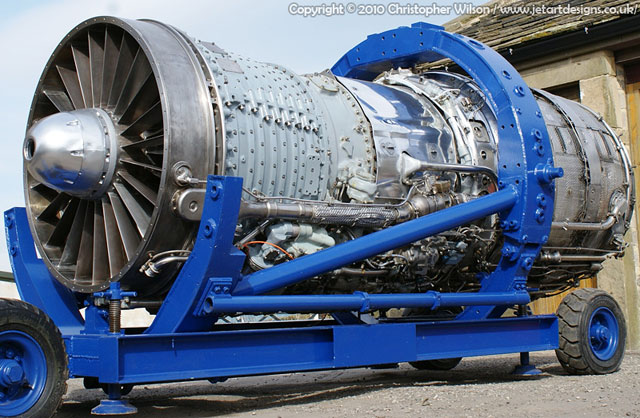 Olympus 22R/320 serial 2201 - the first one;
Christopher Wilson
In April 2010, an unusual survivor came to light - the very first Olympus 22R, serial 2201, which had been stored for over 40 years, has been restored and was up for sale on eBay. This particular engine underwent considerable bench test running, tearing itself to bits twice in the process, and was rebuilt each time to continue with its valuable development work. Quite a find - and deserving of a place in a museum somewhere.

Pazmany PL.1 G-BDHJ at Bodmin Aerodrome, early 1997; Martin Pengelly
There is a strange little postscript to the TSR2 saga, involving another aircraft that has a little TSR2 heritage... some of the metal destined for the production TSR2s was instead used in the manufacture of G-BDHJ, a Pazmany PL.1. This is a light trainer type aircraft, which has been used as a basic trainer by the Chinese air force. However, the one in question here wasn't used by the Chinese - it first flew in 1971, and was for some time based at Bodmin aerodrome in Cornwall. It's a world apart from the TSR2, but I thought that it merited a mention! Sadly the aircraft has not flown since 1997 and is no longer on the CAA register.