British Aircraft Corporation TSR2 - Survivor T5
Type 571 T5 - Brooklands Museum, Weybridge, Surrey
TSR2 Type 571 T5 at Brooklands Museum, 11th May 2019; Jelle Hieminga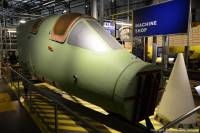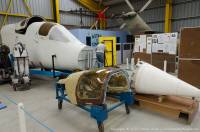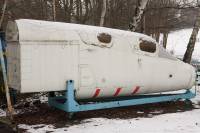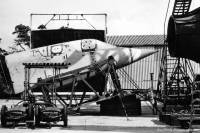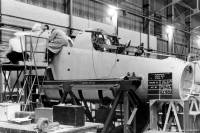 This TSR2 nose section was built using production jigs and was used for ejection seat, canopy seperation and air conditioning trials. After the programme's cancellation it continued in use at RAE Farnborough for thermal and materials tests in the Concorde programme, ending its days being used for birdstrike trials. These consisted of firing bird carcasses at various speeds into the windscreen area.
Relegated to the Farnborough dump, she was rescued by the Brooklands Museum, cosmetically refurbished and put on display. Inspection finds it to bear only superficial resemblance to a 'real' TSR2 nose - the appearance here is much more agricultural with big rivets and structural ironwork under the floor. The cylindrical projection near the front of the nose was a mounting point for the original stand, enabling rotation to various angles for blower tunnel escape system tests.
The nose was moved to Farnborough, apparently to be re-united with a radome, back in late 2010 but instead languished in a compound round the back for a while before returning to Brooklands, and then being placed on loan to the Newark Air Museum in time for the TSR2 50th anniversary event on 27th September 2014. She was displayed there along with a radome and a TFR unit. The rear canopy was opened up for the event, revealing the cockpit interior which is basically a space model - a wooden facsimile of an ejector seat and basic panels made up from plywood and metal. She remained at Newark for a short time before returning to Brooklands and more external display before being given a cosmetic restoration into a primer finish (sadly, the wrong colour primer - oops).
| | |
| --- | --- |
| | Information on this page current as of 08/01/2022, last updated by Damien |
Find other photos of T5 on the following sites:

Air-Britain - Airliners.net - Airplane-Pictures.net - flickr.com - WorldAirPics.com - JetPhotos.net - PlanePictures.net