British Aircraft Corporation TSR2 - Survivor XR220
Type 571 XR220 - RAF Museum Midlands, RAF Cosford, Shropshire
TSR2 Type 571 XR220 at Cosford, 21st April 2022; Jake Wallace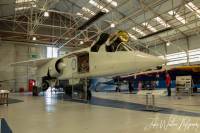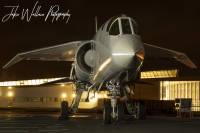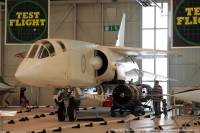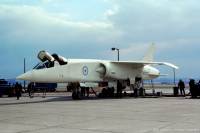 XR220 was the second development batch airframe, and was earmarked for flutter testing with a backup purpose of weapons and store seperation trials. A careful examination of the wings finds some small circular panels marking the locations where stores pylons would have been attached, and there are fairings on each intake side that would have contained cameras to monitor the stores seperation trials.
By September 1964, XR222 had been completed and was delivered to Boscombe Down. Unfortunately mishandling of the trailer she was delivered on resulted in the fuselage falling off the trailer and the damage sustained took until February 1965 to be repaired. She was ready to be flown on the day the programme was cancelled, but never did so, and instead remained at Boscombe to be used for noise trials as part of the Concorde programme.
She was earmarked for preservation by the RAF Museum in early 1967, and transported to RAF Henlow in June of that year. Stored for some years, she was dismantled once again and moved to Cosford in 1975 to take her place in the then-new Aerospace Museum. While in storage many parts of XR220 had been lost, but during the 1980s and 1990s many of her missing parts turned up and were put back in.
Parked in the middle of the experimental aircraft hangar at Cosford, she dominates the hangar not only because of her sheer size but also because compared to everything else in there, she's still the most modern-looking aircraft in the hangar! Internally, apart from various missing bits, she is in stunning condition with many bays looking like those of a new aircraft and not one that is now over 56 years old.
| | |
| --- | --- |
| | Information on this page current as of 24/04/2022, last updated by Jake |
Find other photos of XR220 on the following sites:

Air-Britain - Airliners.net - Airplane-Pictures.net - flickr.com - WorldAirPics.com - JetPhotos.net - PlanePictures.net