Supermarine Swift - Survivor WK275
F.4 WK275 - Tim Wood, Lake District area, Cumbria
Swift F.4 WK275 at Robin Hood Airport, 24th November 2016; Jet Art Aviation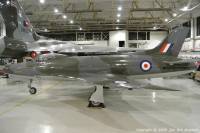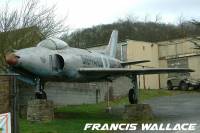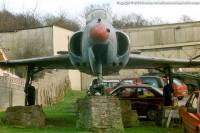 The world's only remaining complete Swift F.4 mouldered away outside a ex-government surplus store in the village of Upper Hill near Leominster in Herefordshire for more than 30 years. The weather was not kind, and the aircraft ended up caked with muck and moss. Used to advertise the store Sheppards Surplus (it had 'SHEPPARDS SURPLUS' painted on the port fuselage side - see above photos), an equally battered Whirlwind used to reside in the garden centre behind the store here but has since moved on to a paint ball park. The Swift's owner was at one time after a Harrier to swap for the Swift, but as soon as one was offered changed his mind - unfortunately he sold a Spitfire off many years ago and was horrified to see it change hands for a much higher amount not long afterwards. The result was that he believed the Swift was worth much more than it is, and has therefore turned down several good offers for it. So poor old WK275 remained there, battered and fading. It was reported in March 2011 that the store had closed, however it just seems to have been transformed into a furniture store and remained in existence. The aircraft was put on eBay multiple times, starting off at an insane price of £½ million and steadily dropping until it was for a mere £50,000 - only about 20 times what its worth, and bizarrely described as a "barn find" when it has never seen the inside of any barn! Perhaps if it had it wouldn't be in such a state that it was in.
Thankfully, the aircraft was finally sold in March 2012 to Tim Woods who got Jet Art Aviation to transport her to North Yorkshire and begin an ambitious restoration. Happily the aircraft's internal condition had been proved to be a damn sight better than her exterior, and the cockpit is almost complete. Jet Art did an incredible job on the restoration, and the owner then placed her on loan to Vulcan to The Sky at Doncaster, to form an additional attraction in their hangar.
Unfortunately, as their operation was kicked out of the hangar their finances didn't allow for any care of WK275 and so the owner reclaimed her. The aircraft was moved up to the Lake District, near to where the owner lives and is snuggly stored in a small barn in a disassembled state. Sadly the barn is not publicly accessible, however, she is at least undercover, which is what the airframe deserves after over 30 years sat outside, on a hill in Hereford, with very little care.
| | |
| --- | --- |
| | Information on this page current as of 08/08/2022, last updated by Jake |
Find other photos of WK275 on the following sites:

Air-Britain - Airliners.net - Airplane-Pictures.net - flickr.com - WorldAirPics.com - JetPhotos.net - PlanePictures.net