Supermarine Swift - Scale Models

A brief rundown of some of the various model kits available of the Swift. Further contributions welcome.
1/72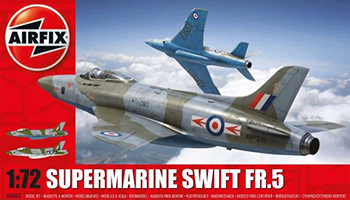 Airfix Swift FR.5
1/72
Injection moulded plastic
Price £14.99 (new)
Released 2015
This is a rather nicely done little kit that only suffers from some poor fit and a malnourished belly tank. Surface detail is restrained recessed panel lines. The cockpit and ejection seat are a fabulous effort in this scale (with decals to dress up some panels and the main instrument panel). The undercarriage and flap bays are pretty good too, and the aircraft's large flaps are able to posed down. The rudder and ailerons can also be posed seperately. There is some clever engineering going on to provide full intake interiors and engine compressor face, and a complete jetpipe with turbine face. Note that the gap in the ends of the jetpipe is correct - the box art is wrong. The intake splitter plates are handled with a careful set of inserts that reward minimum glue - and careful painting! A comprehensive decal sheet covers the usual myriad of stencils that modern Airfix kits delight in, and two options for FR.5s of II(AC) Sqn in green/grey/silver and 79 Sqn in green/grey/PRU blue. A very nice touch is that the underwing serials are pre-cut to go over the gear doors.
The kit's only real problems are down to how the somewhat complex array of parts all fits together; the cockpit tub, for instance, will fit within the fuselage only with a little scraping away of mating surfaces, and make sure you get the rear bulkhead to pop up from the top of the fuselage, and not try and get it inside. The nose gear bay is meant to be glued to the cockpit, but you'll find the whole assembly will not fit inside the nose if you do. Instead, trim a little of the forward edge of the cockpit tub and install the two assemblies separately. The intake mouth will similarly foul the wing roots slightly, so you'll need to fettle this area a bit too. The distinctive large tear drop shaped belly tank is a particularly ugly addition to the aircraft, and best left off as Airfix's depiction of it is a little small. Airfix wisely chose to only deal with the FR.5 and wasted no effort on trying to kit other variants - there are some aftermarket resin sets from Alleycat and Pavla that offer conversions for the F.1, F.2/F.4 and F.7 variants, mostly involving nose and flying surface replacements. Anyway, the base FR.5 kit is an excellent effort and the only kit worth bothering with in this scale.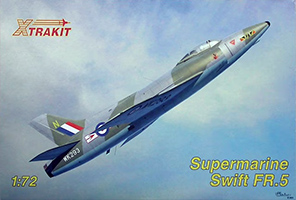 Xtrakit Swift FR.5
1/72
Injection moulded plastic
Price £18.50 (new)
Released 2009
The only game in town for an injection moulded kit until the Airfix kit came along, this was one of Xtrakit's better efforts. It is the usual short run quality, with mostly nicely done recessed panel lines, a lack of locating pins and vague fit between parts. The cockpit tub is basic and bears little relation to the real thing, but there is a nice resin ejector seat. The canopy and camera windows are all thick and not very clear. Fit of the wing to fuselage is particularly bad and will need a lot of work. Decals are provided for a couple of airframes (one II(AC) Sqn and one 4/79 Sqn), with minimal stencil detail. The underwing serials are of dubious accuracy and will prove challenging to apply given you have to cut them up to fit over the gear doors. No belly tank is provided. Not bad, but the Airfix kit is far more detailed and easier to build, and looking at built up examples of the Xtrakit Swift, there is some question as to whether the fuselage is a bit too fat.