Airfield Viewing Guide - RAF Wyton
As of February 2015 the airfield has ceased flying operations, with all of the based Tutor units having moved to RAF Wittering. There appears to be no prospect of any further flying and so this guide no longer serves a purpose. I will leave it up here in its final state for posterity.
General Description
RAF Wyton is located North-West of St. Ives in Cambridgeshire, South-East of the A141 and West of the B1040. Unfortunately no longer the home of the Canberra, Wyton was reactivated after a period of care and maintenance in September 1999, to become the home of the Cambridge and University of London UAS's and also 5 AEF.
With the retirement of the Harrier force, Wittering became available and most of Wyton's flying units had moved there by February 2015, leaving Wyton as a non-flying station.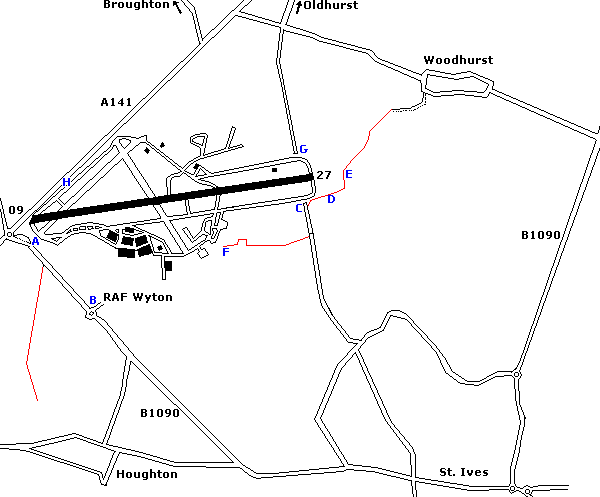 Frequencies
Frequency
Description
134.050
Approach
245.375
Tower
249.400
Ground
375.125
Approach
What you can expect to see
The UAS/AEF Tutors and not much else besides a Canberra on the gate. Activity is not exactly intense here though most days you should see one or two Tutors circuit bashing. University Air Squadrons rarely do any flying on Mondays and Tuesdays, and Wyton is therefore extremely quiet at the start of the week, though there are a handful of civilian spamcans based here too, and they won't keep to this quiet start.
Viewing
| | |
| --- | --- |
| Approaching from the west on the A141 you will pass over a series of roundabouts, going straight over each one, until you get to one where you have to turn left to stay on the A141. On the next roundabout, turn right (signposted for RAF Wyton). Just off the side off the road on your left shortly after the roundabout is an expanse of grass and mud where you can park up (A). This is probably now the best spot at which to watch the movements at Wyton; most days the Tutors will be landing on runway 27 so you'll see their landing lights over towards the hangars and they'll touch down just out of sight. | Tutor G-BYUE (taken from point A); author |
| | |
| --- | --- |
| Tutor G-BYUD (taken from point A); author | If they're doing touch and goes they'll then reappear a few seconds later and lift off once more - to fly directly over you and then bank right to follow the A141 for a few moments, then back across the North-East side of the airfield to rejoin the circuit. When overhead a 200mm lens will do you fine; 300mm will give you a few more seconds and a few better angles with which to play with but you'll need something a lot bigger to get any side-on shots as they turn into the circuit. |
| | |
| --- | --- |
| Once you get tired of watching here, get back onto the road, turning left. You'll soon come to a roundabout with a slip road off to the left to the main gate of the station (B). If you want some pictures of the gate guard, take this slip road, park in the visitor's car park and ask permission in the guardroom. They are normally quite happy about this at Wyton; the Canberra is nicely positioned so that the station entrance is obscured from most angles which perhaps helps! | Canberra PR.9 gate guard (taken from point B); author |
Now, back onto the road and left on the roundabout. Keep going all the way to the end of this road and turn left at the Give Way sign (signposted to St. Ives). Shortly you'll go into the town and there are a number of traffic lights before you get to a larger junction also with traffic lights. There is a small slip road to the left at these lights (signposted for some housing estate, the name of which escapes me). Take this left and go right up to the end of this road. At the end, turn right onto Marley Road and then immediately left into Old Ramsey Road (a no-through-road). Keep on going up this and your path will be blocked by a metal gate. Park here and you can walk down to a crash gate (C).
| | |
| --- | --- |
| The good old days - Nimrod R.1 landing in 1992 (taken from point C); Nick Challoner | Now, when Wyton was being used by Canberras and Nimrods, this was a good spot for photos of aircraft on approach to runway 27, but not any more. The Tutors fly a much tighter circuit normally so will have already turned onto the runway far away to your left. You can get a better view free of the trees either side of the crash gate by walking into the field to your right and around the edge of the airfield to point D as long as you don't damage any crops - but there's not much point usually. The annual Families Day does make the walk worthwhile though as larger aircraft don't fly such tight circuits. |
You could continue your walk right along the fence and round the end of the runway to point E for head-on views of aircraft taking off on 09 or landing on 27, but there is very little point if only the Tutors are flying.
Back to your car and by a house you'll notice a dirt track leading off to the right (as you face back down the road). This leads to another house but also continues round the edge of the airfield. Unfortunately it's blocked just past the house so there's no point driving down there but if you just want serials it may be worth a walk down here (F) - it is a public footpath so there's no problem going down this way.
Okay, back into the car and drive down Old Ramsey Road back to Marley Road. Turn left and follow the road until you get to a roundabout. Turn left on the roundabout (signposted for Ramsey). Keep going til you get to a junction where you can turn left (signposted for Woodhurst). On the edge of the village as you leave it, there's a small road to the left which leads to a farm track/bridleway and this leads towards the end of runway 27 (E again), if the other route to it is blocked for any reason. It's a very rough track and not suitable for vehicles.
| | |
| --- | --- |
| Keep going along the road then, and just before the road joins the A141 you'll see a four way junction somewhat bereft of signposts. Turn left here and you're now on the other half of the Old Ramsey Road (the road was cut in two when the runway was extended many years ago). You used to be able to drive down to the crash gate (G) but a gate has been placed across this road due to 'travellers' setting up camp here and dumping loads of rubbish. You may still be able to walk down on foot; it's closer to the runway than the crash gate on the other side but you still can't actually see the runway surface - RAF Wyton is positioned on a gentle rise in the surrounding terrain. The Tutors sometimes curve round to land just over your head here but mostly do so too high or too far to the West for good photos. | Tutor G-BYUD (taken from point G); author |
Back down Old Ramsey Road and turn left at the junction, then turn left onto the A141. Along the A141 are numerous opportunities to pull over onto the verge or near crash gates (e.g. H); while I haven't tried it here I suspect there may be some good points for taking photos as the Tutors often fly right over this area and you should be able to catch them banking hard over at certain points. There is a limited view of the aprons in front of the hangars; with no aircraft visible when I visited I don't know if this is of any use for logging serials. The dump area is also visible but was pretty much empty when I last visited.
Continuing on the A141 you'll arrive at the roundabout we were at earlier (with the approach lights for runway 27 in a field on your right). Traffic lights are in place to stop traffic if anything big is using the runway but this is highly unlikely these days! So, that's RAF Wyton - not very exciting but at least there is one fairly decent spot to view any activity from and if anything big does come back in the future you know where to go!
Other Information
Petrol stations and shops available in St. Ives.
Contributors: author, Tigger, Nick Challoner, Alistair Henderson.