Airfield Viewing Guide - RAF Holbeach
General Description
RAF Holbeach is located on the Lincolnshire coast around 8 miles North-North-East of Holbeach, approximately equidistant from Boston and King's Lynn. Unlike most RAF stations, Holbeach lacks runways and has no based aircraft. In fact the only facility for aircraft here is a single rarely used helipad. This is because Holbeach isn't an airfield - it's a bombing range.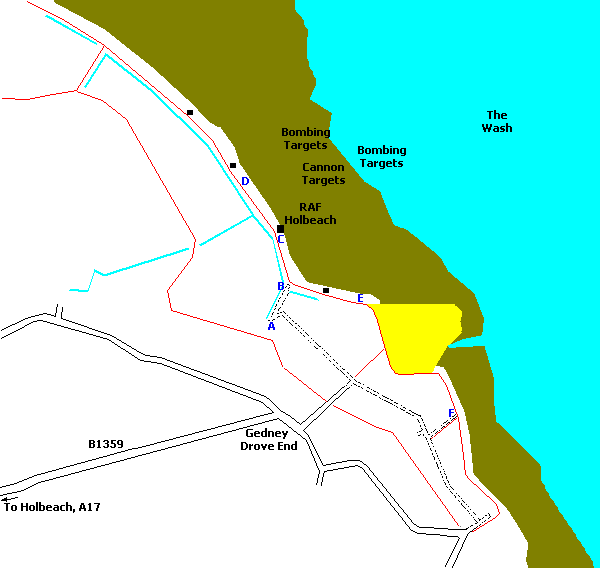 Frequencies
Frequency
Description
281.375
Range join
375.225
Range primary
270.300
Range secondary (?)
343.375
Range join (?)
360.450
Range hold/crossing (?)
What you can expect to see
Just about anything that can drop a bomb, fire a cannon or drop flares. In practice it's mostly Tornados and Typhoons, but F-15s also occasionally use the range along with the occasional helicopter or transport.
Activity is usually office hours only and on weekdays. It is apparently the busiest of the various bombing ranges but this does not necessarily translate into wall-to-wall action - long periods of inactivity can make this place, if you'll pardon the pun, rather 'hit and miss'!
Viewing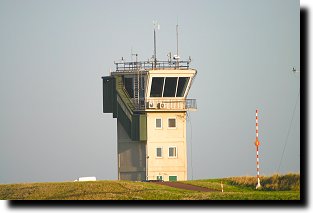 Control tower (taken from point A); author
Come off the A17 onto the B1359 (signposted for Gedney Drove End). Follow this road into the village and turn right at the end, then take the first left. The road soon deteriorates into more of a gravel track; when you get to the junction at the end of this, turn left and drive up to the bank in the distance. You can either park at the corner where the track rises up onto the top of the bank (A - room for around 3 cars) or continue along the very rough track along the bank and park by the gate (B - again room for around 3 cars). From the bank you can see Holbeach's control tower and the observation posts dotted along the coast here.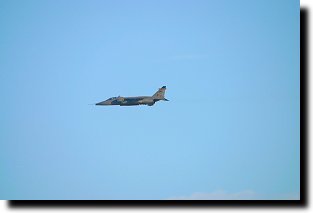 Jaguar laydown bomb run (taken from point B, 800mm lens); author
If the flagpoles are flying red flags, that means the range is open. If they aren't, you are wasting your time. Be aware that the marshes here can be treacherous and are littered with dangerous bits and pieces - you should never stray past the footpath when the range is open, and personally I wouldn't bother when it's closed either. From the gate your view of incoming aircraft is limited by distance - the targets are nearer the shoreline than the footpath, and you'd need a 2000mm lens for good pictures of aircraft running in to attack the targets.
Harrier laydown bomb run (taken from point C, 800mm lens); author
For a better chance at decent photos, you need to get walking - towards the control tower (C). From here you are a little bit closer (1500mm lens perhaps) but still quite a distance from the targets and therefore the aircraft attacking them. Occasionally a particularly high-scoring jet may make a closer flyby of the tower but it's a rare occurrence.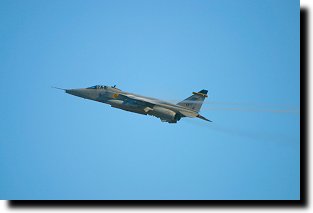 Jaguar pulling up from cannon attack (taken from point D, 800mm lens); author
A further walk down past the helipad and pump house to nearer the observation post further up the footpath will get you closer to the action (D), but still requires a big lens. I found 800mm insufficient for frame filling shots most of the time, but some attacks made from a higher approach did bring Jaguars (ah I miss them!) in particularly closer to you, and close enough for some nice pictures. Any attacks on the boats are always going to be too far away for good pictures. However, for video work, you can get some good footage here. Most aircraft make multiple attacks and enter a racetrack pattern with the final leg varying greatly - low, medium, high altitude, loft attacks, laydowns, even cannon passes against the big canvas squares.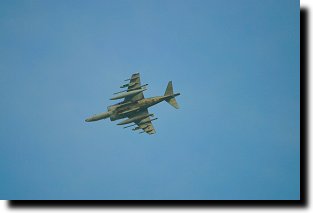 Harrier pulling round to line up on targets (taken from point F, 800mm lens); author
You can always walk in the opposite direction towards point E but again distance will usually defeat you when it comes to photography. Returning to the car, one further point for viewing from is much further along the bank along the edge of the marsh (F) but the track up to this point is awful with massive water-filled potholes to negotiate. Hop over the stile and climb the bank though, and you have a view of any aircraft running in to attack. You can't see the targets from here, but sometimes aircraft at this point are still pulling round to line-up, offering dramatic underside shots.
Other Information
The range is run through with public footpaths and well used by locals walking their dogs. You are not likely to be hassled at all taking photos here, the range personnel are used to people watching the action! Petrol and shops available in Holbeach. A few small shops in Gedney Drove End as well.
RAF Cranwell is around an hour away up the A17, and RAF Marham is also around an hour away in the opposite direction (A17 to King's Lynn, A47, A10, A134, A1122 to Marham).
Contributors: author.