Airfield Viewing Guide - RAF Benson
General Description
RAF Benson is located in the most genteel of countryside surroundings, around 9 miles South-East of Oxford, 12 miles North-West of Reading. Famous as the home of the RAF's Photographic Reconnaissance Unit during WWII, these days Benson no longer has anything to do with reconnaissance and is instead primarily a helicopter base.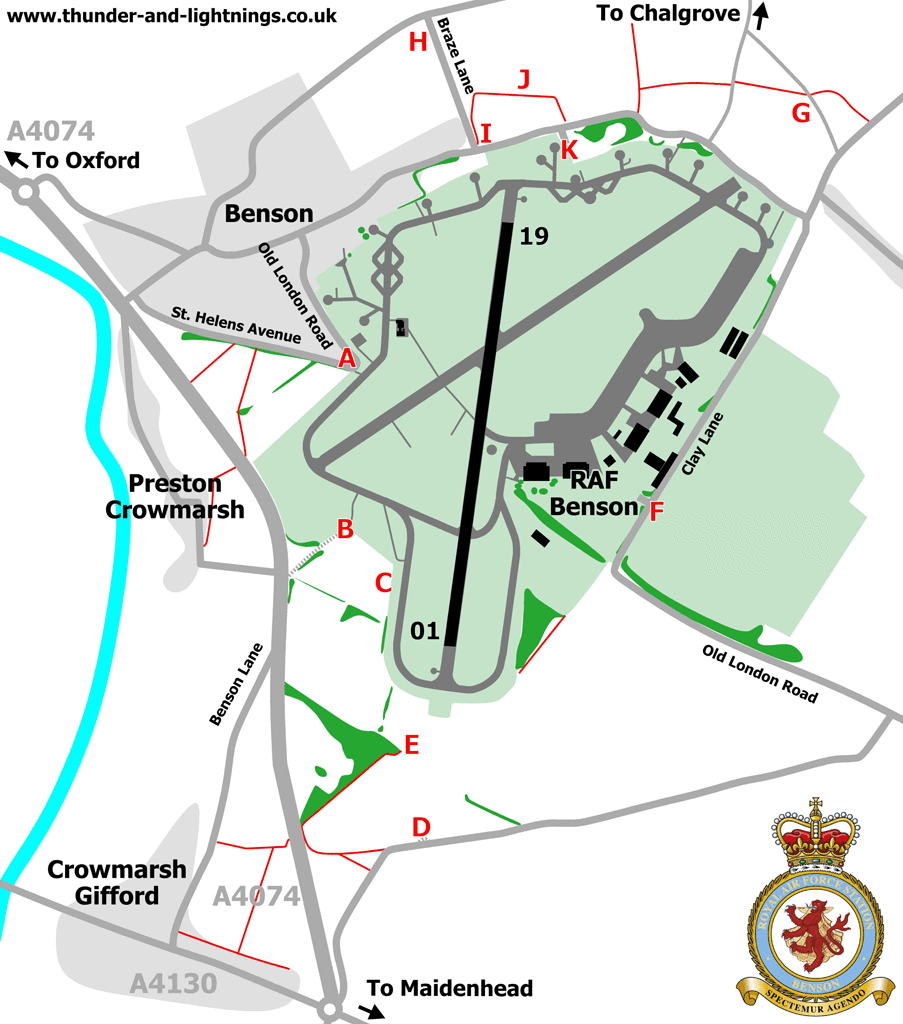 Frequencies
Frequency
Description
120.900
Zone
121.800
Ground
127.150
Tower
136.450
Approach
233.950
Tower
246.650
PAR
277.675
PAR
343.525
Approach
343.575
Ground
397.575
ATIS
Last updated
12th July 2021
What you can expect to see
Home to the the Pumas of 33 and 230 Squadrons, Pumas and Chinooks of 28 Squadron (the Support Helicopter OCU), whatever 22 Squadron are flying on any particular day (they are the Joint Helicopter Operational Evaluation Unit) plus the Tutors of Oxford UAS and 6 AEF. There are also a pair of EC.135s operated by the National Police Air Service and Thames Valley Air Ambulance based here. Visitors can include just about any rotary wing type in UK service, most notably the unmarked Dauphins of 658 Squadron, Army Air Corps (the SAS taxi service).
Activity levels are not fantastically high and even where there is flying, it is not the most rewarding station for photo opportunities. While the Tutors of course use the runways, helicopters tend to line up on them initially but then hover-taxi to the main ramp as soon as they can - so the North-East corner of the station is the busiest. Unfortunately it's also the least-viewable part! Occasional graduation ceremonies are held that involve flypasts or displays from visiting types and there is of course an annual Families Day that usually has an air display element to it.
Activity is mostly during office hours on weekdays though the AEF Tutors do fly at weekends and the police/air ambulance helicopters may fly at any time.
Viewing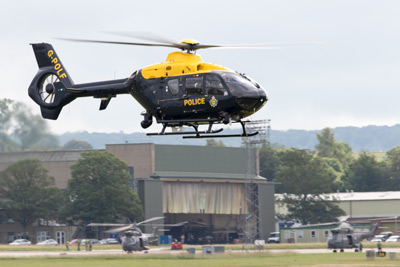 NPAS EC.135 departing (taken from point A); Damien Burke
Assuming you're arriving on the A4074 from Oxford or Reading, your first stop will be Benson's most popular viewing location. St. Helen's Lane/Old London Road leads down to a crash gate on the Western side of the station (A) and this offers an excellent panoramic view of RAF Benson. Sadly everything is too far away for good photos (and into the sun for much of the day), but spotters should be happy with their ability to read off serials from anything using the runways. Helicopters parked on the main ramp will probably be too distant to read off - small black serials on dark green helos don't help!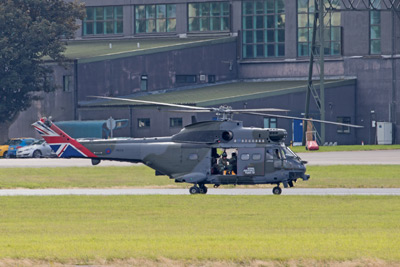 Puma taxiing (taken from point A, 600mm lens); Damien Burke
Leaving this spot, take a short drive back down St. Helen's Lane and turn left on to the A4074. Take the first left after this into a rough lane leading up to the perimeter fence (B). Mind out for broken glass and rubbish dumped in this lane though - you may be better off parking at the A4074 end. Incidentally, this lane used to connect with the Old London Road you visited earlier - before somebody built a runway nearby! Anyway, at the far end of the lane a short walk along the edge of the field to your right to point C gives you good side-on views to the runway (at least 400mm lens really required though), plus the chance to peer into the nearest hangar, opposite you on the other side of the runway. Sadly the sun is still in your face here for much of the morning and early afternoon.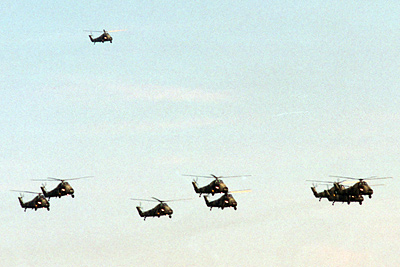 The good old days - final Wessex formation in 2002
(taken from between points B and C); Damien Burke
Back to the car and back onto the A4074, turning left again. You'll soon reach a roundabout. Take the first left and shortly after this minor road turns to the right you'll see a small layby and outer marker building on your left (D). You're safe enough parking here, don't go past the wooden fence though. You're now dead on the extended centreline of runway 01 so approaching aircraft will fly directly overhead. There is a lane further west of here that leads towards some trees where a footpath angles up closer to the runway (D), but it's rarely worth the effort to go up there. That footpath is also accessible from Crowmarsh Gifford if you want more options for parking safely.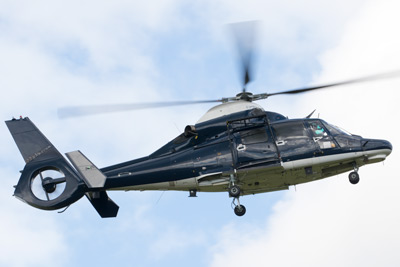 SAS Dauphin arriving (taken from point H); Damien Burke
If you want a photo of the gate guard (a replica Spitfire in PRU colours), continue along this road, turn left, then left again and follow the road into the camp. The main gate is on your left (F) - do ask permission to take a photo though. As you continue past the main gate there are intermittent views of the main ramp, no good for photos because of various buildings and other clutter (plus the huge fence), and you cannot stop anywhere along here. Parking elsewhere and returning on foot would be advisable if you really want to read off that elusive serial, though I imagine even that may attract some attention.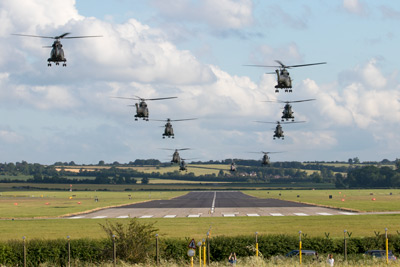 Puma 50 formation landing (taken from point J); Damien Burke
Anyway, continuing on, ignore the first turning on the left - while the road down there is closer to the runway end, the lie of the land means you won't see much. Instead take the second left to point G. The land rises up North of the station, so you're higher up here and have a chance of more of a view of the station.
For a similar spot on the approach to runway 19, continue down here, turn right, then left and watch out for the approach lights on your left. There is one place to pull over in line with the lights, but it's a narrow field entrance and the farmer would be unimpressed if you blocked it; there is no view of the airfield itself from up here anyway. So, keep going to Braze Lane. There is room on the corner to park a couple of cars, or try a small layby a little down the lane itself (H), then it's time for a walk. If you can't park, drive right down to the end of the lane, turn right and find a place to park deeper into Benson village, and walk back.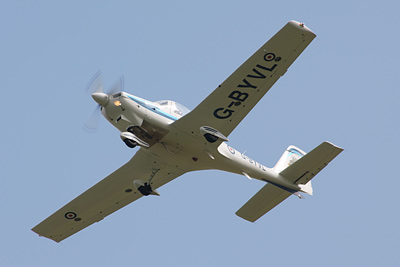 Tutor on final approach (taken from point K); Damien Burke
At the bottom of the lane you'll see a small wooden fence that ends by some trees (I); battle the undergrowth at the end of the fence and you'll see a path leading up the hill. Follow this and it'll bring you to an area among the approach lights (J), with a superb elevated view of much of the station. Great for anything approaching 19 or departing 01, though it's long lens territory really.
One final spot (K) offers an excellent view over the end of the runway, but you can't park here - it's residents-only parking and I have little doubt somebody would be out to complain if you tried leaving your car here for any length of time. You could easily park back in the village further West and walk or cycle back to this point though, and have a view through the fence of the airfield. A small step ladder may be of use for photos of anything actually touching down on the runway at this point (a rare occurrence)
That's it for Benson - a bit frustrating due to the combination of the lie of the land and the approach patterns of the based helicopters.
Other Information
Benson seems fairly spotter friendly though I haven't tested the patience of anybody here long enough to say for sure!
Petrol and shops available in nearby Wallingford or along the A4074, a few shops in Benson village too.
Martin-Baker's airfield at Chalgrove is around 15 minutes' drive away to the North, via the backroads to Berrick Salome initially, then follow signs for Chalgrove.
Contributors: Pat Carty, Merv Thomas, author, Fighter Control forum.