de Havilland Sea Vixen - Survivors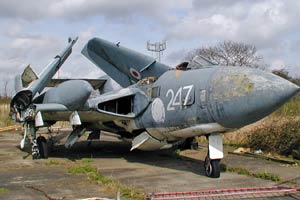 Preservation may not be permanent - XN691 derelict at North Weald, February 2001 (scrapped 5 months later); author
Not being a particularly famous aircraft, it is surprising how many Sea Vixens have been preserved, one - XP924 - even being in flying condition. This contrasts with earlier Fleet Air Arm aircraft (such as the Wyvern or Scimitar) which are real rarities nowadays. One Sea Vixen and a nose section have even ended up in Australia!
As the Sea Vixen was retired early in 1972, many of the airframes had several years of fatigue life left in them. Had the RN's carriers not been lost, it is feasible that the Sea Vixen could have been operational into the 1980s. After all, Lightnings were operational until the late 1980s, and were of around the same generation. The airframe itself, being designed for the pounding a carrier borne aircraft gets, is extremely tough. Certainly most landing accidents only took Sea Vixens off line for a few days while repairs were carried out. This and extensive anti-corrosion features also mean that examples at museums, even when parked in the open, have survived years of inactivity very well.
Click on the serial of a survivor entry for further information. Please comment on any individual survivor entry you feel requires an update!
Complete aircraft
Serial
Mark
Owner & location
Updated
XJ481
FAW.1
Fleet Air Arm Museum (stored), RNAS Yeovilton, Somerset
09/05/2022
XJ482
FAW.1
Norfolk & Suffolk Aviation Museum, Flixton, Suffolk
17/06/2020
Serial
Mark
Owner & location
Updated
XJ490
FAW.2
Queensland Air Museum, Caloundra Aerodrome, Queensland, Australia
09/05/2022
XJ494
FAW.2
Classic British Jets Collection, Bruntingthorpe Aerodrome, Leicestershire
09/01/2022
XJ560
FAW.2
Newark Air Museum, Winthorpe, Nottinghamshire
11/04/2021
XJ565
FAW.2
de Havilland Aircraft Heritage Centre, London Colney, Hertfordshire
02/12/2020
XJ571
FAW.2
Hallett Foundation, Solent Sky, Southampton, Hampshire
15/01/2022
XJ580
FAW.2
Tangmere Military Aviation Museum, Tangmere, West Sussex
27/07/2022
XN685
FAW.2
Midland Air Museum, Coventry Airport, Warwickshire
16/05/2022
XP919
FAW.2
Scrapped? (was Blyth Valley Aviation Collection, Walpole, Suffolk)
21/01/2009
XS576
FAW.2
Imperial War Museum, Duxford Airfield, Cambridgeshire
25/03/2022
XS590
FAW.2
Fleet Air Arm Museum, RNAS Yeovilton, Somerset
04/11/2021
Serial
Mark
Owner & location
Updated
XS587
FAW(TT).2
Gatwick Aviation Museum, Charlwood, Surrey
07/08/2023
Serial
Mark
Owner & location
Updated
XP924 (ex G-CVIX)
D.3
Bournemouth Aviation Museum (stored), RNAS Yeovilton, Somerset
20/11/2023
Nose/cockpit/other sections
Serial
Mark
Owner & location
Updated
Simulator
Simulator
Privately owned, South Wales Aviation Museum, (stored), St. Athan, Wales
24/02/2023
Serial
Mark
Owner & location
Updated
XJ476
FAW.1
Boscombe Down Aviation Collection, Old Sarum Airfield, Wiltshire
14/06/2020
XJ488
FAW.1
Robertsbridge Aviation Society, Robertsbridge, East Sussex
02/08/2021
Serial
Mark
Owner & location
Updated
XJ575
FAW.2
Wellesbourne Wartime Museum, Wellesbourne Mountford airfield, Warwickshire
18/06/2021
XJ579
FAW.2
Midland Air Museum, Coventry Airport, Warwickshire
16/05/2022
XJ607
FAW.2
Queensland Air Museum, Caloundra Aerodrome, Queensland, Australia
09/05/2022
XN647
FAW.2
Robin Phipps, Steventon, Oxfordshire
17/02/2022
XN650
FAW.2
Privately owned, Spanhoe Airfield, Northamptonshire
09/05/2022
XN651
FAW.2
Tony Collins, Lavendon, Buckinghamshire
29/08/2021
XN696
FAW.2
North East Land Sea & Air Museum, Sunderland Airport, Tyne & Wear
27/06/2022
XP925
FAW.2
Privately owned, Stoneykirk, Dumfries and Galloway, Scotland
17/06/2020
Serial
Mark
Owner & location
Updated
XS577
D.3
Privately owned, Chantel St Denis, Switzerland
02/08/2021