McDonnell-Douglas/BAC F-4K/M Phantom II - Model Kits

A brief rundown of the various model kits available of the British versions of the Phantom.
1/144
There appear to be no Spey engined Phantom model kits available in 1/144 or smaller scales.
1/72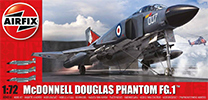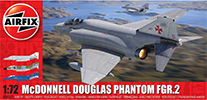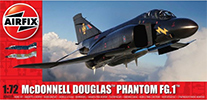 Airfix Phantom FG.1/FGR.2
1/72
Injection moulded plastic
Price £26.99 (new)
Released from 2017
A very welcome arrival and demonstrating that Airfix are continuing to up their game, this kit has been subject to some pretty harsh criticism in online forums for some fairly minor flaws. In reality what we have is a beautifully designed model kit based on laser scans of an actual airframe, which represents the type in 1/72 more accurately than any other product. There is some amazingly fine surface detail (slightly deeper than the Fujimi kit, but way more complete and including details like reinforcement plates and rivets missed out by Fujimi), an absolutely incredible decal sheet (more decals than parts in the kit!), a decent stab at the cockpit, full engine intakes all the way back to the compressor faces, and all the options you could possibly hope for.
So - you can build your Airfix Phantom wheels-up in flight, or parked with everything folded (including the nose - with or without the radar pulled out for maintenance), or hooked up to the catapult with nose gear extended, flaps and slats out and rear stabilisers positioned nose-down! The canopy is supplied both as a one-piece closed example or in separate bits to pose opened. The FG.1 kits and FGR.2 kits differ not only in decals but also in provision of extra parts, e.g. the FGR.2 kit includes different tailplanes, the EMI recce pod, strike camera and gun pod. The FG.1 kit includes rocket pods and bombs and appropriate tailplanes.
Unfortunately all these options come with a price of some complex engineering of parts, for instance the underside of the wing includes an insert for later machines that had reinforcement panels; the top of the spine is a separate part to avoid a centerline seam but this makes putting the fuselage together a little trickier. Intakes and wings need some careful test fitting and a little fettling to sit just right. So why did it get a rough reception online? Airfix - sadly - fumbled at the last moment. On the real thing there are some pretty obvious vents on the top and bottom of the intake ramps, the ramps themselves have a mesh-like surface, and there are some small vents just forward of the top of the jet pipes. All of these have been missed off, and they're a bit tricky to work into the kit yourself by hand. Resin replacements are available but add to the cost and are also not easy to incorporate. These flaws - and they're not huge - are unfortunate, but I think this kit still beats the Fujimi kit just because of the sheer number of options it gives you. It is a more involved build at 162 parts vs 77 but basically - nice one Airfix!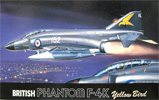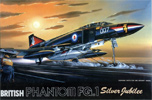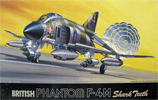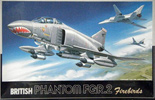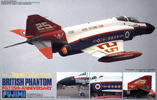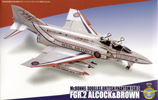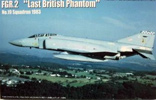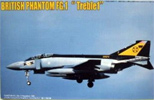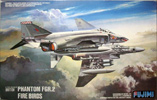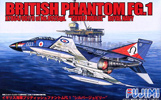 Fujimi Phantom F-4K/M/FG.1/FGR.2
1/72
Injection moulded plastic
Price ~£18 (new, second hand or imported from Japan)
Released 1988 onwards
Until the arrival of the new Airfix kit, this was the undisputed king of the British Phantom in this scale. It features finely recessed panel lines, pretty good detail, good quality decals and captures most of the nuances of the F-4K/M airframe perfectly. The canopy is supplied both as a single piece 'closed' example and a four piece version so you can pose the canopies open. Vinyl wheels are supplied in some boxings though most modellers choose to use the plastic versions. It has been released in a bewildering number of boxes with varying decals and each boxing usually correctly represents the particular airframes covered (e.g. with slotted stabilators or not, and different tail fins - with RWR or without). There are a few minor problems - the original release has the fuselage side auxiliary intake doors in the wrong place, and the belly aux intake doors can't be modelled open (both issues fixed in the later releases). The main intakes do not include trunking and end at a blank wall with no representation of the engine compressor face. The Sidewinders included are AIM-9Es which British Phantoms did not use. The cockpit is a little disappointing, with pretty decals providing generic detail, which won't sit down nicely over the moulded detail that's in place all over the inaccurately shaped panels. All these are really pretty minor issues though. The Fujimi kit measures up quite nicely to the Airfix kit, but is 2-3mm shorter and has a number of simplified areas of surface detail (e.g. the bulge on the upper wing surface and the undersides of the outer portions of the wings).
There were four kits issued originally (Firebirds, Shark Teeth, Silver Jubilee and Yellow Bird, all with a black band along the bottom of the box art), then two special editions with some white metal and etched brass parts to improve the cockpit - 25th Anniversary (raspberry ripple, with one of the options having the unusual radome fitted to the jet in question) and Alcock & Browne), then four re-issues of the original releases (same decals, new box art and various upgrades to the moulds - e.g. seperate flaps, corrected auxiliary inlet doors, better detailing on the jet pipes and so on). Those were followed by three limited editions, all using the upgraded moulds and new decals (Black Mike, Bye Bye Blue, Treble One). Most recently there have been re-issues of the Alcock & Browne and 25th Anniversary kits (but no metal parts this time, and mistakenly includes FG.1 nose gear and catapult attachment points).
The upgraded mould kits are obviously worth seeking out over the earlier releases but this is not to say you shouldn't pass up the opportunity to get any boxing, as the basic kit is excellent regardless of the improvements made to the later releases. Availability in the UK has been patchy but the F-4M/FG.1 kit has been reissued by Italeri recently so is easy to get hold of at the time of writing (early 2020).
Italeri F-4M Phantom FG.1
1/72
Injection moulded plastic
Price ~£24.99 (new)
Released 2019 onwards
Reboxed Fujimi FG.1 kit, slightly inferior decals but the same plastic so all the comments above apply. Comes with the RWR tail, belly tank, gun pod and missiles. The painting instructions contain incorrect colour callouts for the main colours (e.g. dark sea blue instead of Extra Dark Sea Grey for the RN option) so be aware of that.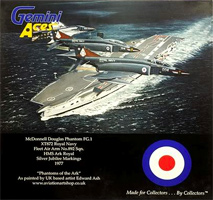 Gemini Jets GARNS4001 to GARAF4005 FG.1/FGR.2
1/72
Diecast metal
Price ~£29.99 to 49.99 (RRP)
Released 2008 onwards
Not a model kit but a diecast model, and on first glance doesn't appear to be a bad effort. However, the canopy sills are too small (so the canopies look oversized); the radome shape is a little off (similar to the Matchbox kit) and the rear ejection seat is mounted far too low. The exhausts are pretty crude (and far too fragile for their intended use as stand mounting points). Movable control surfaces are all very fragile. Common colour fault on all releases is the coaming under the windscreen (grey, should be black). There have been five releases so far:
GARNS4001: XT872 of 892 NAS, HMS Ark Royal in standard EDSG/White scheme with 1977 Silver Jubilee markings. Generally looks the part but there are lots of small errors in the paintjob - roundels too big and in the wrong places, underwing serial in too thick a font, lots of missing stencils (and those that are there are almost without exception wrongly placed or sized), camo demarcation wrong under intakes and nose, tail Omega marking wrong size. Comes with a gun pod and FG.1s didn't carry them! Bright yellow ejection seat head box - what were they thinking?
GARAF4002: XV497 of 23 Squadron/1435 Flight in an attempt at the air defence grey scheme. A ModelZone exclusive. Sadly a bit of a disaster. Pitots missing from fin. Wrong Sidewinders. Rescue arrows missing. Roundels wrong colour, size and position. Radome, inner wing topsurfaces, undercarriage bays, gun pod, pylons and underside by exhausts are all the wrong colour.
GARNS4003: XT864 of 892 NAS, HMS Ark Royal in her 'FLY NAVY' final flight colours. Most of the same faults as GARNS4001 though the ejection seats are no longer yellow.
GARAF4004: XV567 of 43 Squadron in grey/green. Wing roundels in the wrong places but otherwise a good effort.
GARAF4005: XV498 of 92 Squadron in another attempt at the air defence grey scheme. Inner wing top surfaces still the wrong colour; but the flaps are right - which looks worse than leaving them in the wrong colour too.
If you can overlook the faults, they don't look so bad sat on the shelf - with the exception of the Modelzone special, which is just awful.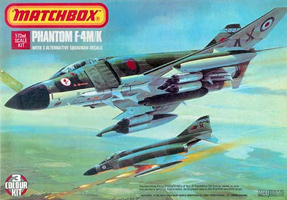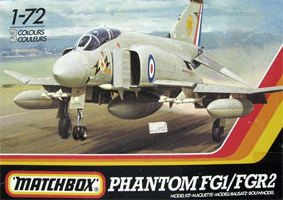 Matchbox PK-404 Phantom F-4M/K (FG1/FGR2)
1/72
Injection moulded plastic
Price £5 to 15+ (second hand)
Released 1980s
Not one of Matchbox's best efforts, this. Released twice by Matchbox in different boxes with different marking options, it has since been reboxed by Revell too so is quite easy to get hold of. Alas, there's no real point in getting one - it has typically deep Matchbox recessed panel lines and is devoid of any detail in the areas of jetpipes, undercarriage and cockpit. The canopies cannot be shown open; Matchbox moulded the solid parts of them as part of the fuselage, then also moulded a line on the clear canopies. The result is most paint that bit and make the canopies look squashed; if you sand them down and then polish them back to clarity they don't look so bad but must be built closed. They are still a little too squashed looking though - the windscreen in particular. Stores supplied are possibly the worst Sidewinders ever produced in injection moulded plastic (with similarly poor quality pylons), drop tanks, belly tank, gun pod, recce pod and rocket pods. The nose radome is too large compared to the fuselage so needs a humungous sanding session to get it to match up; however as it's already deformed in shape, you're better off throwing it in the bin and sourcing a replacement. So, lots of work to get a good looking Phantom, and you need to buy some third party decals anyway.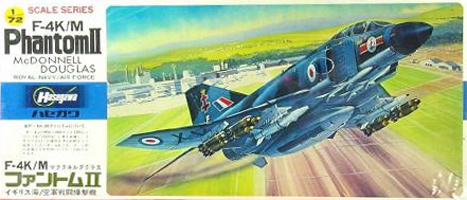 Hasegawa F-4K/M
1/72
Injection moulded plastic
Price ~£5 (second hand)
Released 1970s
This is not an F-4K/M, but is just an ancient reboxed F-4B with decals to cover British schemes. Avoid like the plague.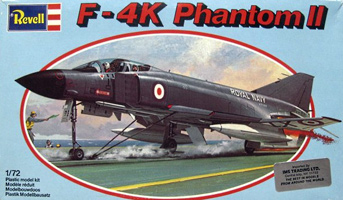 Revell F-4K
1/72
Injection moulded plastic
Price ~£5 (second hand)
Released 1960s
This is also not an F-4K/M, but is once again an ancient reboxed F-4B with decals to cover British schemes. Avoid - you guessed it - like the plague.
1/48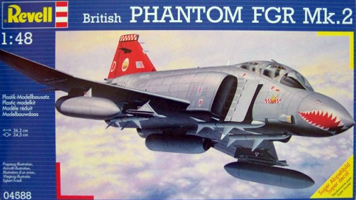 Revell Phantom FGR.2
1/48
Injection moulded plastic
Price ~£20 (RRP)
Released 2000s
Not a new kit, but a reboxing of the Hasegawa 1/48 Phantom, which is no bad thing as it's a superb kit. Back in 2007 these were being dumped at about a tenner each, which was a real steal. The decals are far superior to those in the Hasegawa releases. On the negative side, none of the 'high grade' metal parts are included, and this includes the wheels, leaving only the inaccurate plastic wheels. Otherwise, all the comments on the Hasegawa kit below apply. Sadly they are now out of production once more and becoming difficult to find, particularly at a reasonable price - some sellers attempting to get rid of theirs at prices similar to buying one of the Hasegawa releases at the full current day price.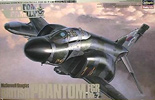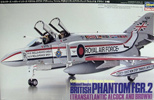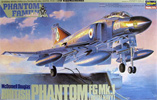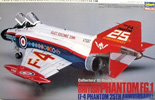 Hasegawa Phantom FG.1 / FGR.2
1/48
Injection moulded plastic
Price £57.49 (RRP)
Released 1999
Thankfully Hasegawa's 1/48 effort is actually a model of a British Phantom and not a reboxed American variant! This is an excellent kit, up to Hasegawa's modern day standards with finely recessed panel lines, good detailing and accurate shape. On the negative side the colours of the national markings on the decal sheet are too dark, there are no intake tunnels and the intakes end at a blank wall with no representation of the engine compressor face. Also, no Sidewinders are supplied (though drop tanks, a gun pod and Sparrows are). Parts breakdown is remarkably similar to the Fujimi 1/72 kit, with open aux intake doors, separate flaps, inserts for the catapult hooks and so on. The FG.1 and FGR.2 boxes contain basically the same parts, bar stabilisers which are supplied slotted or not as per the version in question. This was a "High Grade" release and added photo etched brass parts for cockpit details and white metal parts for the undercarriage, refuelling probe and ejector seats. As is common with Hasegawa, they have released numerous boxings with specific paint schemes e.g. 'Black Mike' and 'Tiger Squadron'. The fit of parts is a little off in places, so care - and filler and sanding - is needed with the radome, intakes and wings. Prices have climbed steadily as with all Hasegawa products, and the current ridiculously high price along with inferior decals means it loses a star compared to the Revell release.
1/32 and larger
None available that I know of. There has been one 1/32 resin conversion set, that from Meteor Productions/Wild Hare Association designed to convert the Tamiya 1/48 F-4J, but that was hugely expensive (~£275 back in 2008), produced in limited numbers (supposedly around 80), and the manufacturer folded in the middle of production after a death spiral of increasingly erratic online behaviour. Many who ordered had to instigate charge backs on their credit cards so it is highly unlikely that the full 80 sets were produced. Naturally with the original price being so high and the limited run, your chances of finding one for less than the price of a small car are minimal. You'll no doubt feel better if I mention that the reheat nozzles are overly simplified and the intake interiors are shaped wrongly. The initially impressive decal selection is lacking most of the stencils applied to British Phantoms - and that's a lot of stencils!