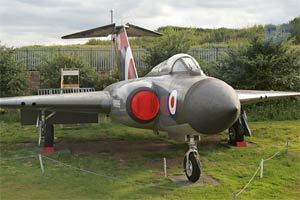 Preserved Javelin XA699 at Coventry; author
Despite a decent production run (by British standards), and though a respectable number of examples were preserved for a while as gate guards (at RAF stations Acklington, Hartlebury, Innsworth, Leeming, Manston, Stafford, Swanton Morley, Swinderby, Ternhill, West Raynham and Yatesbury), the closure of many stations more often than not led to the Javelin being scrapped (if it had not already been replaced by another type on the gate). As a consequence very few now remain in existence, though thankfully they all seem to have secure futures (though I would not count anything on the gate at an RAF establishment as particularly secure judging by the past record of Javelin gate guards - indeed the very last example of an FAW.2 in existence was scrapped not so long ago, and RAF Stafford upgraded their gate guard to a Harrier GR.3).
The list here is compiled from a number of sources, with particular credit to Ken Ellis' Wrecks & Relics (16th edition) and Otger van der Kooij's European Wrecks & Relics (2nd edition). Please comment on any individual survivor entry you feel requires an update!
Complete aircraft
Serial
Mark
Owner & location
Updated
XA553
FAW.1
Classic Jets (gate guard), Thunder City, Capetown Airport, South Africa
02/2008
XA564
FAW.1
RAF Museum Cosford, Shropshire
17/05/2007
Serial
Mark
Owner & location
Updated
XA634
FAW.4
Jet Age Museum, Meteor Business Park, Gloucester, Gloucestershire
25/03/2015
Serial
Mark
Owner & location
Updated
XA699
FAW.5
Midland Air Museum, Coventry Airport, Warwickshire
20/06/2008
Serial
Mark
Owner & location
Updated
XH992
FAW.8
Newark Air Museum, Winthorpe, Nottinghamshire
13/03/2008
Serial
Mark
Owner & location
Updated
'XH707' (really XH768)
FAW.9
Museo dell'Aviazione, Cerbaiola, near Rimini, Italy
28/10/2004
XH767
FAW.9
Yorkshire Air Museum, Elvington, Yorkshire
01/10/2008
XH897
FAW.9
Imperial War Museum, Duxford Airfield, Cambridgeshire
22/05/2005
XH903
FAW.9
Jet Age Museum, Meteor Business Park, Gloucester, Gloucestershire
17/12/2004
Serial
Mark
Owner & location
Updated
XH892
FAW.9R
Norfolk & Suffolk Aviation Museum, Flixton, Suffolk
01/10/2008
Nose/cockpit/other sections
| | | | |
| --- | --- | --- | --- |
| Serial | Mark | Owner & location | Updated |
| XH783 | FAW.7 | Catford Independent Air Force, Catford, Greater London | |
| XH837 | FAW.7 | Caernarfon Airworld, Caernarfon Aerodrome, Gwynedd, Wales | 19/08/2001 |