GR.3A XZ114 - DSAE, RAF Cosford, Shropshire
Jaguar GR.3A XZ114 at RAF Cosford, 10th June 2018; Damien Burke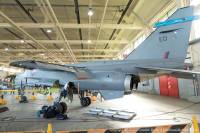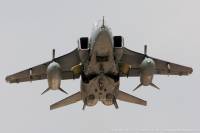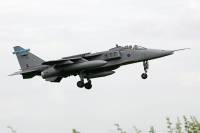 First flown on 8th April 1976 and delivered to the RAF on 6th May 1976, XZ114 entered service with 41 Squadron at RAF Coltishall, coded B. She remained with 41 for much of her career, and in 1986/7 she wore a temporary snow camouflage scheme, with white distemper applied roughly over the entire airframe with small patches of the green and grey camo left unpainted - the original 'Spotty Jag'!
In 1991 she was painted in desert pink for possible use in Operation Granby, coded B on the nose gear door but FB on the fin, however she stayed in the UK. She retained her desert colours until 1993, when she was given a light ARTF grey finish.
By June 2005 she had moved to 6 Squadron, coded EO, and flew with them until she was retired on 11th April 2006. Initially stored at RAF Shawbury, she then moved to Cosford in April 2007 for ground instructional use, and remains there to this day.
| | |
| --- | --- |
| | Information on this page current as of 09/01/2021 |
Find other photos of XZ114 on the following sites:

Air-Britain - Airliners.net - Airplane-Pictures.net - flickr.com - WorldAirPics.com - JetPhotos.net - PlanePictures.net