Hawker Hunter - Survivor XF509
F.6 XF509 - Hornby Hobbies, RAF Manston History Museum, Kent
Hunter F.6 XF509 at Fort Paull, 17th June 2021; Andrew Shemans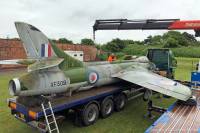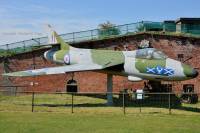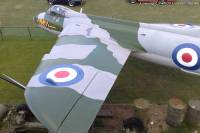 XF509 had a varied life, beginning with 54 Squadron in 1957 and moving on through the AFDS, RAE Bedford, some time with BAC at Filton (chase aircraft for the BAC 221 project) and finally 4 FTS at RAF Valley, ending its days as a gate guard at RAF Chivenor. On the station's closure, Humbrol (owners of Airfix) bought themselves this big kit and stuck it on a pole outside their plant in Hull; the amount of work necessary being considerably less than normal as the aircraft had been placed in similar position at Chivenor after a full restoration in 1990.
Sadly, with the collapse of Humbrol and the closure of the factory, the aircraft was left to rot for many months. The receivers viewed it as an asset, when in fact it was worth very little, and it was vandalised with a smashed canopy resulting in the cockpit open to the elements, and the nose received a fair amount of graffiti (the factory suffered two attempts at burning it down too). The museum at Fort Paull finally got hold of her and relocated her to their premises, cleaning her up and putting her back on display.
Sadly the museum at Fort Paull closed in January 2020 and an auction was then held to dispose of the various exhibits. Sold for £13,000, XF509's buyer remained a mystery until March 2021 when Hornby Hobbies announced that their CEO Lyndon Davies had purchased the airframe privately and then donated it to Hornby Hobbies, hopefully so that it could once more reside outside the Hornby Hobbies factory in Hull as a tribute to the employees and members of their family who have sadly passed away during the COVID-19 pandemic.
On 18th June 2021, XF509 was moved to the RAF Manston History Museum, where she was put undercover and reassembled. While the resting place of XF509 is being finalised at Hornby Hobbies, the airframe is being restored; a complete strip and repaint began in March 2022. She's put up a bit of a fight by all accounts, with the nose gear in particular refusing to be lowered despite various attempts.
| | |
| --- | --- |
| | Information on this page current as of 07/09/2023, last updated by Damien |
Find other photos of XF509 on the following sites:

Air-Britain - Airliners.net - Airplane-Pictures.net - flickr.com - WorldAirPics.com - JetPhotos.net - PlanePictures.net