English Electric Canberra - Survivor WH779
PR.7 WH779 - South Yorkshire Aircraft Museum, AeroVenture, Doncaster, Yorkshire
Canberra PR.7 WH779 at South Yorkshire Aircraft Museum, 22nd September 2023; Jake Wallace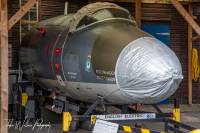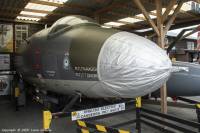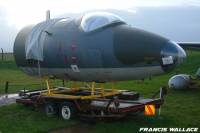 This PR.7 was ready for collection in March 1954, taken on to RAF charge, and delivered brand new to 542 Sqn at RAF Wyton. WH779 soon moved on being transferred to 13 Sqn, then 80 Sqn, and finally 31 Sqn. Eventually this PR.7 was allocated a Ground Instructional number (8129M) at RAFG Bruggen for G/I at RAFG Wildenrath in March 1971.
Moved to storage at St Athan, she was later given an overhaul at 19 MU and reinstated with her serial number of WH779. Issued again to 13 Sqn she soon moved onto the Holding Flight before being transferred to 100 Sqn in 1991 where she was given the squadron code of "CK". She was transferred again to 1 PRU in 1992 and moved with them when they took their PR.9s to RAF Marham. It's unknown if she ever flew again after this or if she was already being used for spares.
WH779 was scrapped at RAF Marham in 2004 with the front fuselage (transportation joint forwards) and the starboard wing being shipped to DERA at Boscombe Down. The structure was to be used as part of a 'structural teardown' programme to assist in ensuring that the structural integrity of the remaining RAF Canberra fleet could be maintained safely for some years into the future. The remainder of the airframe went on to be used for NDT development, inspection training, etc.
The cockpit section was purchased by Darren Headleand in 2006 who moved it to Leicestershire/East Midlands Aeropark in 2006. Since arriving at the aeropark, Darren gave the cockpit a tidy-up and managed to find and fit two ejection seats as well as filling many of the empty holes in the cockpit. By 2009 the cockpit was seen on a proper cradle rather than a trailer with a nose wheel fitted.
On November 7th 2010, WH779 was moved to the Newark Air Museum where work continued on the cockpit. Not too long after, WH779 came back to life with electrical power in the cockpit once again. In 2015, the cockpit was moved again, this time to South Yorkshire Aircraft Museum, AeroVenture in Doncaster where she was put on display. If you have ever visited AeroVenture, you'll know that the museum has quite the collection of Canberra cockpits, with WH779 as part of that line-up.
| | |
| --- | --- |
| | Information on this page current as of 30/10/2023, last updated by Jake |
Find other photos of WH779 on the following sites:

Air-Britain - Airliners.net - Airplane-Pictures.net - flickr.com - WorldAirPics.com - JetPhotos.net - PlanePictures.net