Blackburn Buccaneer - Survivor XW544
S.2B XW544 - The Buccaneer Aviation Group (taxiable), Cotswold Airport, Gloucestershire
Buccaneer S.2B XW544 at Cotswold Airport, 5th June 2021; Damien Burke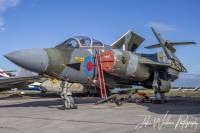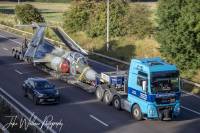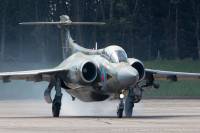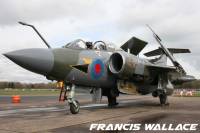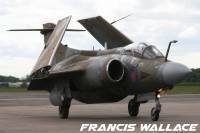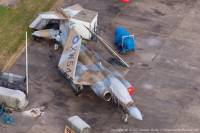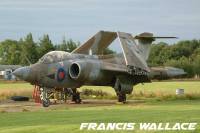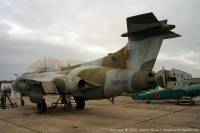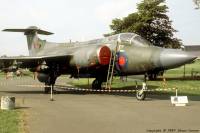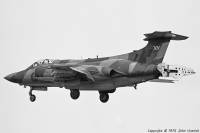 Delivered to the Royal Air Force in June 1972, XW544 entered service with 15 Squadron at RAF Laarbruch, moving to 16 Squadron in 1979 and back to 15 in 1982. XW544 spent most of her career hiding in hangars due to the constant fuel leaks. The fleet was temporarily grounded after XV345's crash, resulting in all airframes receiving wing spar checks.
XW544 was retired after just a decade of service in 1983, landing at RAF Shawbury for storage on Monday 4th July. Only a small number of parts were removed, including the two engines which were replaced with non-serviceable ones.
In early 1984 she was issued to No.2 School of Technical Training (as 8857M) at RAF Cosford, being used to train the apprentices how to attach weapons to an aircraft. XW544 could also be seen on static display at this airshow alongside the RAF Museum's Buccaneer, XW547. Nearing the end of her life at RAF Cosford, the wraparound green was given a touch-up with 16 Sqn markings added. She also received a refueling probe at this point too.
By 1993, with the retirement of the Buccaneer fleet, XW544 had ceased to be of any use to the RAF and was put up for sale. A private collector acquired the airframe and transported it to a scrapyard near Shawbury for storage, where it sat on its belly wrapped in tarpaulin for several years.
The aircraft was discovered in the early 2000s by George Palmer. A year or so later, she was purchased by a small handful of people who relocated the airframe to Bruntingthorpe, with the ambition to one day see her on the move again. As work began on her, the restoration of Buccaneer
XX894
was also beginning to take shape. With the groups of XX894 and XW544 both working on non-serviceable Buccaneers aiming for the same goal, they grew closer and closer as time went on.
May 2008 saw two serviceable engines being fitted to XW544. Hope was in sight to see her roar back into life once more. By this point, XX894 was well on her way to carrying out small trundles on the runway. By December 2010, XW544 moved under her own power once more - a huge milestone achieved by both groups. The next Cold War Jets open day was opened with all three Buccaneers taxiing along the runway - the first time the UK has seen three Buccaneers running together since retirement.
2011 saw the groups of XX894 and XW544 combine, into who we all now know as
The Buccaneer Aviation Group
(TBAG). Throughout the winter of 2011/12, XW544 received a much-needed repaint, still retaining her 16 Sqn colours. Over the course of nearly the next decade, she would perform a fast taxi run and figure of 8 at almost every Cold War Jets day and saw a port engine change in 2018.
In 2020, Bruntingthorpe was leased to Cox Automotive, leaving all the privately owned aircraft under threat with an unknown future. Due to this, TBAG was eager to relocate the aircraft so the public can continue to enjoy watching and hearing the sounds of the Buccaneer for many years to come. It was soon announced that the group would be relocating to Cotswold Airport, Kemble, and got underway with starting crowdfunding which they were thankfully successful with. By August 2020, both XX894 and XW544 arrived at their new home, with XW544 carrying out her first fast taxi at Cotswold Airport in June 2021.
TBAG has recently embarked on repainting XW544 again over the coming years as she was beginning to look very tired. Although both XW544 and XX894 are not publicly accessible due to being airside, the group holds several events each year where you can get up close to two fully operational Buccaneers, experiencing fast taxi and anti-det runs.
| | |
| --- | --- |
| | Information on this page current as of 08/06/2023, last updated by Jake |
Find other photos of XW544 on the following sites:

Air-Britain - Airliners.net - Airplane-Pictures.net - flickr.com - WorldAirPics.com - JetPhotos.net - PlanePictures.net