Blackburn Buccaneer - Survivor XW544
S.2B XW544 - The Buccaneer Aviation Group (taxiable), Cotswold Airport, Gloucestershire
Buccaneer S.2B XW544 at Cotswold Airport, 5th June 2021; Damien Burke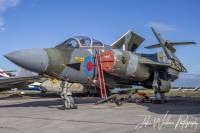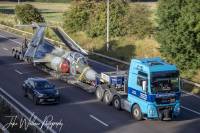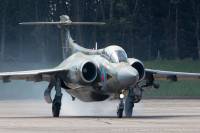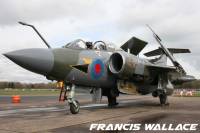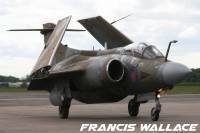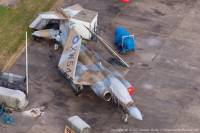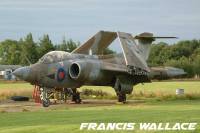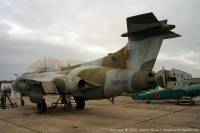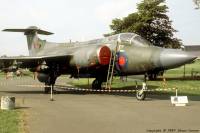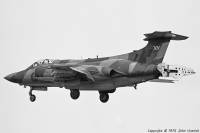 Delivered to the Royal Air Force in June 1972, XW544 entered service with 15 Squadron at RAF Laarbruch, moving to 16 Squadron in 1979 and back to 15 in 1982. XW544 spent most of her career sat around in hangars due to the constant fuel leaks. With a temporary grounding of the feet due to XV345's crash, XW544 was retired after just a decade of service in 1983. The airframe made its last flight on Monday 4th July 1983 with 16 Sqn from RAF Laarbruch flown by Flt Lt Dave Heath and Flt Lt Ed Whitaker, to RAF Shawbury where she was placed in storage. The only parts removed from XW544 to help keep to fleet flying were its two engines that later got replaced with two scrap ones.
In early 1984 she was issued to No.2 School of Technical Training (as 8857M) at RAF Cosford. Nearing the end of her life at RAF Cosford, the airframe received a repaint, and for some reason she acquired a refuelling probe which she did not retire with. XW544 was often seen on display at the airshows in the static park with Buccaneer
XW547
.
By 1993, with the retirement of the Buccaneer fleet, XW544 had ceased to be of any use to the RAF and was put up for sale. Rob Goldstone soon brought the airframe and transported (supposedly by towing her along the roads early hours in the morning) to a scrapyard near Shawbury where it sat on its belly wrapped in tarpaulin for several years.
XW544 was discovered by George Palmer who was a new volunteer of the Buccaneer
XX900
team. Other volunteers Dave Webber and Andy Webber were keen to save the airframe, and so by 2004, George Palmer, Dave, and Andy Webber brought XW544 and transported her to Bruntingthorpe in late 2004. The airframe joined the XX900 team, then known as the 'Buccaneer Restorations' in 2004. With XX900 being fully functional, the majority of the team worked on her, preparing her for the Cold War Jets' open days, which resulted in George, Dave, and Andy working alone on XW544 and so XW544 and XX900 slowly grew apart.
The Buccaneer Trust (
XX894
) and the volunteers on XW544 started chatting and helping each other out whenever they were struggling to solve something, or needed more pairs of hands. By 2007, these two groups started to blend together. A lot of hard work went into XW544 with repairs to her hydraulics system, enabling the wings to be spread in July 2007 plus the airbrakes, bomb bay, arrestor hook etc in the following weeks and months. XW544 had her first engine run in 25 years in May 2008 with two 'new' engines (the port engine being XX900s spare), this was a huge milestone for the group who kept on restoring the aircraft until Decemeber 2010 when she made her first trundle since 1983! This consisted of a figure of 8 on the taxiway with Francis Wallace at the controls and Dave Webber in the observer's cockpit.
In May 2011, XW544 performed her first public fast taxi run since retirement at the Cold War Jets open day. Not only was this XW544's first public taxi run since retirement, but the first time three Buccaneers had run and taxied together in the UK since the type retired in 1994, with XX894 and XX900 alongside XW544. This was a huge crowd puller for Bruntingthorpe with it being the only place except for Thunder City in South Africa the public could witness 6 running 101 Spey engines altogether!
In June 2011, the volunteers of XX894 and XW544 had their first AGM, and decided the two Buccaneers would become known as
The Buccaneer Aviation Group
(TBAG)!
To finish off XW544s restoration project, she was treated to a much-needed repaint over the winter of 2011/12. To celebrate XW544s restoration (which RAF Cosford said would be a "serious engineering challenge" back in the early 2000s) with a roll-out event in March 2012 to show off its shiny new paint. This included fast taxi runs from XW544, XX894, and XX900 with Buccaneer
XX889
on static display, the event ended with a nightshoot of all four Buccaneers lined up together - a rare sight indeed! All the people who played a huge part in the aircraft's restoration were placed in yellow text on the nose door.
XW544 performed at most, if not all the Bruntingthorpe Cold War Jets' open days from that point on.
On the May open day in 2018, XX900 sadly had an engine incident on the port side, resulting in the engine being no longer runnable. This called for an engine swap day a month later. XX900 parked up alongside XW544, XX900s engine was removed and XW544s port engine (which was XX900s spare) was removed and was fitted into XX900. Thankfully, TBAG managed to acquire two runnable spare engines just a year earlier in 2017 from Buccaneer
XX897
in Shannon, and so one of her engines was fitted into XW544s port side.
Sadly in March 2020, Bruntingthorpe's days of seeing vintage jets fast taxi down the 2-mile long runway came to an end when the airfield getting leased to Cox Automotive who intend to use the entire airfield for car storage. TBAG was not yet ready for XX894 and XW544 to become static exhibits, and so started looking for potential new homes where they could continue blasting along a runway for generations to see! On August 20th & 21st, TBAG moved their two Buccaneers to Cotswold Airport (former RAF Kemble), which allows them to keep the jets in taxing condition! The Buccaneers are a part of a constantly growing collection of privately owned aircraft which include a Hunter T.7, Gnat, two Canberra PR.9s, BPAG's three Phantoms, and Boeing 747 G-CIVB 'Negus' being the centerpiece at the AV8.
After months of hard work in between COVID-19 lockdowns, XW544 carried out her first-ever trundle along Cotswold Airport's runway on the 5th of June - a huge milestone for TBAG, coming one year to the day when it was decided to move from Bruntingthorpe to Kemble. She's due another repaint soon and hopefully, the pandemic will be over soon to enable a ramping up of work on the jet.
| | |
| --- | --- |
| | Information on this page current as of 22/10/2021, last updated by Jake |
Find other photos of XW544 on the following sites:

Air-Britain - Airliners.net - Airplane-Pictures.net - flickr.com - WorldAirPics.com - JetPhotos.net - PlanePictures.net