Blackburn Buccaneer - Survivor XW547
S.2B XW547 - RAF Museum ('Pauline, Guinness Girl'), Hendon, London
Buccaneer S.2B XW547 at RAF Hendon Museum , 2nd December 2018; Grahame Bann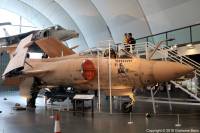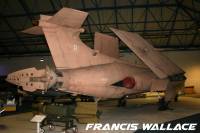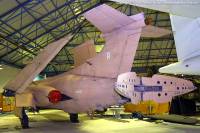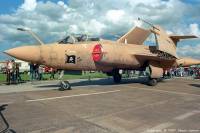 XW547 was delivered to the RAF on 31st October 1972 and began life with 15 Squadron RAFG at Laarbruch two days later. She went on to serve with 12 Squadron, 237 OCU, 216 Squadron, then received new wings in late 1980 (a result of inspections after the Red Flag Buccaneer crash that was caused by spar fatigue) and then onward to 208 Squadron and 12 once more. She took part in 1983's 'Operation Western Fox' - slamming Martel missiles into old ships in Florida - and by 1986 was Sea Eagle-capable.
In January 1991 XW547 was prepared for the Gulf War with a few modifications, repainted in the Alkali Removeable Temporary Finish (ARTF), more commonly known as 'desert pink'. She was given the tail code 'R', named The Macallan, and received the nose art 'Guinness Girl/Pauline'. During the Gulf, XW547 took part in 11 missions, after each mission a bomb marking (mission symbol) was added underneath the cockpit on the starboard side, these can still be seen on her today. She finished her career with 12 Squadron, being withdrawn from use in 1993 and earmarked for preservation at the RAF Museum at Cosford.
After several years on display at RAF Cosford both inside and outside, she was relocated to Hendon where she was put on display in the corner of a very dark hangar, making it almost impossible to get a decent photo of her from the front. Thankfully, she was moved into a hangar a few years ago which allows natural light into it, she now stands proudly on display with the cockpit open so the public can view the interior of XW547.
XW547 is (supposedly) the only Buccaneer to still wear her original ATRF desert pink colours.
| | |
| --- | --- |
| | Information on this page current as of 16/12/2021, last updated by Jake |
Find other photos of XW547 on the following sites:

Air-Britain - Airliners.net - Airplane-Pictures.net - flickr.com - WorldAirPics.com - JetPhotos.net - PlanePictures.net