Blackburn Buccaneer - Survivor XW530
S.2B XW530 - David Hamilton, The Scottish Deer Centre, Bow of Fife, Cupar
Buccaneer S.2B XW530 at Scottish Deer Centre, 19th February 2022; Daniel Milburn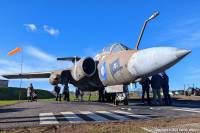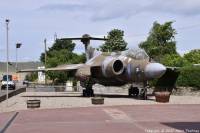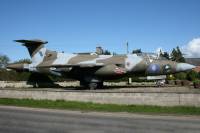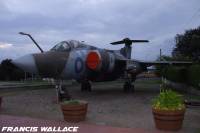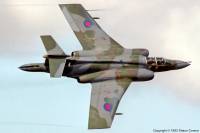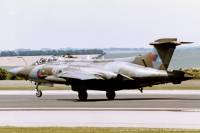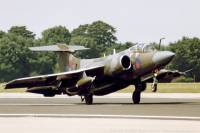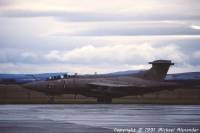 XW530 was delivered to the RAF on the 31st October 1970 and served with XV and 16 squadrons at RAFG Laarbruch to start with. She returned to the UK in 1979, joining 216 Squadron at RAF Honington before moving on to 208 Squadron. XW530 was one of the Buccaneers deployed to Cyprus as part of Operation Pulsator in 1983, supporting UN peace keeping operations in Lebanon and carrying out 'show of force' low level missions over Beirut - thankfully without the need to drop any weapons.
Returning to the UK, XW530 moved to 12 Squadron at RAF Lossiemouth. She was one of several Buccaneers to take part in Operation Granby, the UK's part of the 1991 Gulf War, being one of the first Buccaneers to be dispatched to the Gulf. Given a temporary 'desert pink' paint scheme, she also gained a Sky Pirates flag and the name 'Glenmorangie' (many of the Gulf War Buccaneers were given not only names and nose art but were also marked with the names of detachment personnel's wives or girlfriends and a particular drink).
After her return home in March 1991, she remained with 12 Squadron for a while before transfer to 208 Squadron for a few months before retirement in 1994. She was sold to Ian Aitkenhead who wanted to display her at his petrol station in Elgin, a few miles down the road. It was decided that XW530 would be towed the 3 or so miles to the site, and this happened in 1996. The airframe gained a Sky Pirates flag on the starboard side along with its mission symbols to indicate the history of the airframe in the Gulf War. The shark teeth markings on the slipper tanks were somewhat less historically accurate!
In August 2021, Ian put XW530 up for sale, Ian said that he would not sell the airframe to the scrap man as he'd like to see her go to a well-deserved home that will give her some much-needed attention. Just a month later, the aircraft was brought by millionaire David Hamilton who moved the airframe to
The Scottish Deer Centre
on December 12th, 2021.
The airframe is fairly complete with the cockpits missing some minor instruments - she doesn't have jet pipes fitted. The original paint has been fading for many years and she is now in desperate need of a repaint. Sadly transport to her new home resulted in some minor damage too. She was unveiled in a ceremony on 19th February 2022, and hopefully will be getting some attention to improve her appearance in due course. She's on display within the centre on a miniature runway, visible from the A91 road if you are just passing by - or pop in for a proper look!
| | |
| --- | --- |
| | Information on this page current as of 22/02/2022, last updated by Damien |
Find other photos of XW530 on the following sites:

Air-Britain - Airliners.net - Airplane-Pictures.net - flickr.com - WorldAirPics.com - JetPhotos.net - PlanePictures.net