Blackburn Buccaneer - Survivor XW530
S.2B XW530 - David Hamilton, The Scottish Deer Centre, Bow of Fife, Cupar
Buccaneer S.2B XW530 at Elgin, 17th July 2021; Adam Poultney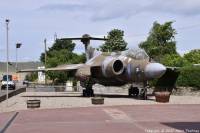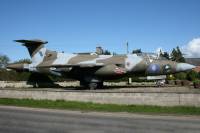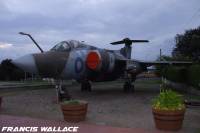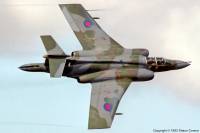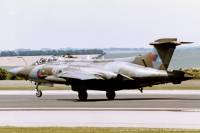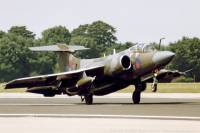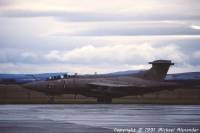 Possibly one of the most complete static Buccaneers in the UK is XW530. She was delivered to the Royal Air Force on the 31st October 1970, this airframe was one of several Buccaneers to take part in the Gulf War in 1991. XW530 was one of the first Buccaneers to be dispatched to the Gulf wearing the Sky Pirates flag, tail coded 'E' and named Glenmorangie (many of the Gulf War Buccaneers were given not only names but also marked with the names of detachment personnel's wives or girlfriends and a particular drink).
XW530 retired into RAF Lossiemouth around 1994 and was sold to Ian Aitkenhead who wanted to display it at his petrol station which was just up the road. With the petrol station being just a few miles up the road it was decided that XW530 would be towed to the site, this happened in 1996. The airframe gained a Sky Pirates flag on the starboard side along with its mission symbols and shark teeth on the slipper tanks to indicate the history of the airframe in the Gulf. In August 2021, Ian put XW530 up for sale, Ian said that he would not sell the airframe to the scrap man as he'd like to see her go to a well-deserved home that will give her some much-needed attention. Just a month later, the aircraft was brought by millionaire David Hamilton who moved the airframe to The Scottish Deer Centre on December 12th, 2021 where she is planning to go on display.
The airframe is fairly complete with the cockpits missing minor instruments, she doesn't have jet pipes fitted but does have two scrap engines that are, not fitted, but are merely placed into position to make it look more complete. The original paint has been fading for many years but overall isn't that bad. However, during her recent road move, the nose cone has unfortunately been bashed and the underside of the wings have been cut to remove the wing fold pins - hopefully, no other damage occurred.
| | |
| --- | --- |
| | Information on this page current as of 13/12/2021, last updated by Jake |
Find other photos of XW530 on the following sites:

Air-Britain - Airliners.net - Airplane-Pictures.net - flickr.com - WorldAirPics.com - JetPhotos.net - PlanePictures.net