Blackburn Buccaneer - Survivor XX894
S.2B XX894 - The Buccaneer Aviation Group (taxiable), Cotswold Airport, Gloucestershire
Buccaneer S.2B XX894 at Cotswold Airport, 2nd October 2021; Jake Wallace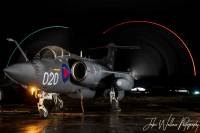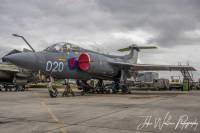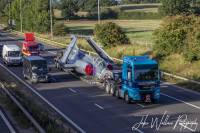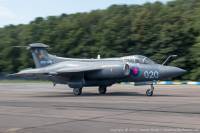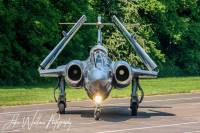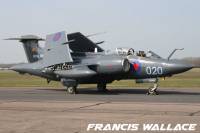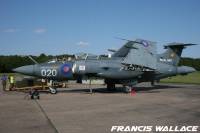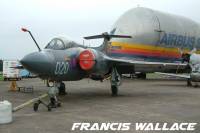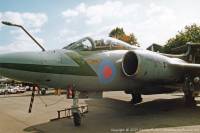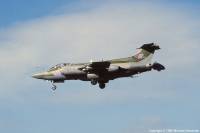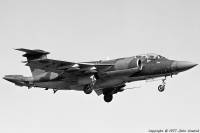 XX894 started her career with 16 Squadron at RAF Laarbruch in December 1975, she then went on to serve with 15 Squadron being one of the jets that took part in the 1980 Red Flag exercise (where XV345 crashed due to spar failure, causing a temporary grounding of the fleet). In 1981 the airframe moved to Boscombe Down and was used by the A&AEE for trials but was soon returned to RAF service with 12 Squadron later that year. XX894 then took part in Operation Western Fox in Florida, firing live Martel missiles against old navy ships.
In the late 1980s she went on to serve with 208 Squadron, 237 OCU, 12 Squadron and was repainted into the light grey scheme in the late 1980s.
In 1990, XX894 was given a special paint scheme to mark the 12 Squadron's 75th anniversary, with a large green and black flash which went along the fuselage and up the tail, this was much a love or hate livery.
In January 1991, XX894 got repainted into the desert pink colours and was named 'Aberlour' with no nose art, departing for Bahrain on 7th February. It's not often a Buccaneer dropped a bomb in anger but on the 27th February 1991, XX894s hour of glory began! When coming back from a mission, XX894 dropped a bomb on a taxiing AN-12, destroying the aircraft. This lead to XX894 being the only Buccaneer in the fleet to destroy another airframe during the war! Sadly she never got the credit she deserved as after landing Buccaneer
XX885
taxied into XX894s spot, resulting in XX885 receiving the An-12 mark which can still be seen on XX885 today. By the end of the Gulf War she was sporting a selection of mission symbols on the nose and kept her desert colours until 1992, and by October 1993 had been moved to 208 Squadron.
Weeks before retirement, in February 1994 as part of the celebration of the Blackburn Buccaneers service in both the Royal Navy and Royal Air Force, XX894 was repainted into extra dark sea grey with 809 NAS markings along with the deck number '020' representing the Fleet Air Arm Buccaneer XV869 which unfortunately hasn't survived.
XX894 made her final flight into St Athan for storage and disposal on the 7th April 1994.
In 1995 Buccaneers XX894 and XX900 were road moved to Bruntingthorpe by Gary Spoors side by side. XX894 only ran a handful of times at Bruntingthorpe before she was road moved in 1996 to Kemble (now Cotswold Airport) leaving XX900 at Bruntingthorpe.
XX894 was partly used as a spareship for Buccaneer
XW986 (now ZU-NIP)
which flew down to Thunder City in Cape Town to be reunited with her sisters -
XW987 (now ZU-BCR)
and
XW988 (now ZU-AVI)
X in 2002, this being the last Buccaneer flight in UK skies.
A few years later, XX894 was road moved once more to Farnborough for storage where she was briefly looked after by the Buccaneers Supports Club. The airframe was seen on static display at that year's SBAC display.
In 2003 the XX894 was bought by Guy Hulme, with the vision for her to go in his garden as a memorial to his father who worked on the type. However, Gary Spoors mentioned to Guy that XX894 could potentially be a runner, and with a bit of persuading, Guy moved XX894 back to Bruntingthorpe in September 2003 where her restoration back to taxiing condition began!
Her restoration began by naming her 'Spirit of Roy Boot' -the Buccaneer's chief designer, which could be seen in yellow text across the nose intermediate section. A year later, a third Buccaneer arrived on site, XW544 from Shawbury joined XX900s team under 'Buccaneer Restorations'.
Guy and his team made fantastic progress towards this aim and by July 2007 she had performed her first tentative slow trundle on the runway. This of course revealed further work that needed doing before her next trundle. At this time, XW544 started becoming a separate group with her owners working effortlessly on her with the rest of the team working on XX900. Overtime, groups XW544 and XX894 began helping eachother out and starting blending together, with the groups working side by side. After battles with engine and brake repairs, XX894 was finally ready to perform at speed and did so at the May 2010 open day! - A huge success for Guy and his team.
In March 2011, Guy decided to put XX894 up for sale and was brought by her original owner, Gary Spoors. Gary was happy for the group to keep working on the airframe until they had built-up the money to buy her back. In June 2011, the group had their first AGM where they agreed on XX894 and XW544 becoming
The Buccaneer Aviation Group
(TBAG)!
Aircraft enthusiast Colin Robinson visited TBAG in August 2011 with the vision of buying a Buccaneer, so of course, TBAG mentioned that XX894 was up for sale, and so by November 2011 Colin brought XX894 and became a volunteer of TBAG.
In December 2011, Colin's mother, Norma, sadly passed away. She always looked forward to seeing XX894 but sadly this never happened. After a discussion between Colin and TBAG's Chairman, Dave Webber, XX894 was named 'Norma'. This can be seen painted in white text on the nose wheel door which still remains there to this day.
A repaint was scheduled for winter 2012/13, however, the Group's pro-active maintenance efforts including boroscoping of their engines found fatal damage had been done to the HP nozzle inlet guide vanes, which meant engine runs could no longer be risked. Efforts began to build a pair of good engines from their existing spare and the two installed damaged units while continuing with the repaint!
As of February 2014, the first refurbished engine had been re-installed and the repaint was completed in March, with XX894 being shown off with a slow speed taxi run at an event to mark 20 years since the type retired. Work - as ever - continued to keep this magnificent beast living and breathing.
Sadly, in 2020, the days of Bruntingthorpe being a centre of live aviation were over and all aircraft events were stopped along with running of the jets. TBAG was not yet ready for XX894 and XW544 to become static exhibits, this resulted in many discussions of road moving the jets elsewhere. On the 20th & 21st, TBAG road moved their two Buccaneers to Cotswold Airport (former RAF Kemble), as this allowed the aircraft to continue blasting down the runway in front of the public. XX894 and XW544 are becoming a part of a growing collection of privately owned aircraft at the airport with Boeing 747 G-CIVB Negus being the centerpiece at the AV8 cafe.
After a year of being at ex-RAF Kemble, XX894 is still yet to get out to stretch her legs. However, XX894 has performed several anti-det runs throughout 2021 and it is hoped she will be blasting along the runway in 2022!
The photo above shows XX894 on the hydraulic rig, exercising her wings at the nightshoot held by TimeLine Events back in early October 2021.
| | |
| --- | --- |
| | Information on this page current as of 22/10/2021, last updated by Jake |
Find other photos of XX894 on the following sites:

Air-Britain - Airliners.net - Airplane-Pictures.net - flickr.com - WorldAirPics.com - JetPhotos.net - PlanePictures.net