Avro Vulcan - Survivor XM607
B.2 XM607 - RAF Waddington (under restoration), Lincolnshire
Vulcan B.2 XM607 at RAF Waddington, 9th July 2007; Damien Burke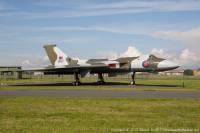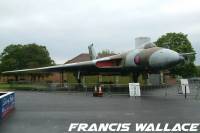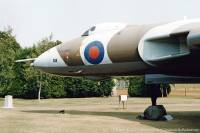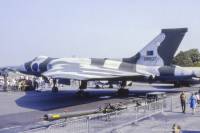 Delivered to the RAF in December 1963, from January 1964 XM607 served with 35 Squadron, and then the Coningsby, Cottesmore and Waddington Wings before joining 44 Squadron in 1976. She went on to serve with 9 Squadron from May 1979, 101 Squadron from March 1981 and ended her flying career back with 44 Squadron from July 1981, famously taking part in the Black Buck missions against the Argentine-held airfield at Stanley in the Fakland Islands during the 1982 Falklands War.
She was retired in December 1982 at RAF Waddington and was put on display as the gate guardian in January 1983. XM607 has been sporadically looked-after by the RAF and over the years and has acted as a spares ship for more lively Vulcans. The undercarriage bays are sealed with wooden planks and the cockpit entrance hatch was seized shut for many years so the cockpit was very complete until the hatch was finally freed, at which point it was stripped out.
Originally on display within the station near the main entrance, since then and with the requirement for a new building at her old spot, she had a nomadic existence being pulled around the site from time to time until finally ending up at a spot by the side of the A15 in 2003. This made her much more visible to the public, but I fear has resulted in her not being quite so well looked after. In August 2021 she was removed from here display position and towed over to the hangars for some restoration work. She is accordingly not usually visible from outside the station at the time of writing.
XM607, in common with several other Vulcans, donated many parts towards the restoration of XH558. She has been immortalised in an excellent book titled 'Vulcan 607' - well worth a read!
| | |
| --- | --- |
| | Information on this page current as of 17/08/2021, last updated by Damien |
Find other photos of XM607 on the following sites:

Air-Britain - Airliners.net - Airplane-Pictures.net - flickr.com - WorldAirPics.com - JetPhotos.net - PlanePictures.net