Avro Vulcan - Survivor XL318
B.2 XL318 - RAF Museum London, Hendon, North London
Vulcan B.2 XL318 at RAF Museum London, 15th April 2023; Jake Wallace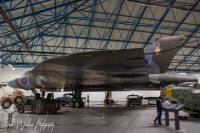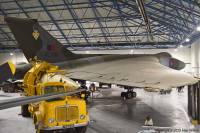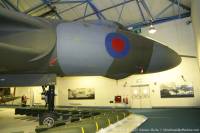 One of two Avro Vulcan B.2's in the RAF Museum's collection, one being XL318 (seen above) which can be found on display at their London site.
XL318 made its first flight on the 12th of August 1961 at Woodford, with the flight lasting 1 hour 40 minutes.
After a long flying career, XL318 made its final flight on December 18th 1981 at RAF Scampton.
The airframe was later drained and vented so dismantling could begin to road move XL318 to the RAF Museum, Hendon for display. Over a period of time in early 1982, all sections of XL318 were moved to Hendon and placed into temporary storage. A few months later, the aircraft was reassembled piece by piece in the Bomber Command Hall where she has been on display ever since. XL318 still remains the only Vulcan to be transported by road.
To the untrained eye, you'd never guess that she has been cut, dismantled, and reassembled walking around the airframe today. Look in closer, and you will begin to see where pipes no longer align or have remained disconnected or are even missing, this is most noticeable in the bomb bay. Looking up through the airframe from the bomb bay, you will be able to see daylight through a handful of rivet holes where the team disassembled the aircraft. Overall, XL318 is in good shape - being undercover for so long has also helped, and the cockpit is occasionally opened for tours. However, she has built up a rather thick layer of dust on the upper surfaces, hopefully, she can receive a clean in the near future. Due to the position of XL318, photographic angles are minimal, unfortunately. The museum has discussed the possibility of repositioning the airframe on several occasions, but such conversations have yet to make it to fruition.
| | |
| --- | --- |
| | Information on this page current as of 20/05/2023, last updated by Jake |
Find other photos of XL318 on the following sites:

Air-Britain - Airliners.net - Airplane-Pictures.net - flickr.com - WorldAirPics.com - JetPhotos.net - PlanePictures.net